"Faith is taking the first step even when you don't see the whole staircase." - Martin Luther King Jr.

The unexpected outcome of the "Brexit" vote threw the global currency and equity markets in deep turmoil on Friday. The pound and the various European indices fell seven to ten percent during trading Friday. This was the deepest sell-off in the European bourses since the dark days of 2008 and the pound trades at its lowest levels in three decades against the greenback.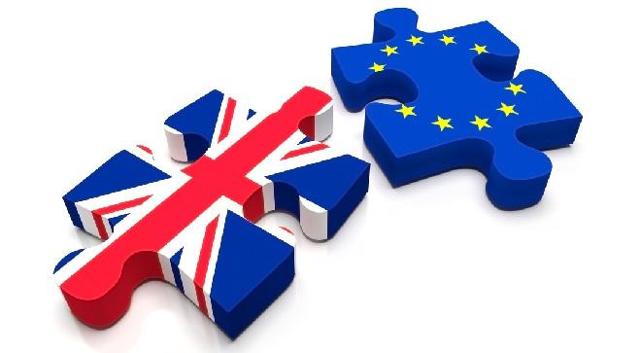 Click to enlarge
Our markets posted about half of those losses on Friday with the three major equity indices all declining some four percent on the day. Investors will lick their wounds this weekend and have some time to contemplate what the U.K. leaving the EU actually means for the global economy.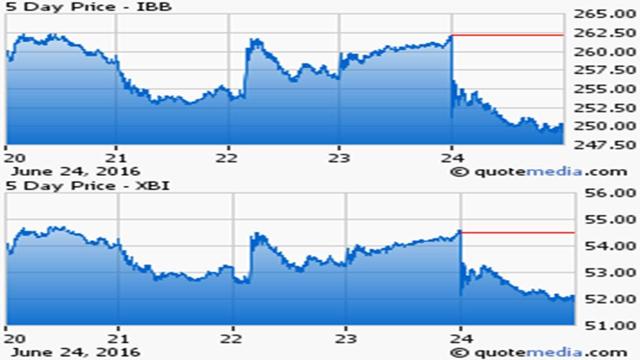 Click to enlarge
Trying to find a silver lining in Friday's carnage, at least the ~five percent lost biotech sector suffered to end the week barely outpaced losses within the overall equity market and came after a sharp rally on Thursday. We also did not have to test the bull market bottom at 240 to 245 on the iShares Nasdaq Biotechnology ETF (NASDAQ:IBB), the largest ETF focused on the biotech sector.
Note: To get these Biotech Forum Daily Digests as soon as they are published, just click on my profile and hit the big orange "Follow" button and choose the real-time alerts option.

One immediate impact on the industry from the Brexit vote is that the European Medicines Agency, the drug regulator for Europe, is headquartered in London, meaning the EMA will now have to leave and find a new home. My guess would be Paris given several large industry players in that country.
The U.K. generic and biosimilar medicines industry is already urging the government to do everything possible to maintain this European marketing authorization system in the forthcoming negotiations with the European Union as it reduces complexity and the need to create a new structure. I would expect U.K. based GlaxoSmithKline (NYSE:GSK) will throw its weight behind this effort. One factoid of note is that most major America-based pharma and biotech concerns get three percent or less of their sales from the U.K.
Speaking of French drug makers, Sanofi (NYSE:SNY) got some bad news on its pursuit of mid-cap oncology concern Medivation (NASDAQ:MDVN) late last week. Proxy advisory firm Glass Lewis recommended that Medivation shareholders support the company's current slate of directors and reject solicitation offers from the French drug maker, which has moved ahead with a hostile takeover try after its $9.3 billion bid for the firm was summarily rejected. This soap opera will continue to play out in the months ahead, and I would not be surprised if "white knight" emerges at some point with a counter offer for Medivation. A big M&A "bidding war" would certainly help biotech get out of its doldrums.
In a just released study, Johns Hopkins University researchers have found a link between cancer immunotherapy drugs and an increased risk of developing rheumatologic disorders. This is thought to be the largest published study of patients taking immunotherapies aimed at examining the potential connection between the drug class and these sorts of diseases. The percentage of incidence (1.3%) is small but still significantly higher than normal compared to the general population not on these drugs. A development to keep an eye on in the immuno-therapy world.

Speaking of Medivation, analysts certainly seem to believe there is more upside ahead either as a standalone entity or if/when it capitulates to eventually winning bid. Since June 7th, Citigroup, Barclays and Credit Suisse have all reiterated Buy ratings with price targets ranging from $63 to $73 on the stock. Medivation currently trades right under $57 a share.
Barclays, who has a $70 price target on MDVN, noted that although "management continues to be amenable to a deal, it's unlikely to be anywhere close to the current bid of $52.50 per share." Prescription growth, price increases and progress advancing Xtandi ahead for further indications could power additional gains were additional positive elements to the investment case on Medivation cited by Barclay's analyst.
Cempra (NASDAQ:CEMP) saw some love from the analyst community on Friday during the market's deep slide. Cowen & Co. reiterated their Buy rating and $39 price target on Cempra. Needham reissued their Buy rating as well on Friday with a slightly more optimistic $40 price target on Cempra. Cempra had its investors' day in NYC last week so some analyst activity should have been expected. Earlier in June, Roth Capital reinstated the shares as a Buy with a $37 price target. The stock is pretty much at the same level it was when I last profiled it three quarters ago - an accomplishment given the huge bear market on the sector throughout this time frame. I still own a small stake in this attractive biopharma that currently sells right at $17.50 a share.
After three months of no activity in the analyst community, Ardelyx (NASDAQ:ARDX) was reiterated as a Buy at both Leerink Swann and Cantor Fitzgerald this week. Leerink has a $17 price target on Ardelyx and Cantor is slightly more optimistic with a $19 price target. Both target prices are more than double the current price of the small biopharma with three "shots on goal" between now and next year. I like this small concern and wrote a favorable article on it in April noting it also had seen some insider buying in its shares.
Note: New analyst ratings are a great place to start due diligence, but nothing substitutes for deeper individual research in this very volatile sector of the market. Many of the small-cap names highlighted in the "Analyst Insight" will eventually appear in the "Spotlight" section, where we do deeper dives on this type of promising but speculative small-cap concern.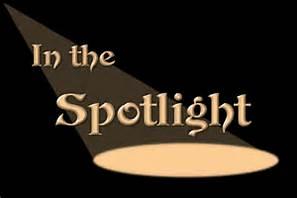 Our spotlight feature to begin the trading week is on a small biotech concern Agios Pharmaceuticals (NASDAQ:AGIO), a suggestion from a Biotech Forum subscriber as a topic for a quick deep dive analysis. The shares fell more than eight percent on Friday on the deep sell-off within the overall market and biotech sector.
Company Overview:
Agios Pharmaceuticals is a small biopharmaceutical company (< $2 billion market capitalization) that engages in the discovery and development of medicines for the treatment of cancer and rare genetic metabolic disorders in the United States. The company came public just less than three years ago, is based in Cambridge, Massachusetts, and has a stock that currently sells at just less than $45 a share.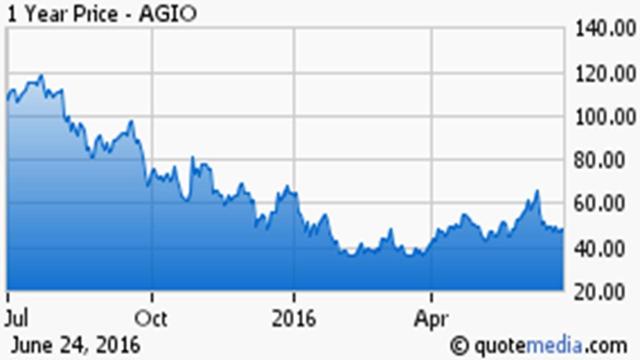 Click to enlarge
Pipeline:
Agios has leveraged its core capabilities in cellular metabolism to build a product engine that is focused in the therapeutic areas of cancer and rare genetic disorders of metabolism. All of Agios' lead programs focus on patient populations with genetic or metabolic biomarkers, which have the potential for early clinical proof-of-concept and accelerated approval paths.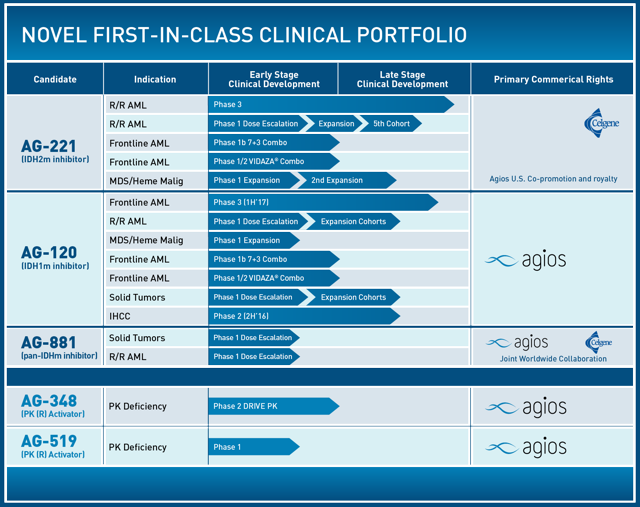 Click to enlarge
As can be seen from the chart above, the company has myriad compounds in development. One of the most advanced is AG-221. This is an orally available, selective, potent inhibitor of the mutated IDH2 protein, making it a highly targeted investigational medicine for the potential treatment of patients with cancers that harbor an IDH2 mutation. AG-221 has received orphan drug and fast track designations from the FDA and is currently being evaluated in multiple clinical studies. The most advanced trial is in Phase 3 and called IDHENTIFY.
This is a randomized clinical trial designed to compare the efficacy and safety of AG-221 versus conventional care regimens in patients 60 years or older with IDH2 mutant-positive AML that is refractory or relapsed after second or third-line therapy. Celgene (NASDAQ:CELG) owns the commercial rights to this drug candidate. Agios will receive royalties and milestone payment for any approved products. AG-881 which is in Phase I testing is also a collaboration between Agios and this biotech giant.
Next up is AG-120 which the company fully owns. This is a first-in-class, orally available, selective, potent inhibitor of the mutated IDH1 protein and is a highly targeted investigational medicine for the treatment of patients with cancers that harbor an IDH1 mutation. AG-120 is currently being evaluated in multiple Phase 1 and Phase 1/2 clinical studies.
Finally, we have AG-348 which is also fully company own. AG-348 is a novel, first-in-class, oral activator of PKR for the treatment of PK deficiency that is being evaluated in DRIVE PK, a global first-in-patient Phase 2 study. PK deficiency typically presents during early infancy with jaundice and severe anemia, which can require immediate life-saving intervention via replacement of the infant's entire blood system with a donor's blood, referred to as an exchange transfusion. Currently, there is no approved therapy to treat the underlying cause of PK deficiency.
Balance Sheet & Analyst Commentary:
The stock has become somewhat of a battleground stock since the company disclosed mid-stage trial results for AG-348 a few weeks ago. Leerink Swann and Goldman Sachs say Hold, JPMorgan and Canaccord Genuity say Buy. The six analysts that cover the company currently have a median price target of $62 on AGIO. Celgene and Agios updated their collaboration deal in mid-May. This new deal provided Agios with a $200 million upfront as well as other potential milestone payouts and royalties. The company ended the first quarter with just over $350 million in cash on the balance sheet, so funding their development programs looks set without any need to raise additional capital.
Outlook:
I like the collaboration Agios has with one of the bigger players in biotech, its cash balance and of course its multiple "shots on goal." That being said, most of the small biotech developmental companies in my portfolio at the current time have nearer term catalysts at the moment. That leaves me lukewarm on Agios, but I may start to accumulate a few shares if the stock drifts below $40 on Brexit fears.

"If you wish to succeed in life, make perseverance your bosom friend, experience your wise counselor, caution your elder brother, and hope your guardian genius." - Joseph Addison
Thank You & Happy Hunting
Bret Jensen
Founder, Biotech Forum
Disclosure: I am/we are long ARDX,CELG, CEMP.
I wrote this article myself, and it expresses my own opinions. I am not receiving compensation for it (other than from Seeking Alpha). I have no business relationship with any company whose stock is mentioned in this article.