There is no fan base in professional sports that has suffered more than the Chicago Cubs, who last won a World Series in 1908. Each year, we keep hearing about how this will be the year, but we are still waiting. The same can be said for BlackBerry (NASDAQ:BBRY), whose situation continues to worsen. After another terrible quarterly report, one must wonder why investors still believe in a clueless management team and hopeless company.
After last quarter's report, the bulls told me that Priv sales would do better with expanded international availability, a price cut and a launch on Verizon's (NYSE:VZ) network. Well, if you didn't already know the device was a failure, you do now. Unit sales were even worse in this fiscal quarter, and the company's average device selling price dropped. Total hardware revenues were just $152 million, down $38 million sequentially and compared to $269 million in the year-ago period.
Analysts were looking for over $470 million in revenues and BlackBerry came in at just $424 million ($400 million on a GAAP basis). In the earnings press release, the company went out of its way to guide for 30% revenue growth in software and services. Too bad management failed to mention that service access fees will lose that much amount plus a whole lot more. I keep being told that the revenue picture will improve, but take a look at revenue estimates over time: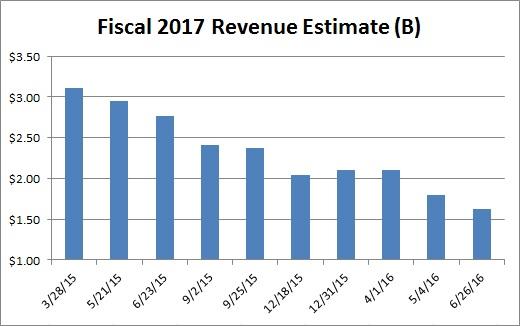 (Source: Yahoo! Finance analyst estimates page)
You won't find too many companies that have seen their revenue estimates plunge this quickly. What makes it worse is that investors continue to believe in John Chen, yet his statements show he has no idea what's going on. Just take a look at what was said in the Q4 2015 earnings report, which is from March 27th, 2015 - basically the date my chart above starts. If these statements don't describe failure, I don't know what will.
The second half of our turnaround focuses on stabilization of revenue with sustainable profitability and cash generation.

The Company is expanding its distribution capability, and expects traction from these efforts to manifest some time in fiscal 2016. The company continues to target sustainable non-GAAP profitability some time in fiscal 2016.
The bulls might come back at me and say that the company broke even for Q1, beating expectations, but again this is just false hope. Look what management said above. Where is the revenue stabilization or sustainable non-GAAP profitability? On a GAAP basis, the company lost a lot of money, due to a number of major write-downs. As you'll see in the table below, a majority of the quarter's operating income came from the dying service access fees segment. The company will revert to non-GAAP losses in the coming quarters.

Click to enlarge
(Source: Q1 earnings link in opening paragraph)
Another base of the bull camp, the company's cash balance, declined by almost $100 million sequentially. Despite falling share prices, management didn't even bother to repurchase any stock, so the outstanding share count went up. If the company isn't even willing to buy back shares when they are down so much, why should you be? Remember, this is a company whose stock-based compensation jumped 20% last year when revenues fell by more than 30%.
One other item that should worry BlackBerry investors is that short interest recently dropped to its lowest point since April 2012. As you can see in the chart below, only 55 million shares were short at the most recent update, well off the 184 million plus share high seen a couple of years ago. A return of short sellers could easily send this stock to new lows.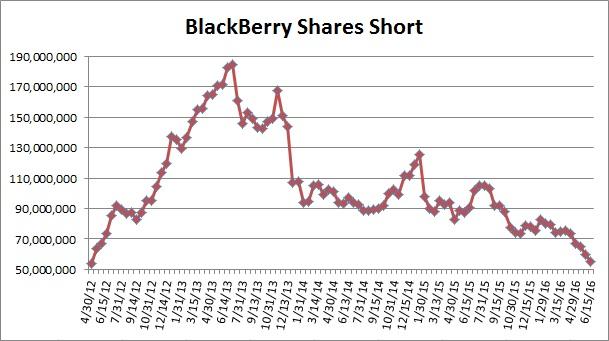 (Source: NASDAQ BlackBerry short interest page)
Another quarter is in the books, and John Chen authored another stinker. I can't believe how investors continue to believe he is the right man for the job. Since he guided to revenue stabilization, fiscal 2017 estimates have been nearly halved. The hardware business is a joke and most of Q1's operating profits came from the dying service access fees. BlackBerry shares have lost more than 28% so far this year, and that could get even worse if short sellers come back.
Disclosure: I/we have no positions in any stocks mentioned, and no plans to initiate any positions within the next 72 hours.
I wrote this article myself, and it expresses my own opinions. I am not receiving compensation for it (other than from Seeking Alpha). I have no business relationship with any company whose stock is mentioned in this article.
Additional disclosure: Investors are always reminded that before making any investment, you should do your own proper due diligence on any name directly or indirectly mentioned in this article. Investors should also consider seeking advice from a broker or financial adviser before making any investment decisions. Any material in this article should be considered general information, and not relied on as a formal investment recommendation.