Whenever I make an investment, be it for the long term, or as a speculative short, I look at the company from three perspectives, the product, the people/management and the company.
When the company is in the franchisor/franchisee distribution model, we focus on the economics of the franchise to determine the long term sustainability of the business.
After looking at the from all three perspectives, not only did I determine Planet Fitness (NYSE:PLNT) to be a poor investment, but I also found myself ethically, not capable of supporting it.
Throughout this article, we will take a look at Planet Fitness through these lenses.
Planet Fitness - The Product
You've seen the commercials, and you know the lines...
"I lift things up, and put them down."
"We're Not a Gym, We're Planet Fitness"
The commercials are quite funny, perhaps a bit offensive and judgmental, but more on that later, but for the most part, they are memorable.
For anyone who has actually gone to a gym, they know that the Planet Fitness commercials exaggerate the truth... perhaps even more than politicians, but they are effective none the less.
The image Planet Fitness portrays is of a gym that is welcoming to people who have never worked out, and gives them a "commitment free" membership choices as low as $10 per month.
Planet Fitness promises a safe place free of "gymtimidation" and "lunks." Planet Fitness says that they provide a "judgment free zone" for working out... but are they?
By looking at their actions, you start to realize that it is in fact Planet Fitness that is the judgmental party here.
A simple online search will yield numerous results for people getting kicked out from a Planet Fitness club for being "too fit" or working out "too hard." Looking at the various users on Reddit, you will find many that are banned for simply bringing in a large jug of water, common with people looking to track their water intake.
In fact, it is such a widespread issue that even Comedy Central's The Daily Show had a segment on it.
The reality is... Planet Fitness needs gym members, franchisees and investors to be dumb, out of shape and lacking confidence.
Planet Fitness prides itself on having an average of 6,500 members per gym. With that many members, it would be virtually impossible to be able to work out without lines or breaking local fire codes for building capacities if people actually showed up to work out.
Like many other gyms and fitness centers, Planet Fitness wants you to sign up, and never show up. Quite frankly, they do not care about your health.
Over the years you might of run across a video of an overweight man eating a pizza while working out.
Before doing my research on Planet Fitness, I thought it was a joke or a one off. Unfortunately, it is not.
Worst of all, this is not food that the members brought in, but rather the free pizza during the regular Pizza Night. In fact, there is also a bagel breakfast, and all the Tootsie Rolls you can stomach at the front desk.
Well... Planet Fitness is certainly NOT a gym.
Last time you went for a doctor's visit, did they hand you free cigarettes and gift cards to Fat Burger?
Everything in moderation right?
Well, a slice of pizza with a few toppings may take someone 2 hours on the treadmill to burn off. Two slices... double the work.
If Planet Fitness really cared about fitness, why not provide free fruits and juices instead? Heck, my fitness club has a bowl of apples up front.
The question is... how many members stay members and come in once a month just for the free pizza? It will surely make you think twice before wanting to cancel your membership though.
Not looking at the cholesterol and sugar handed out like drugs, Planet Fitness did not alienate many people in its older commercials. After all, the vast majority of the fitness crowd would not consider themselves as someone who merely picks things up and puts them down.
Unfortunately, the latest commercials alienate and make fun of anyone who practices yoga, does Cross Fit, lifts weights, uses a trainer or does any fitness classes like Zumba.
Who is the judgmental one now?
The vast majority of the marketing in fact is designed to appeal to people who lack confidence, and the marketing messages further muddy the reality for anyone who is considering any fitness club or activity.
As someone who has had gym memberships for the last ten years including at Town Sports' NYSC (NASDAQ:CLUB), I have not seen anyone make fun of or in any way try to intimidate any other members. If someone feels intimidated of going into a fitness center, in the majority of the cases, that fear is self created and has no basis in reality. Most fitness people will have the utmost respect for anyone who comes in and is actually TRYING.
At my local fitness centers and the numerous fitness centers I have visited as a guest while traveling, the vast majority of the gym goers are there to focus on one thing, themselves. If anything, seeing people in better shape than myself, merely motivates me to work harder and says that achieving a great, healthy body is achievable with work.
The other questionable tactic Planet Fitness employs is the borderline deceptive advertising.
There are numerous complains on consumer websites such as Consumer Affairs, Rip Off Report, Pissed Consumer and the many complaints with the Better Business Bureau.
At the center are two complaints, one deceptive and the other downright fraudulent.
First, while Planet Fitness advertises no commitments and the $10 or $20 per month, many complaints center on the fact that there are additional annual membership fees and if you are a contract plan, there is also a cancellation fee. Reminds you of the $99 per month auto lease... but read the fine print in 4 point font for the real language.
The second and perhaps even more disgusting act is not canceling memberships... after the members request to cancel the membership.
So because Planet Fitness is a franchise... they require you to cancel ONLY at the home club where you signed up. Furthermore, you can only cancel in person, or by sending a Certified Mail letter. There are a number of complaints where members came in and were then asked to mail in a letter. Tons of complaints with letters being sent in but rejected because it was not Certified Mail, and of course... more complaints of people sending in Certified Mail letters and the clubs still kept billing them.
Beyond that... there is also the objectionable act of only accepting ACH bank accounts for your $10 or $20 monthly fee. NO credit cards.
Why? Of course because of the fraud protections and dispute processes with credit cards, most of which are there to protect the consumer. With bank accounts, it is far easier to keep pulling money out, and a LOT more difficult to dispute a charge.
Simply put, Planet Fitness's marketing messages and actions alone (free pizza, bagels and candy, along with judgment against anyone who wants to push themselves to achieve their fitness goals), is enough to make me pass on being a customer, a franchisee or an investor.
The Franchise Model
Perhaps the people I feel the most pain for are the franchisees.
What you have to admire about Planet Fitness is that their marketing campaigns are effective.
For potential franchisees, they push the >25% ROI.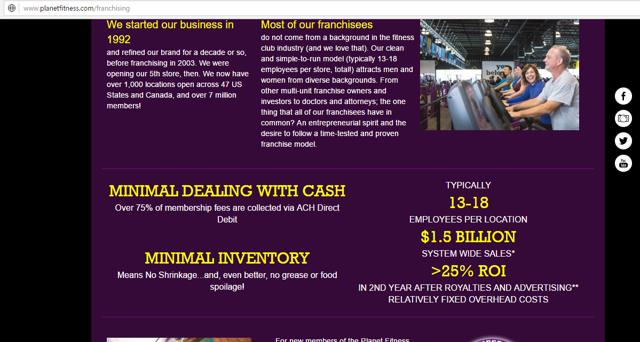 Click to enlarge
Source: Planet Fitness Franchise Page
While this may draw many people in, the reality... is not quite that simple.
As per Entrepreneur.com, Planet Fitness is one of most expensive personal fitness franchises, both from the initial outlay to the ongoing fees.
While the majority of the clubs are franchised, there are about 50 corporate owned locations. From the 2015 Franchise Disclosure Document, we know that the corporate operated locations on average, generate higher revenues and incomes than their franchised counterparts. The corporate locations also enjoy lower costs as the supplier for the necessary equipment is either an affiliated entity or an approved supplier from whom the parent company receives a commission.
That's right... not only is the franchisee paying an ongoing royalty, contributing to national and local advertising campaigns, but they are also generally required to purchase necessities through the parent company, affiliated businesses, or approved vendors who pay Planet Fitness a sales commission.
As an example, the Franchise Disclosure Document gives us the following, where we can derive the 24% number.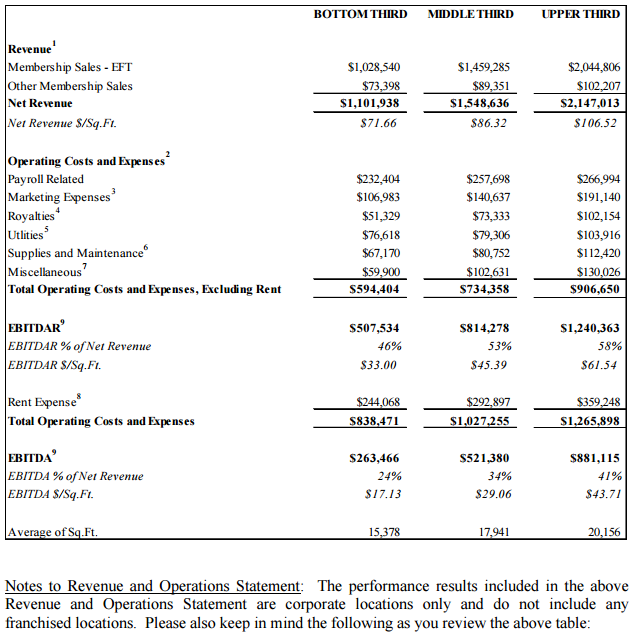 Source: 2015 Franchise Disclosure Document
The way they came up with those numbers is to take the corporate store averages and add on the royalty and marketing expenses the franchisee would be on the hook for.
An important part to note... the projected profits do not include any depreciation for equipment, or accounting for repayment of any loans the franchisee took out for the initial capital outlay.
More importantly, it does not account for any reserves that will be required every 4 to 7 years to purchase new equipment as required for the fitness center under the franchise agreement, or any other refreshes or remodels that may be mandated as frequently as every 4 years.
So while the operating margins may be high... the actual ROI achieved by the franchisee is likely far lower.
It was time to pull up Excel and do a rough projection of what the breakeven time frame would be for a single franchise.
Here are my assumptions. I used an initial outlay of $2.5 million, which is quite a bit below the $3.8 million max outlay estimate given by the FDD and other sources.
Since most franchise owners will likely be financing it, I used an 8% interest rate for the debt.
On the revenue side, I used the average for the middle third of $1.4 million for franchise locations and started with a 25% margin, going up to 30%. Furthermore, for the 15 year time frame we are looking at, I am assuming a 6% revenue growth, even though at some point, the club will hit saturation point and will not be able to grow revenues as easily.
As per the Franchise Agreement, the location has to get new equipment and have to do refreshes and remodels as often as every 4 years.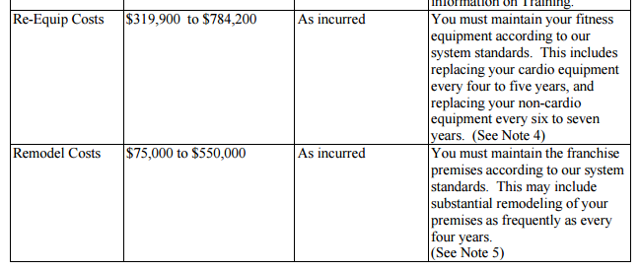 Click to enlarge
Source: 2015 Franchise Disclosure Document
I used $1 million for the equipment and remodel costs, and merely split it into $200,000 per year going into reserves.
We are also assuming as per the FDD, that while salaries include staff, the owners are not paying themselves a salary and are going to live off of the profits.
In order to make the projection as rosy as possible, we are assuming the owners are NOT paying themselves a salary and all of the profits will be going towards repaying the initial outlay.
Finally, we are not factoring in taxes.
So... what does it look like?

Click to enlarge
Break-even... about 13 years.
Now you understand why you need to have a number of locations to actually make a living.
Yes, if you already have the money available it would be easier, but the reality is... the picture is not so rosy.
I doubt many franchisees (in general, not just Planet Fitness) actually do a full blown analysis beyond the numbers given to them during the franchise presentation, but they do make a massive investment and sign a 10 year franchise agreement. The biggest question is, whether many of those would re-sign at the end of the 10 years.
I have a friend who got into franchises when he opened his first Subway. He works the store with his business partner and always seemed unhappy. After talking with him about it, he disclosed that at the end of the day, he was taking home about $30,000 at the end of the year after working 60 hours per week. It was no surprise then that he needed to open up another 3 or 4 locations just to make a comfortable living.
A number of years later, he ended up selling them all and going into a different industry. What this shows is that while franchises are all the rage..., it takes a special type of person to get into a franchise in the personal fitness industry where very few brands remain after more than 10 years.
Planet Fitness, the parent and the stock you are buying, is priced to perfection generating revenues from the sale of equipment to the 4,000 locations that they are looking to open. Simply put, I don't believe that it is sustainable, and if they do open that many locations, they will be stealing business and competing with existing franchises. Think about it for a moment, 4,000 locations is nearly the number of Wal-Marts (NYSE:WMT) in the United States, and 6 times the number of Gold's Gyms.
For the above discussed factors, I would not be looking at the Planet Fitness franchise.
The Investment
There are a number of great articles recently written on the stock such as Ben Axler's "Planet Fitness: Fundamental, Accounting, Disclosure, Governance, And Valuation Concerns Get Us To $8 Per Share Or 50% Downside" and WYCO Researcher's "Planet Fitness Stock Price Is On Steroids And Should Be Sold" so I will not be rehashing a lot of the existing complaints.
What I do want to point out is my disgust Pre-IPO, and the current situation.
Obviously Planet Fitness has debt problems, currently sitting on over $700 million in liabilities, more than 10x the entire market cap of Town Sports Holdings , the parent of NYSC, BSC, PSC and WSC.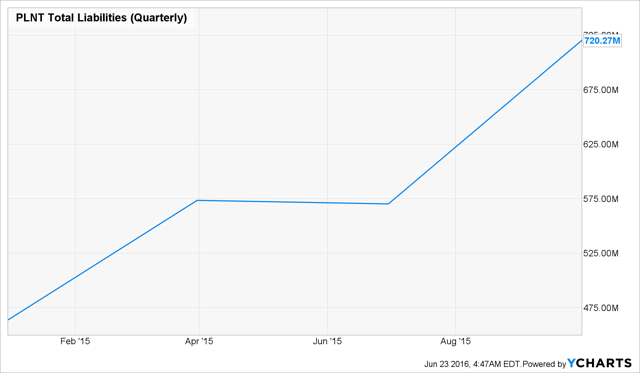 Click to enlarge
I understand acquiring debt in order to grow, but one striking part for me was reading the financial statements from the 2015 Franchise Disclosure Document.
In 2014, Planet Fitness successfully refinanced their existing debt. Here is the year end 2014 balance sheet. What do you see?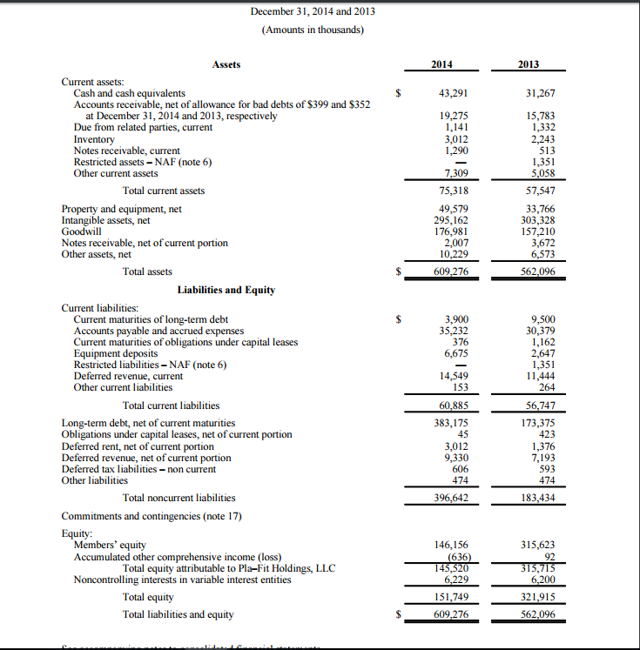 Click to enlarge
Source: 2015 Franchise Disclosure Document
Do you notice how the Total Equity just fell by over $170 million dollars?
Well, that is because...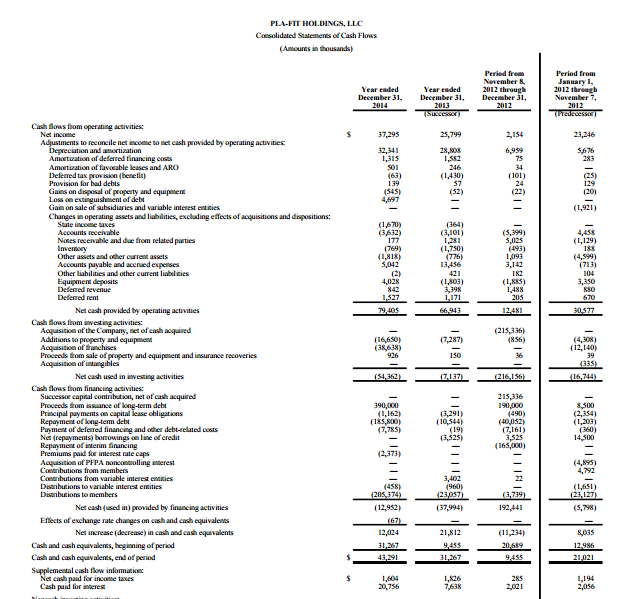 Source: 2015 Franchise Disclosure Document
... the members distributed to themselves more than $205 Million, paid for by the newly refinanced debt.
That's right, you earn $36 million, you pull out $205 for the owners... after all, you will soon go IPO.
Then there is the questionable moves this year.
On May 10th, with the company's Q1 earnings release, management announced an authorization to repurchase up to $20 million in shares. This propelled the stock from $15 to as high as $19 a few days ago.
Then, just a few days ago the company announces a secondary offering of $1 million shares. Causing the stock to fall.
Well nothing peculiar about that, just like Elon Musk's Tesla (NASDAQ:TSLA) acquiring Solar City (NASDAQ:SCTY) out of the blue.
Finally, as discussed as a risk in the franchise section, as an investor you have to be concerned and cautious about the growth built into the stock.
Living in NJ, I have often seen Planet Fitness advertising, but have not actually seen one, or knew where one existed until I started researching for this article. I ended up looking online at locations and found one that I visited about 7 miles away.
At the same time, I can give you the locations for at least 3 World of Workouts (WOW Gyms), 2 or 3 Retro Fitness clubs, 2 independent clubs, 3 Gold's Gyms, 5 NY Sports Clubs, 2 regional gyms, and 4 local competitors affiliated with a hospital.
Positioned in the "cheap gym" category, Planet Fitness faces a growing number of competitors including:
| | | |
| --- | --- | --- |
| Chain | Prices | Locations USA |
| 24 Hour Fitness | $25 | 400+ |
| Anytime Fitness | $30 | 2139+ |
| Blink Fitness (NYC) | $15 | 45+ |
| Charter Fitness | $10 | 40+ |
| Gold's Gym | $25 | 700+ |
| Gold's Gym Express | $9.99 | 13+ |
| Local YMCA | $10 | 2700+ |
| Retro Fitness | $19.99 | 144+ |
| Snap Fitness | $35 | 1033+ |
Those are just the "low cost" providers.
If you are willing to pay $30 to $40 per month, and in reality once you factor in the Black Card membership of Planet Fitness, the sign up fees, the annual membership fee, and the potential cancellation fee... you are in the $30 to $40 per month range, and are also competing against chains such as LA Fitness, Bally Total Fitness, Crunch Fitness, and Town Sports Holdings' NY Sports Clubs, Philly Sports Clubs, Boston Sports Clubs and Washington Sports Clubs.
Planet Fitness obviously faces local competitors putting up less crowded gyms at super low prices as well. They may also be run by the owners, thus providing a better managed experience compared to the numerous complaints found at Planet Fitness where the "manager is never here."
Also competing for fitness dollars are the numerous niche fitness clubs.
You have huge growth in boxing/kickboxing clubs such as 9 Round Fitness, Title Boxing, iLoveKickboxing, UFC Gym and CKO Kickboxing.
You have the numerous Cross-Fit clubs. You have the ladies focused fitness clubs such as Curves and Lucille Roberts.
There are numerous studios for Zumba, Bokwa and other group fitness classes.
For the people that were irritated by Planet Fitness' yoga commercial, there are thousands of yoga studios throughout the country and a number of franchises like CorePower Yoga and YogaWorks.
And finally, Planet Fitness is competing with the ever growing at home fitness rage and of course... simply taking a jog in the park.
If you believe Planet Fitness is a safe growth investment... I urge you to go to a local franchise expo, or to do a Google search for "fitness club franchise." You will be astounded by how many options there are.
Planet Fitness will face the same competitive pressures other clubs have faced from all directions; national competitors, local competitors, non for profits, niche fitness clubs, at home fitness workouts and even free workout videos on YouTube.
The free pizza, bagels and Tootsie Rolls are working right now... but they will not forever.
As a potential gym, err fitness center member, franchisee and investor... I have to say, "Thanks... but No Thanks."
Final Note: I hope you found this article helpful. I am a believer in active management that works and I am here to help you find those opportunities. Please follow me here on Seeking Alpha as we look for those opportunities and sort out the good managers from the mediocre.
Simply click the "Follow" button below if it appears for you, or click "Follow" next to my name at the top of the article. Alternatively, you can click the orange "Follow" button from my profile page.
Disclosure: I/we have no positions in any stocks mentioned, but may initiate a short position in PLNT over the next 72 hours.
I wrote this article myself, and it expresses my own opinions. I am not receiving compensation for it (other than from Seeking Alpha). I have no business relationship with any company whose stock is mentioned in this article.
Additional disclosure: Maks Financial Services is a registered investment advisor and our Form ADV Part 2 is available upon request. We certify that the opinions and predictions in these articles are our professional beliefs at the time of publication and should not be construed as personal investment advice. Please consult your financial professional to see how anything discussed here applies to you. Furthermore this is not a solicitation to buy or sell any securities. This is not Tax Advice. Please consult your tax professional.