In previous articles, I discussed why Noble Corp. (NYSE: NE) and Transocean (NYSE: RIG) lagged their offshore drilling peers this year. Now it's time to look at the worst-performing offshore drilling stock - Ensco (NYSE: ESV), which lost about 35% of value this year.
Ensco was burned by its exposure to Petrobras (NYSE: PBR) - one drillship was put out of the contract due to bribery accusations, 2 semi-subs lost their jobs and day rates on another 2 declined. Now Ensco has no unresolved issues with Petrobras, so the ongoing turmoil in Brazil and its oil producer should not put additional pressure on Ensco's stock.
Another significant development of the year for Ensco was the sale of 57 million shares - a significant dilution that, in theory, should have put significant pressure on the company's stock. However, the reality was very different from theory.
Ensco's shares did not touch the announced price of the offering - $9.25 - and continue to trade above this level. In my view, this was a good-timed offering that helped raise liquidity at uncertain times. Ensco's position improved after this successful offering, and there's little surprise that the offering price still serves as a floor for the company's shares.
With Petrobras uncertainty behind and a successful equity offering Ensco's shares could have been more dynamic during the recent oil price upside, but they were not. Why? Here are my thoughts.
Ensco has a whole fleet of stacked rigs. Some of these rigs are cold stacked, some are still being marketed. The perspectives for most of these rigs look dubious, at least in the short term. In my view, Ensco will emerge from the current market downturn as a much leaner company as most of the stacked rigs will never make it to the market again.
There are too many newbuilds waiting in the yards, and the cost of making a cold stacked rig ready to work is too big. Day rates are going to stay low for a long time due to big supply of rigs unless oil skyrockets past $100 per barrel and everyone will rush to drill as many holes in the ocean as possible. Just like in Transocean's case, the stock market is likely discounting most of Ensco's stacked rigs to zero.
The next thing to consider is the number of rigs that roll off contract in the second half of this year. The company will have to deal with 12 roll-offs, surely not a number to dream of. I believe that getting contracts for these rigs in 2016 will be problematic. This is how Ensco itself illustrates the problem: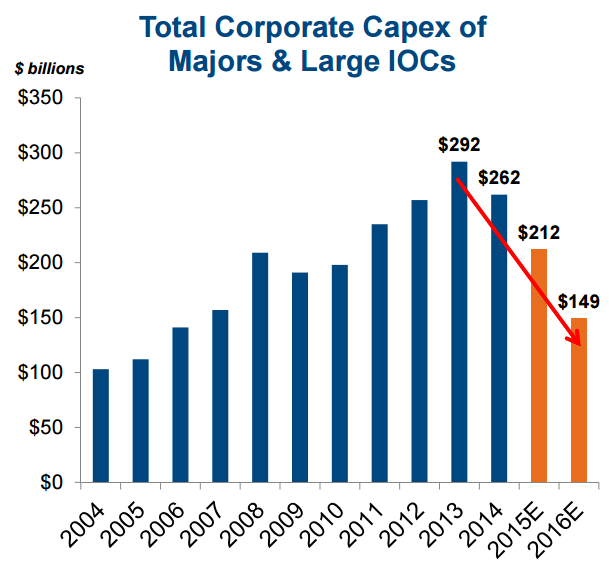 As high-cost contracts end, oil producers will have more dry powder to use in the lower-rate world. However, this process will take time and any uptick in the contracting activity will be delayed until at least 2017. Decreasing contract visibility is certainly an important factor for Ensco's underperformance.
Here's another thing to consider. Despite stacked rigs and contract visibility challenges, Ensco is not a highly shorted stock. In fact, the short float in Ensco is even lower than in Noble Corp.
As I go through my mid-year offshore drillers' survey, I become increasingly convinced that short float is the sole most important factor for short-term rallies in the offshore drilling space. Even Seadrill (NYSE: SDRL) became much less speculative after the giant squeeze in March wiped out unsuccessful shorts.
In Ensco's case, the main reasons why the stock is not heavily shorted are the balance sheet and the debt maturity profile.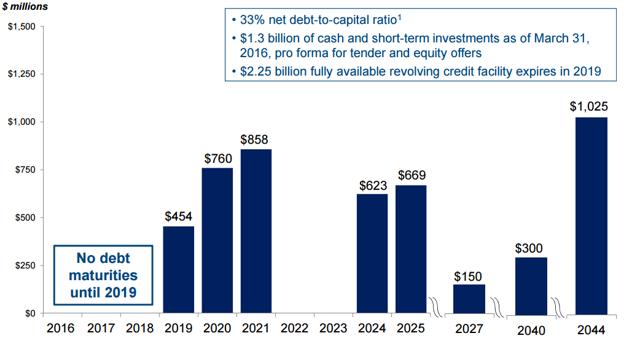 Click to enlarge
After the successful equity offering, Ensco has $1.3 billion in cash and short-term investments plus $2.25 billion available under the credit facility. With such a buffer, it is difficult to even dream of the company to go under water. Thus, the main catalyst that might be pushing Ensco's shares down will be the gradual loss of the earning power as rigs roll off contracts and new contracts are much worse.
When I started looking at offshore drillers to prepare myself for a next potential leg up in oil, Ensco was my primary candidate for a catch-up play.
However, the lack of shorts and the lack of immediate upside catalysts will likely limit potential upside in case of upside in oil prices. Ensco looks more safe than speculative peers in case Brexit breaks the current upside trend in oil and the black gold dips to $40, but the company's shares will be punished anyway in such a scenario.
All in all, Ensco looks fairly valued at current oil prices, with positive and negatives balancing each other. I expect more action in other names unless oil freezes around $50 per barrel.
Disclosure: I/we have no positions in any stocks mentioned, and no plans to initiate any positions within the next 72 hours.
I wrote this article myself, and it expresses my own opinions. I am not receiving compensation for it (other than from Seeking Alpha). I have no business relationship with any company whose stock is mentioned in this article.
Additional disclosure: I may trade any of the abovementioned stocks.