Fannie Mae (OTCQB:FNMA) and Freddie Mac (OTCQB:FMCC) are two private companies in government conservatorship. The purpose of this article is to outline that FHFA's purported justification's behind the third amendment net worth sweep are undermined by documents produced publicly as part of the plaintiff's discovery process. That being said, there are still over ten thousand documents that the government and plaintiffs are fighting over.
Investment Opportunity In Brief: It is unprecedented in American history to have two Fortune 50 companies hand over operational control and all of their profits to the government due to a series of agreements, amendments, and accounting arrangements built around the theme that the businesses are broken but are somehow able to dividend $245B to the government. In courts around the United States, investors are challenging the legality of the government actions. If the plaintiffs prevail, the combined earnings power of the companies is $15B/annum and even with massively diluted share counts where the government decides to take 80% if courts don't let them take 100%, the share valuations could reach upwards of $20 at current G-fee levels.
Ugoletti Claimed US Treasury Didn't Know About Writing Up GSE Assets
Below is the excerpt of Ugoletti's declaration that I'm specifically referring to: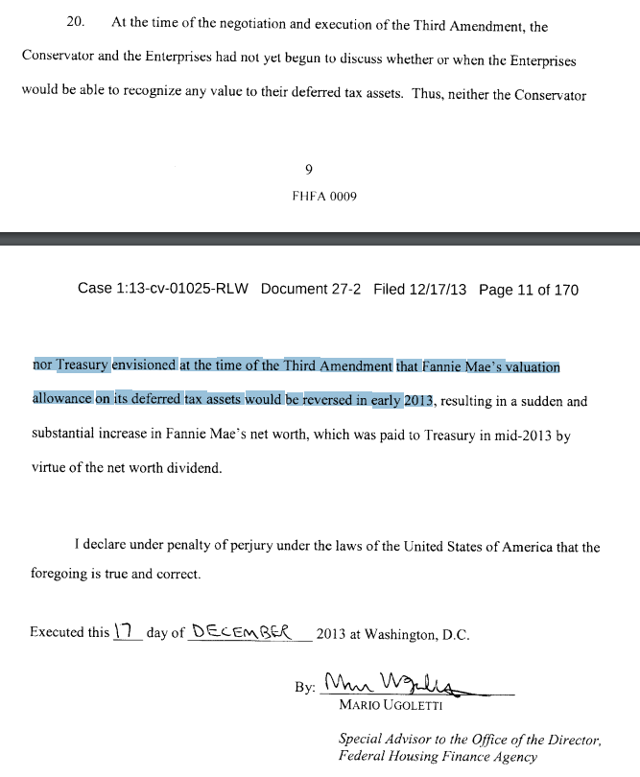 Click to enlarge
That's simply not true, because the net worth sweep announced on August 17 was predicated by a Treasury/GSE meeting where that was discussed: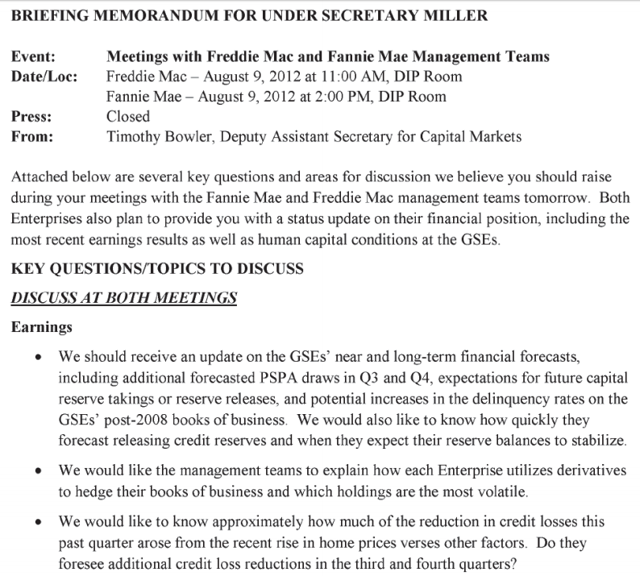 Click to enlarge
Treasury Brief "Materially Equivalent"
Reconciling Treasury's brief of "materially equivalent" vs. "a better deal" is impossible. Either it is better or it is not:

Click to enlarge
Here's Treasury's legal defense for comparison purposes:

Click to enlarge
If you're still not sure, it's made very clear:

Click to enlarge
So, there's a deal on the table called the net worth sweep that is supposed to resolve this issue of the GSEs being too profitable. In case you weren't sure where the GSE money should go, that's made clear too:

Click to enlarge
The government makes it clear where the money shouldn't go:

Click to enlarge
And then they make sure that the agreement's intended purpose of taking all of the money for the government is clear:

Click to enlarge
Suspending reality a little bit at this point, the government refers to itself, the US Treasury (a verified tax collector), as a taxpayer directly:

Click to enlarge
And then they beat that point into the ground:

Click to enlarge
Again:

Click to enlarge
and Again:

Click to enlarge
There you have it, Treasury put the Third Amendment into place because they were concerned the GSE income would be greater than the 10% dividend after they had a meeting with management discussing asset valuations that they swore they didn't discuss. They say that this is a better deal for them, but in legal briefs say that it's the same.
Lamberth's Fourth Amendment Scenario Implausible
After a net worth sweep amendment between the government and itself where the government takes everything, there's no reason to change it. Let's look at the discovery:


Click to enlarge
So, we know that two parties had to agree to this change and from above that this change results in "all profit goes where it should." Seeing as how this amendment struck between the government and itself "will result in all comprehensive income generated by the GSEs being paid to the government", what incentive does the US Treasury have to amend an agreement where they get all comprehensive income? None. Nonetheless, Lamberth gave the government the benefit of the doubt on this one. Logic be damned:

Click to enlarge
I'm not sure if implied control counts, but I thought that this snippet was telling:

Click to enlarge
It gets worse.
The GSEs Were Beating FHFA's "Expectations"
No surprises here. If you recall, during the early years of conservatorship the GSEs wrote down the value of their assets in order to trigger the issuance of more senior preferred stock to the United States Treasury at the behest of FHFA. In order to do this, the forcasted losses had to be greater than the actual losses experienced at the GSEs. The implication is that when your actual losses are short of your forecasted losses, eventually you get to a point where you can't write off more assets to generate accounting losses. This email reflects that FHFA is well aware that the capital backstops for the GSEs are solid: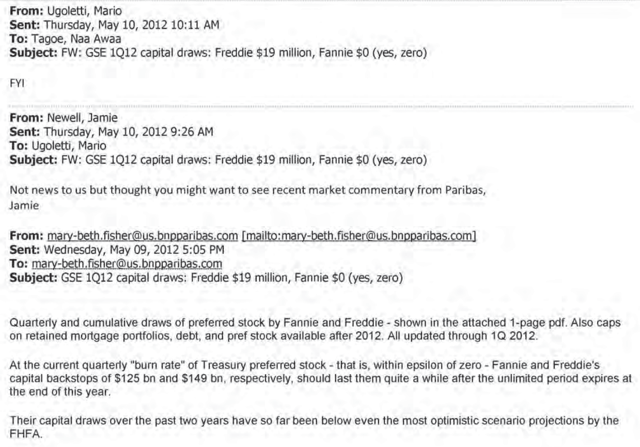 Click to enlarge
The following is more of the same sort of memo, where FHFA is getting high fives but isn't thrilled about reasonable financial projections: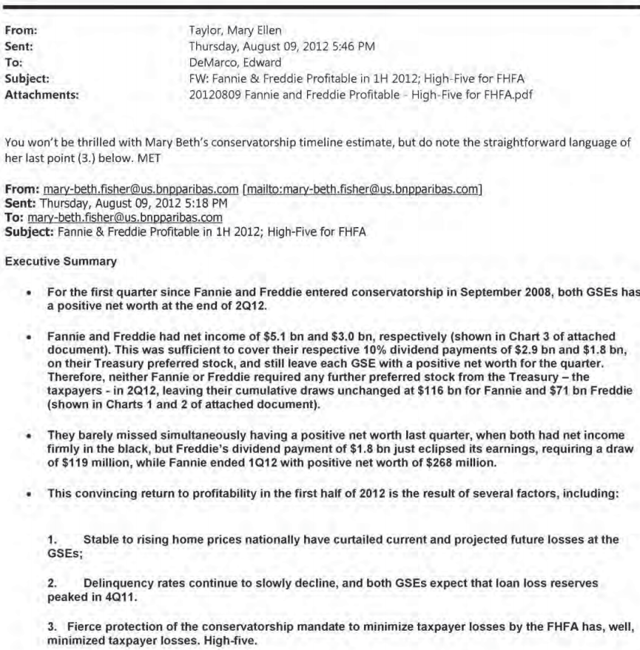 Click to enlarge
Why Was It So Important To Treasury That Treasury To Take Everything?
Government discovery shows that this was done so that they could "take parts of the GSEs' business (and human capital/systems)":

Click to enlarge
But, in order to accomplish this Single National Securitization Utility, they had to take the positive net worth of the GSEs:

Click to enlarge
FHFA's website even confirms that they are working hard to develop the Common Securitization Platform (CSP).
New Delaware Lawsuit - David J. Voacolo
David J. Voacolo has filed a simple lawsuit in Delaware. The complaint itself is pretty straight forward, but here's where it gets interesting: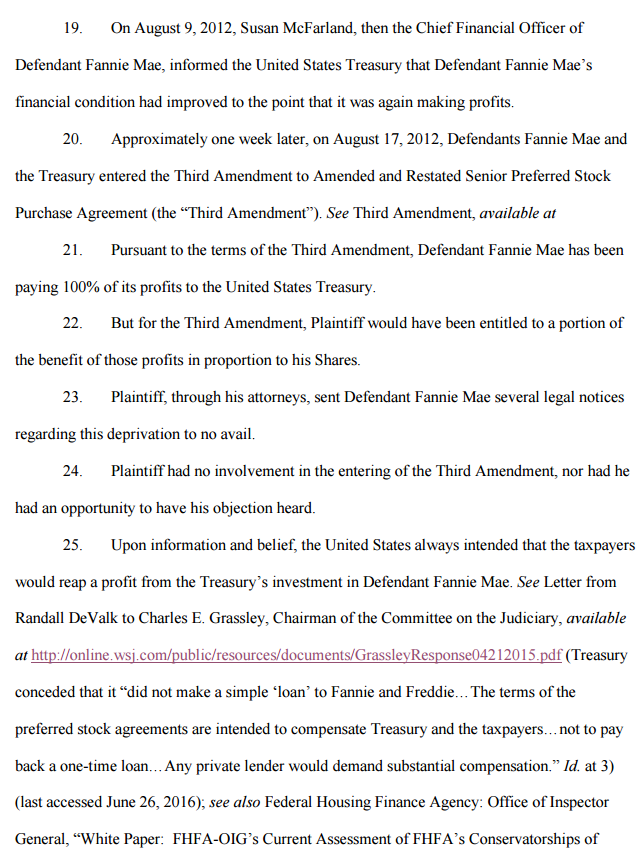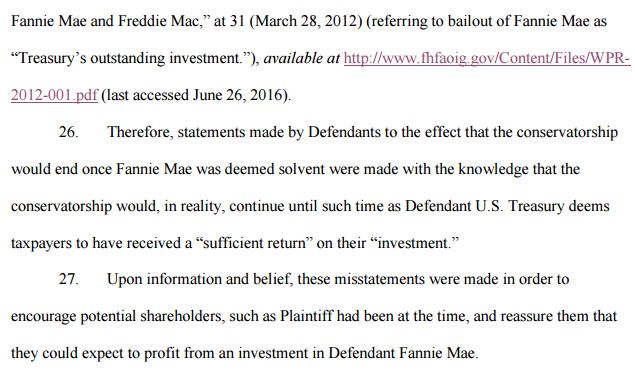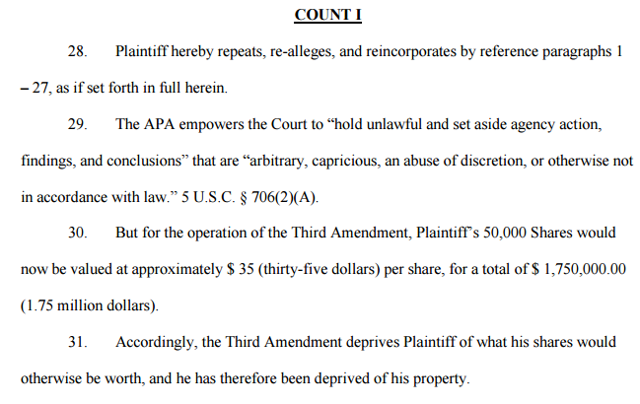 Click to enlarge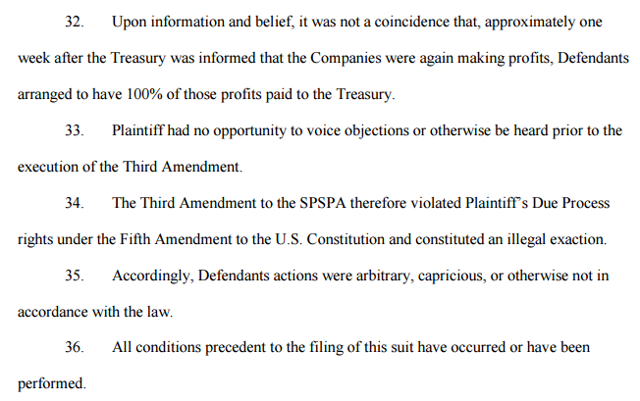 Click to enlarge
His valuation of $35 per share on the commons is an interesting perspective. Would love to know how he gets there. Considering that he bought shares after the conservatorship began, it would seem that his valuation includes the government warrants being dilutive, some pretty high normalized profitability metrics and a generous multiple of earnings.
Summary & Conclusion
Recent discovery makes a pretty compelling case that the government saw the deferred tax assets turning the corner. After all, it was the issuance of senior preferred to the government that was the driving force behind the writedowns in the first place. Seeing the assets turn the corner caused the government to effect a net worth sweep out of fear that the dividends would exceed the 10% they were owed and they saw an opportunity for a better deal even though in their legal defense Treasury claims it wasn't a better deal.
The government filings reveal that according to the government GSE money should go to the government. I happen to disagree with the government and that's why I own the shares that the government doesn't own. I expect at least one of the many lawsuits against the government to prevail with the discovery they have on hand, not to mention additional information that may be produced shortly from the over ten thousand documents being contested in Judge Sweeney's Court of Claims.
I own 4,050 shares of FMCCH, 9,340 shares of FMCCP, 4,442 shares of FMCCT, 5,000 shares of FMCKP, 27,086 shares of FNMFN, 5 shares of FNMFO, 25,092 shares of FNMA, and 500 shares of FMCKO.
Disclosure: I am/we are long FMCCH, FNMA, FMCCP, FMCCT, FMCKP, FNMFN, FNMFO, FMCKO.
I wrote this article myself, and it expresses my own opinions. I am not receiving compensation for it (other than from Seeking Alpha). I have no business relationship with any company whose stock is mentioned in this article.
Editor's Note: This article discusses one or more securities that do not trade on a major U.S. exchange. Please be aware of the risks associated with these stocks.