So how do the markets follow up a momentous week? Probably with fewer fireworks, at least until the July 4 holiday. But pressure and volatility may continue amid growing uncertainty about the world economy in the wake of Brexit.
This coming week means sifting through the remains of last week's unexpected and market-busting British decision to cut ties with the European Union. The first instinct investors often have at times like these is to run to safety, and that certainly seemed to be the case Friday, with the dollar rising to three-month highs vs. the euro and U.S. Treasury bond yields falling to near record lows.
The effects of this unprecedented decision will likely continue boomeranging around the markets in the weeks and months to come, and the long-term ramifications are far from certain. Will safety plays continue to look attractive even as yields sink into the murk? Will cheaper stocks draw in some bargain hunters? That may already be happening, as some of the initial sharp plunge in U.S. stocks early Friday got erased after the first hour of the session. Stocks fell again after that, but it does seem there's some buying interest at lower levels.
While the VIX volatility index rocketed all the way up to 23 shortly after Friday's opening bell, it fell back to below 21 by midday. That's still historically high, but not in the stratosphere. Volatility soared ahead of Brexit, another example of how uncertainty can cause volatility. Now the uncertainty around the Brexit vote lies in the past, but what Brexit might mean in the future is less than clear. That means volatility may not be finished.
One thing that should be immediately apparent is that Brexit is a long process, with a couple years ahead to see how it all plays out. That means it may eventually become more of a background noise rather than the jackhammer it's been the last few days. Britain has to choose a new prime minister, and then enter what's expected to be a two-year process in which it re-negotiates its trading status with the E.U. There's no way to predict how that may play out or which companies' stocks could see the biggest negative or positive impacts. Certainly the financial sector took an initial hit, because many are concerned that current low yields could now last longer, and fears rose about the possibility of recession.
And with Brexit triggering concerns about possible slower economic growth, headlines popped up all over on Friday that a Fed rate hike is probably off the table for 2016, and that the Fed might even lower rates from already rock-bottom levels. Remember, just a month ago, the futures market was pricing in a 60% chance of July hike. Until Friday, many analysts had expected at least one more rate hike, and possibly two, before the end of the year. The Fed's next meeting is in a month, and it could be informative to listen to Fed speakers over the coming weeks to get their take on Brexit and its potential effect on the U.S.
Beyond Brexit, what lies ahead more immediately this coming week? Earnings season remains a couple weeks away, and the July 4 holiday means a holiday week lies between now and earnings. The July 4 season is typically a quieter time in U.S. markets, though perhaps this year could be an exception due to Brexit. The monthly jobs report for June is due on Friday, July 8, so there's still some time ahead of that key data. Some analysts expect the report to show significant improvement from May's anemic 38,000 headline number.
A few companies are scheduled to report earnings in the coming days, including Nike (NYSE:NKE) on Tuesday, Monsanto (NYSE:MON) on Wednesday and Darden Restaurants (NYSE:DRI) on Thursday, but nothing really momentous looms on the earnings front. As far as economic data, the government's third estimate for Q1 Gross Domestic Product (GDP) arrives early Tuesday, the Core PCE Price Index is Wednesday, and June auto and truck sales come out Friday.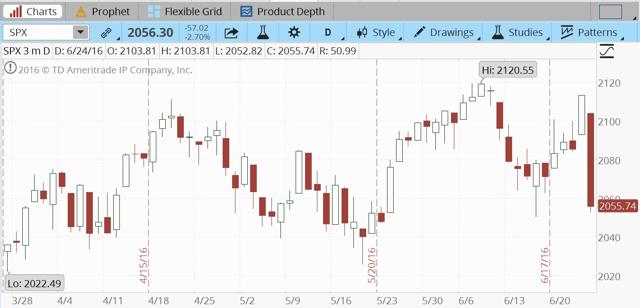 Click to enlarge
Figure 1: Brexit Bust: The S&P 500 (SPX), plotted here through midday Friday on the TD Ameritrade thinkorswim® platform, moved dramatically lower, testing recent technical support levels, after Brexit results came in. Source: Standard & Poor's. For illustrative purposes only. Past performance does not guarantee future results.
Gear Up for GDP: Ready for another look at Q1 GDP? The government's third estimate is due early Tuesday, and although Q1 was a long time ago, it came back to mind last week when Fed Chair Janet Yellen said to Congress that weakness early in the year perhaps contributed to the anemic May jobs number. The most recent government estimate was for 0.8% Q1 growth, up from its initial 0.5%.
2Q Economic Outlook Dims: The Atlanta Fed put out a revised 2Q GDP estimate Friday, revising it down to 2.6% from its prior 2.8%. It's unclear if the Fed worked Friday's Brexit results into its latest estimate, though it's unlikely that Brexit could have much effect on 2Q economic growth, considering just days remain in the quarter. In lowering its estimate, the Atlanta Fed said it's dialing down expectations for real residential growth in 2Q to 1.7% from its prior 3.6% after Thursday's May new home sales, prices, and construction costs report.
Banks Pass Stress Test: Though the financial sector came under pressure Friday after the Brexit vote, there's apparently nothing to fear about banks' ability to hold up under stress. Results of the Fed's supervisory stress tests for 33 bank holding companies with $50 billion or more in total consolidated assets came out late Thursday, and all 33 bank holding companies passed the test under both the severely adverse scenario and the adverse scenario. That could mean most, if not all, of the bank holding companies will probably win approval of their capital return programs when the results of the Fed's Comprehensive Capital Analysis and Review are released after the close this coming Wednesday, according to Briefing.com.
Inclusion of specific security names in this commentary does not constitute a recommendation from TD Ameritrade to buy, sell, or hold. TD Ameritrade® commentary for educational purposes only. Member SIPC.
Disclosure: I/we have no positions in any stocks mentioned, and no plans to initiate any positions within the next 72 hours.
I wrote this article myself, and it expresses my own opinions. I am not receiving compensation for it. I have no business relationship with any company whose stock is mentioned in this article.