Canadian gold miner IAMGOLD (NYSE:IAG) has received a big boost on the stock market this year on the back of a rally in gold prices. In fact, IAMGOLD shares have shot up close to 200% in almost six months this year, with the stock's performance tracking gold prices closely. This can be seen in the chart given below: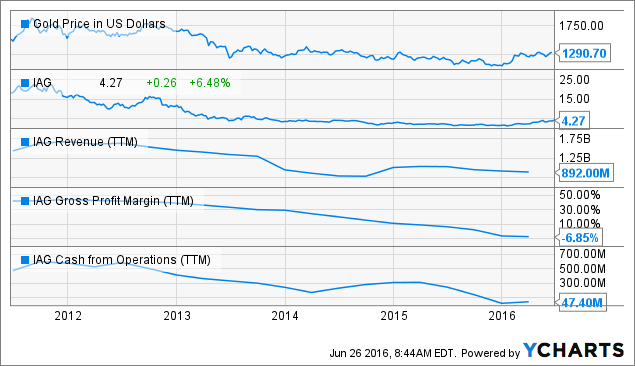 A closer look at the chart given above indicates that IAMGOLD's stock price performance is largely driven by the direction that gold prices take. This is the reason why the stock has recovered so remarkably this year after multi-year declines. Also, as seen above, IAMGOLD has performed better from a financial point of view when gold prices were high, but a decline in the price of the yellow metal has led to a drop in its revenue, margin, and cash flow.
As such, it is important to take a look at how gold prices might turn out to be going forward as this will play a key role in IAMGOLD's overall performance.
More gold upside is in the cards
Gold prices thrive on two key factors - low interest rates and market uncertainty. First, we will take a look at the interest rate factor. In 2016, the Fed was supposed to hike the federal funds rate four times, with each being a quarter-point hike. However, in March, the Fed dialed down its interest rate hike path, forecasting just two hikes.
The latest Fed policy forecast indicates that there might be none to one interest rate hikes in 2016. The reason why the Fed has been forced to backtrack on the federal funds rate hike this year is because of a slowdown in job growth in the U.S., expectations of slower economic growth, and overall volatility in the stock market due to events such as low crude prices and the exit of Britain from the EU.
For instance, last month, U.S. job growth almost stalled as just 38,000 jobs were added to the economy, which was the lowest since 2010. This was way below the expected growth of 164,000 jobs that economists were looking forward to. Another alarming thing to note is that 458,000 people have dropped out of the workforce in the U.S. and are not looking for a job in an active manner.
This has further tied the Fed's hands as far as hiking the interest rate is concerned. As shown in the chart below, the Fed's plot dot chart indicates that the Fed's rate hike expectations have been declining: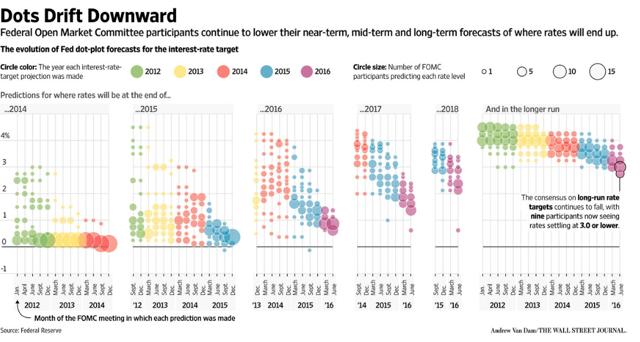 Click to enlarge
Source: WSJ
Since the interest rate has been kept at low levels, the demand for gold has remained strong this year as investors are hedging their bets in the stock market by buying gold. Also, in a low interest rate environment, gold becomes an attractive investment due to low treasury yields on the back of a low federal funds rate.
Similarly, market volatility spikes an increase in both gold demand and prices. For instance, after the Brexit vote, it is being suggested that the price of gold will increase going forward owing to its nature as a safe haven investment. Now, it has been historically seen that a spike in market volatility has proven to be a tailwind for gold. This is shown in the chart below: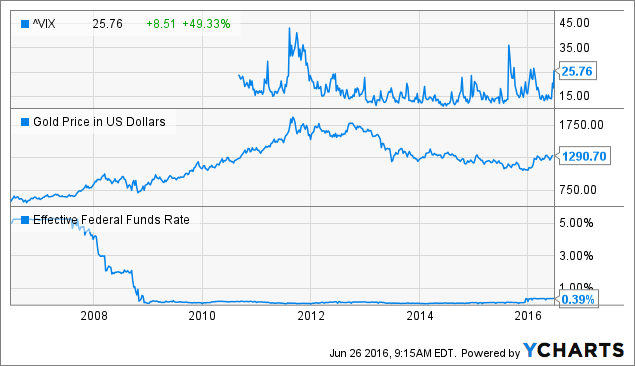 As seen above, the market has seen two spikes in volatility this year, and this has contributed to the rise in gold prices. The latest spike took place recently on the back of the broad-market sell-off after the exit of Great Britain from the EU, and the after-effects of the same are likely to continue. Therefore, as investors look to hedge themselves against a volatile end-market, gold demand and pricing will rise.
Meanwhile, the chart above also shows that a low federal funds rate also leads to higher gold prices. As we have already discussed that the interest rate is expected to be lower going forward, this will lead to further improvement in gold prices.
IAMGOLD's cost reduction will be a tailwind
IAMGOLD has been focused on increasing recoveries from its mines through higher mill throughput. Looking ahead, the company will be following the same strategy of improving the mill throughput by optimizing the drilling and blasting process. Doing so will allow IAMGOLD to reduce the use of explosives.
Similarly, to reduce power consumption at its key Essakane mine, which accounts for almost half of its production, IAMGOLD is busy constructing a 15 MW solar power plant so that electricity costs come down in the long run. This is a smart move by the company, which, along with the deployment of automatic cyanide injection and the construction of a leach reactor to increase the rate of recovery, will allow IAMGOLD to eventually lower costs at Essakane.
In my opinion, reducing costs using the infrastructure investment route is a never-ending and long process. This is because once the productivity of a low-grade mine drops, more investment is needed to lower costs once again. However, the good thing is that IAMGOLD's cost reduction will eventually bear fruit with all-in sustaining costs at its Essakane mine dropping post 2018 and will eventually go down to $800 an ounce in 2023, as shown below: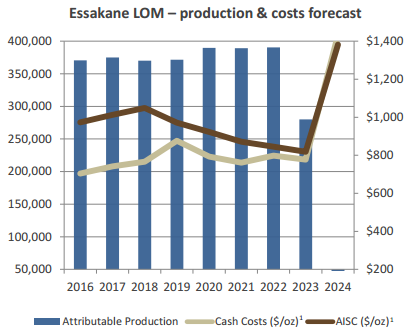 Source: IAMGOLD
Considering that Essakane accounts for 46% of IAMGOLD's overall production, the mine plays an important role in its overall cost and production profile. As a result, even though it might take some time for the company to bring down the cost at this mine, investors should remain patient as this will impact its financial performance in a positive manner.
Conclusion
Investors should not ignore the fact that IAMGOLD has been benefiting from the resurgence in gold prices as its gross margin has been improving due to a higher profit on sale of gold bullion, while its cash position is also getting better. The company is indeed making improvements to its infrastructure at Essakane that will eventually bear fruit and allow it to take greater advantage of the bull market in gold.
Disclosure: I/we have no positions in any stocks mentioned, and no plans to initiate any positions within the next 72 hours.
I wrote this article myself, and it expresses my own opinions. I am not receiving compensation for it (other than from Seeking Alpha). I have no business relationship with any company whose stock is mentioned in this article.