Overall JPMorgan's (NYSE:JPM) stress test results appear absolutely fine with a minimum Core Equity Tier 1 (CET1) ratio of 8.2%. As expected, it does seem that JPM has plenty of quantitative CCAR capacity to apply towards buybacks and dividends come Wednesday.
However, there was one data point that got me scratching my head and it is not an insignificant one.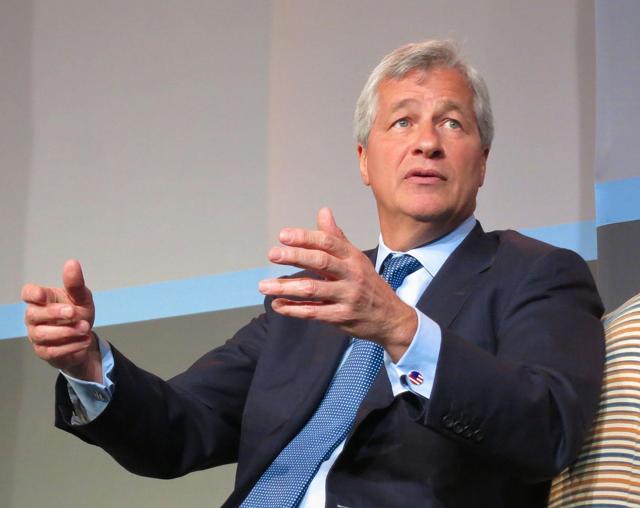 Click to enlarge
The GMS scenario loss
The GMS scenario is a set of one-time, hypothetical shocks to a broad range of financial market risk factors. Generally, these shocks involve large and sudden changes in asset prices, interest rates, and spreads, reflecting general market dislocation and heightened uncertainty. It also involves the default of a major counter-party [in JPM context that counter-party may be Bank of America (NYSE:BAC) or Citigroup (NYSE:C)].
JPM's GMS loss in 2016 stands at $32.6 billion - this is much higher compared with peers as well as significantly higher than last year's results.
This can be clearly apparent in the table below:

Click to enlarge
(Source: The Fed, IP Banking Research)
Clearly, JPM is an outlier with an almost 40% increase in the GMS loss estimate year-on-year.
Qualitative issues?
My immediate concern was a qualitative issue - has the Fed identified something in JPM's balance sheet that causes it to forecast a huge trading loss? Perhaps even more worrying so - has JPM not picked that up in its submission?
This could potentially result in the dreaded qualitative fail of CCAR.
I immediately went and checked JPM's disclosure around DFAST 2016 and was relieved to note that JPM own calculations also forecast a similar amount.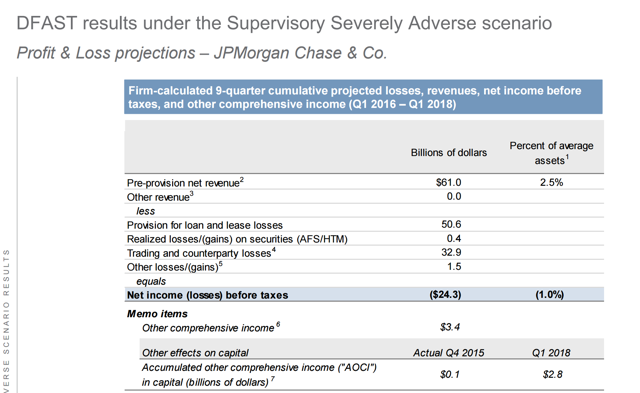 Click to enlarge
So what is driving this outsized loss?
To be frank - I am not 100% certain and perhaps can only postulate.
The GMS scenario in 2016 is tougher than 2015, yet the other banks seemed to have handled it much better. My best guess it is a methodology issue - or specifically the 'double count' inherent in the GMS scenario. I covered this point in this article but essentially the calculation can end up in a double count of the same loss through top-line revenue reduction as well as a mark-to-market (MTM) loss - perhaps the other banks have managed to gather sufficient data to achieve an elimination of this well-documented double count.
The other explanation is somewhat more sinister - could it be that JPM business model in its investment bank is much riskier than its peers?
One would think that would be somewhat unlikely - given the risk-management culture embedded in the JPM model. But you never quite tell for certain, right?
Why is it important?
The CCAR process is the binding capital constraint for the large U.S. banks and about to get much tougher. The Fed indicated that there will be some offsets in the incorporation of the G-SIB surcharges in CCAR and most of these offsets should relate to the GMS scenario.
So when thinking about the capital return capability of JPM - should we think about JPM's GMS loss at $30-$40 billion or more like $10-$20 billion.
This potentially has a significant impact on the quantum of dividends and buybacks the firm can afford to pay its shareholders.
Final thoughts
I know there are many banking experts contributing to Seeking Alpha that perhaps may know the answer to the above question (i.e. what is driving the outsized GMS loss for JPM?), perhaps even someone who is intimately involved in the CCAR calculation process in one of the large banks.
So if you know the answer - feel free to update in the comments section. Alternatively, if any of the sell-side analysts is kind enough to query Miss Lake (JPM's CFO) in the next earnings all - that would be much appreciated!
All in all, JPM's stress results were solid even when including the GMS outsized loss - this means, there could potentially be further upside in future CCARs, if JPM is able to manage down the estimated GMS loss.
If interested in quality and completely independent analysis of banks (including special situations and events) - do subscribe as a "real-time follower" at the top of this article.
Disclosure: I am/we are long C, BAC.
I wrote this article myself, and it expresses my own opinions. I am not receiving compensation for it (other than from Seeking Alpha). I have no business relationship with any company whose stock is mentioned in this article.