The Cambria Value and Momentum ETF (NYSEARCA:VAMO) utilizes a quantitative approach to actively manage a portfolio of U.S. equities. As the name suggests, the fund overweights value and momentum factors in selecting stocks. Additionally, a systematic hedging strategy is used to avoid bear markets. From the fund website:
Value factors have long been emphasized by investors as key predictors of a company's strength. Likewise, momentum factors have historically been complementary to a portfolio sorted on value. Value and Momentum combines the two factors and additionally can tactically hedge the equity portfolio with strict risk control methods that are completely systematic.
The ETF was incepted in Sep. 8, 2015. This appears to be a little-known fund, with only 52 followers on Seeking Alpha and zero articles to date. The ETF is actively managed and charges an expense ratio of 0.59%. It currently has $4.5M in assets.
At VAMO's launch, Cambria Chief Investment Officer Meb Faber said:
The recent volatility in the US markets is a classic example of why investors may want to consider hedging their investments. Value and momentum have long been important factors when selecting equity investments. Combining these two factors with hedging provides a strong portfolio of companies with the potential to minimize downside losses.
A disappointing start
VAMO's first 9 months of trading has been less than conspicuous. While both U.S. momentum stocks (NYSEARCA:MTUM) (+6.30%) and value stocks (NYSEARCA:IWD) (+6.00%) have slightly outperformed the broader market (NYSEARCA:SPY) (+5.12%) over this time period, VAMO is stuck in the doldrums at -10.2%. When compared with the performance of the two individual factor style ETFs, it is hard to see how VAMO has shown either value or momentum characteristics.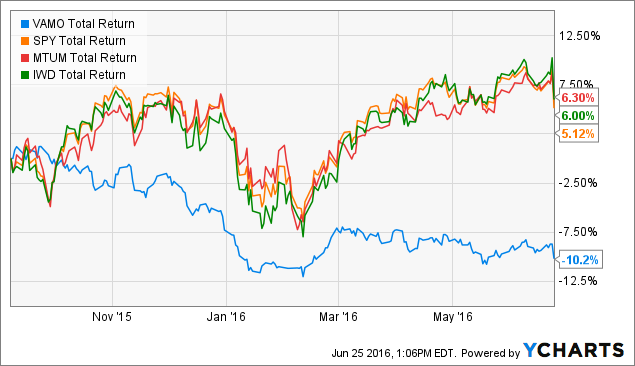 VAMO Total Return Price data by YCharts
Hedging with value and momentum
What happened? Recall that VAMO utilizes a hedging strategy to minimize downside losses. VAMO's prospectus states (emphasis added):
The Fund may hedge up to 100% of the value of the Fund's long portfolio...during times when Cambria believes that the U.S. equity market is overvalued from a valuation standpoint, or Cambria's models identify unfavorable trends and momentum in the U.S. equity market.
In other words, VAMO will hedge either when U.S. stocks become overvalued, or when they have unfavorable momentum. This is rather different from most "tactical" strategies which employ only momentum but not value in asset selection.
The prospectus further states that "various valuation metrics" will be used including the cyclically adjusted price-to-earnings ratio, commonly known as the "CAPE Shiller P/E ratio."
Faber is a well-known proponent of using the CAPE Shiller P/E ratio to value stocks or entire countries of stocks, and which is also used as the primary screening method for the Cambria Global Value ETF (NYSEARCA:GVAL). One criticism of the CAPE is that even in 2012 this metric was saying that U.S. stocks were overvalued. Faber himself remarked that U.S. stocks, with a CAPE ratio of about 21 in Dec. 2012, were one of the "more expensive countries" in the world and about "20-30% overvalued". While hindsight is always 20/20, one wonders how many people missed the fantastic rally in U.S. stocks in 2013 due to adherence to the CAPE ratio.
Today, the U.S. market currently has a CAPE ratio of 25.4, which is even higher than its value at the end of 2012. This is 52% higher than the historical mean of 16.7, implying a future annual return of only 0.2%. Given VAMO's stated use of the CAPE ratio (among other tools), as well as Faber's personal fancy for this metric, it stands to reason then that VAMO has considered the U.S. market to be extremely overvalued for quite some time, and has hedged accordingly.
Indeed, a look at VAMO's holdings reveals that the fund is short 20 S&P500 E-Mini contracts, corresponding to a $2.0M short bet on the market. With an AUM of $4.5M, this means that VAMO only has 56% long exposure to the market. This hedge proved beneficial on Brexit day last Friday, where the U.S. market tumbled by 3.59%, but VAMO dropped only by 1.63%. However, over the course of the past year, the hedge has worked against VAMO.
Poor stock selection?
I am still struggling to understand how VAMO steadily lost value during periods where the U.S. equity markets ground steadily upwards, such as from October to December of last year, or from March this year onwards (see top chart). Was VAMO hedged even more back then?
Even so, the maximum hedge that VAMO can employ is 100%, according to the prospectus. If VAMO was solely invested in the S&P500, and then hedged back 100% of that exposure, it would merely stay flat as long as the hedge was in place. The fact that VAMO lost value while U.S. stocks advanced suggests that not only was VAMO (probably) 100% hedged, its selection of stocks also underperformed the S&P 500. This is especially disappointing when considering that VAMO's focus on academically validated factors, namely value and momentum, should have added alpha to the portfolio, rather than detract from it.
Worse than tactical
Given that VAMO has the ability to hedge its portfolio up to 100% of its portfolio, it might be considered to be a "tactical" ETF. How then has VAMO fared against four other tactical/momentum ETFs, each of which have the ability to move into cash or bonds based on recent strength?
The chart below shows that all four tactical/momentum ETFs have done quite a bit better than VAMO. Of the four excluding VAMO, the worst performing is the Cambria Global Momentum ETF (NYSEARCA:GMOM), at +0.11% over the past 9 months.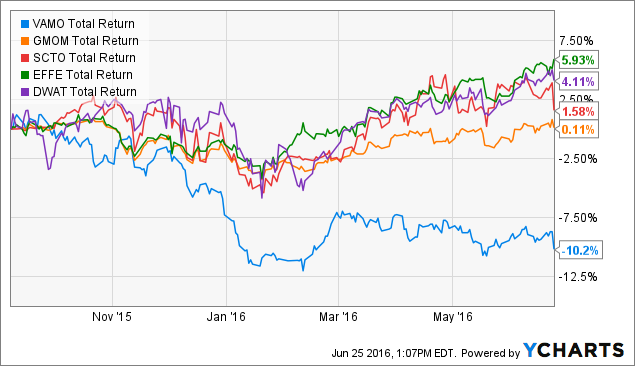 VAMO Total Return Price data by YCharts
Summary
Since launching 9 months ago, VAMO has been a disappointment. In spite of being actively managed, VAMO has managed to underperform both style and momentum tilts, and a bevy of tactical/momentum ETFs. Furthermore, VAMO has not effectively protected investors from volatility in the markets (including the January/February correction).
Faber perhaps needs to rethink his hedging strategy. While U.S. equities are overvalued by CAPE or various other metrics, there's nothing to say that they can become even more overvalued. Additionally, even when disregarding the hedging issue, VAMO's stock selection strategy has proven to be inferior to the S&P 500 index. If VAMO's performance does not significantly improve in the near future, this ETF could be headed for an early grave due to lack of trading activity.
Disclosure: I/we have no positions in any stocks mentioned, and no plans to initiate any positions within the next 72 hours.
I wrote this article myself, and it expresses my own opinions. I am not receiving compensation for it (other than from Seeking Alpha). I have no business relationship with any company whose stock is mentioned in this article.