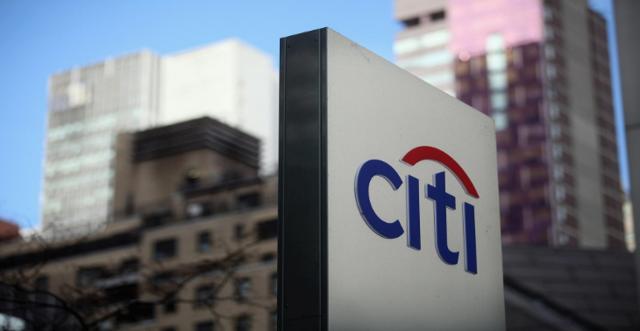 Click to enlarge
Citigroup (NYSE:C) - the proverbial red-headed stepchild of the banks, has been absolutely destroyed as a result of the Brexit result. It isn't as though Citi was flying high prior to the vote either; shares are even weaker than they were. European bank shares are getting hammered (predictably) and as the most globally oriented of the mega banks, Citi is seeing its own version of a crash off of the vote. But are things really that bad?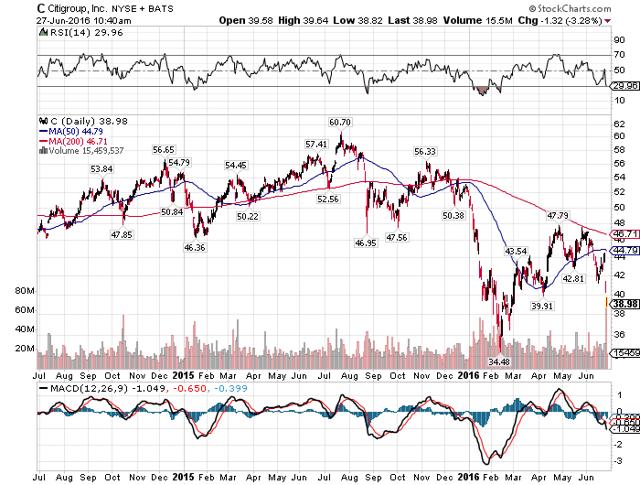 Click to enlarge
To be fair, Citi has its share of problems. The bank has endured a few bouts of not only poor management but outright fraud and as a result, it trades for a huge discount to not only its book value but its peers as well. The thing is that Citi has been getting better and better in terms of preventing the sorts of things that have dragged it down in the last few years and I have a great deal of respect for Corbat and his team. This is not the same Citi that was run into the ground prior to the crisis.
However, I don't think the market is pricing in those improvements at this point as we are now down at just $38, near the panic low set in February and it seems Citi may be poised to retest that low. Citi is certainly in a downtrend - one quick look at the chart above makes that painfully obvious - so a rally based upon technicals isn't in the cards anytime soon. We need to see the 200DMA flatten out and eventually move up; that is going to take many months of strong price action to occur but Citi has done it in recent years. But that doesn't necessarily mean there isn't value at $38, either.
Citi's more global footprint means it certainly has more exposure to contagion from Europe than the other mega-cap banks but let's not forget that Citi's combination of strong earnings and minimal capital returns over the last few years has created a monster capital position on its balance sheet, most recently evidenced in this year's round of stress testing.
Citi's CET1 is all the way up at 15.3% and would drop to just 9.2% under the severely adverse scenario the Fed threw at the bank for this year's modeling. Both of those numbers rank near the top of the peer group - as defined by the stress test participants - and it means two very important things for bulls.
First, Citi's capital position means it will simply not be subjected to another meltdown that required it to be bailed out during the crisis. Citi's capital position can weather literally any storm as the Fed's severely adverse scenario is a concoction of economic malaise that isn't likely to actually occur. That is the point of the test, after all. That means that under normal circumstances, Citi's capital position will be much stronger than the 9.2% minimum it hit during testing. Mid-teens is more likely and if a recession hits us, perhaps low double digits. The point is that Citi's balance sheet is beyond immaculate at this point.
Second, that means Citi can ask for - and likely receive - huge capital returns in the coming years. Citi has done everything right and followed the rules and now that it is so strong, it should be allowed to return capital. Everyone wants the dividend back but that is going to take a very long time. Dividends are sticky so once you start paying them, it is difficult and embarrassing to cut or suspend them. Citi knows this all too well and will be keen on paying a dividend that is sustainable forever.
However, buybacks are very much on the table as Citi is making $15 to $20 billion a year (that's with a " b") and as I said, it has an enormous capital pile already on the balance sheet. Even if Citi's capital base were more in line with its peers around 10% or 12% in terms of CET1 ratio, the same argument could be made for buybacks due to the sheer strength of its earnings. This company is making a lot of money and should be allowed to return it to shareholders as it sees fit. The world isn't that simple for banks any longer, of course, but the point stands that Citi shouldn't have any more embarrassing episodes of having its hand publicly slapped by the Fed at CCAR time.
Of course, there is the matter of interest rates, a topic that is a matter of daily debate at present. Futures traders are now pricing in a moderate chance of a rate cut later this year and there is virtually no chance of a hike anytime soon. That amazes me considering the simple facts that inflation is running near the Fed's 2% target and unemployment is well under 5%. In addition, both of these conditions have persisted for some time now so it isn't as though the Fed was surprised suddenly by higher inflation and low unemployment. The economy, by the Fed's own admission, is performing well. No one knows what the Fed is going to do - including the FOMC members themselves. But I do know one thing: I don't want their job right now. At any rate, it seems rates will be lower for longer (again) and that certainly does not bode well for Citi's earnings or any other bank for that matter. Still, Citi's reliance on traditional lending for interest income is lower than that of the others so Citi should correlate less with interest rates, not more than the others.
The thing is that Citi is trading for a fraction of its book value and a higher fraction of its tangible book value. It is so far below both numbers that comparing them almost isn't meaningful. That's striking to me for a company that is making so much money and progress towards its longer term goals including de-risking its business mix and growing in targeted areas. Analysts still have Citi earning $4.71 this year but what if Europe collapses and Citi only makes $4? Shares right now are trading at 9.7 times that number and that is an enormous decline in estimates that hasn't even occurred. If we take this view it is pretty easy to see that Citi is pricing in a disastrous scenario that may or may not occur. And let us not forget that the UK cannot leave the EU immediately. This is going to be a long, drawn out process that will likely be measured in years, not days or months. That implies any material impacts to earnings are a long way off, hardly worthy of a double digit selloff.
The bottom line is that the Brexit selloff with respect to Citi is just like the Fed-induced selloff from February. It is overdone. We may or may not see Citi retest $34 but regardless, $38 is not the long term value of this stock. I get it. Being long the banks has been terribly frustrating for a long time now. But at some point people will wake up and realize just how good Citi has become and see the value in the franchise that, by the way, has a terrific balance sheet and is setup to make well in excess of $20 billion in profit next year. What more could you ask for?
Disclosure: I am/we are long C.
I wrote this article myself, and it expresses my own opinions. I am not receiving compensation for it (other than from Seeking Alpha). I have no business relationship with any company whose stock is mentioned in this article.