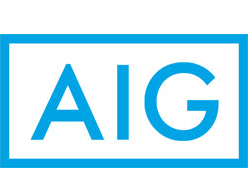 Shares in European companies continued to slump on Monday as investors took the opportunity to evaluate Britain's referendum and its implications over the weekend, and decided to turn their back on the stock market again. The British currency also extended its losses into the new week: The pound fell to $1.3218 on Monday morning, a new thirty-one-year low against the U.S. Dollar.
Investors, unsure of what's happening next after last week's historic referendum, continue to rebalance their portfolios and sell risky assets. But this market swoon may nonetheless be a good opportunity to double down on stocks that have become a lot cheaper.
I have already discussed one of my favorites, Bank of America (NYSE:BAC) in a dedicated piece because the bank's shares have simply fallen too hard, too fast.
Another favorite of mine is insurance company American International Group, Inc. (NYSE:AIG) which I singled out just two days before the referendum was held in Britain last week. The article was titled "AIG: A Brexit Play?", and lays out the rational of why investors may want to think about buying into the insurance company in case of a Brexit-induced market sell-off. I said this:
It is worth keeping an eye on American International Group IMO. If Brits indeed vote for a Brexit, stocks are in for a wild ride, at least over the short haul. Companies with voluminous capital return plans that are planning on buying back mountains of stock in the open market could profit from a market drop since they can buy back more stock at lower prices.
Fast forward one week, and the markets have spoken. Investors ran for the exits on Friday, driving share prices of financial companies much lower. And Monday is not looking much better with the S&P 500 already down 2.14 percent. American International Group's shares have also tumbled: The insurance company's shares slumped more than 7 percent on Friday, and have slid another 4 percent on Monday. Ouch.
Capital Return Plan Solid Reason To Buy AIG
AIG is on track to return a total of $25 billion in capital to shareholders until 2017, and the insurance company returned ~$4 billion of capital in the 1st quarter. The market crash, therefore, is a big deal for shareholders: A lower share price translates into AIG being able to buy back more shares at a lower price. From a buyback perspective, that turns out to be a really good deal since AIG is selling for 62 cents on the dollar.
American International Group Is Oversold
Thanks to the market slump on Friday and Monday, American International Group is now oversold according to the Relative Strength Index that flashes a value of 21.28.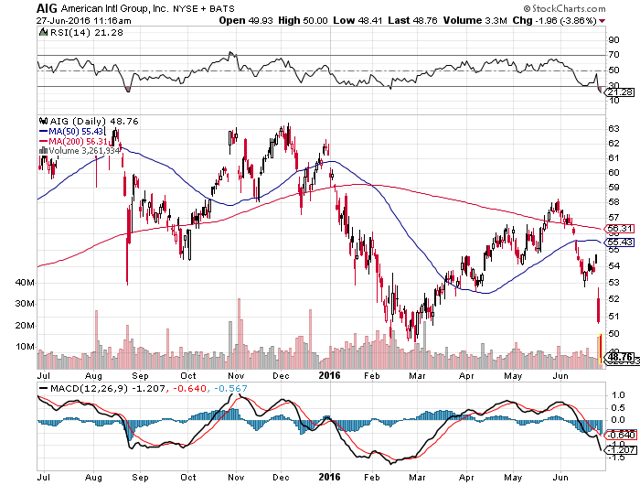 Click to enlarge
Your Takeaway
American International Group is a promising investment due to its gigantic capital return program. The market slide is a big opportunity for the insurance company from a buyback perspective since a lower share price will now mean that AIG can retire more shares while the accretion effect is even more significant. I expect American International Group to buy back a serious amount of stock during these turbulent times. Buy for capital appreciation.
Disclosure: I am/we are long AIG, BAC.
I wrote this article myself, and it expresses my own opinions. I am not receiving compensation for it (other than from Seeking Alpha). I have no business relationship with any company whose stock is mentioned in this article.