Danaher Corporation (NYSE:DHR) designs, manufactures and markets professional, medical, industrial and commercial products. I like how Danaher describe themselves on their "About Us" page:
We are a global science and technology innovator committed to helping customers solve complex challenges and improving quality of life around the world.
There are a couple of things about that statement that pique my curiosity. First, I like complex science and technology innovation. It's hard to do well, but can lead to valuable breakthroughs that command a market premium. I also really like the focus on quality of life. I think people are generally striving to improve their existence. So if a company can tap into this effectively then they have a nice fundamental trend underlying their business.
Speaking of the underlying business, DHR has five different segments, with life sciences and diagnostics being significantly larger than the other four. However, this still offers diversification of income streams. I also like that the business segments are non-cyclical and should experience relatively consistent demand. Plus, you can see how they map to a quality-of-life focused business. Here's a summary of revenue by segment (source).

But another reason to look at DHR shares is that they're near an all-time high. Older and established companies that continue to make new highs in price are always of interest to me because it could mean they have a competitive advantage that is sustainable. By looking into the historical financial statements, we can try to find out if that's the case with DHR.
But first, here's a long-term price chart to give you a bit more perspective of where these shares are trading: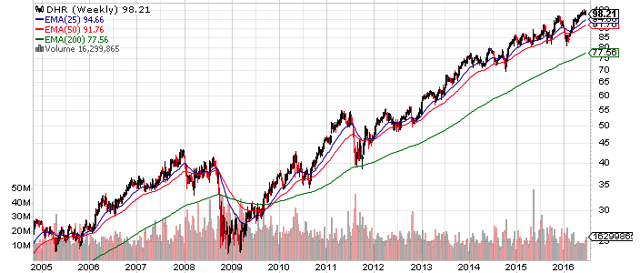 Now, let's start looking at some of the operating and financial metrics that underlie this price performance.
Danaher: 10-year performance review
When looking at historical financial data, I always like to start at the top line. If the top line is increasing, that can be a positive indicator for share price performance. And in the case of DHR, the top line is looking pretty good.
Over the last 10 years, you can see that revenue has more than doubled. Plus, on a trailing-twelve month basis the growth looks like it isn't about to slow down (source).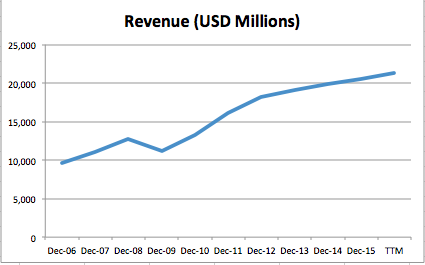 Looking ahead, analyst consensus expects 12.5% growth over the next 5 years, compared with 13.2% in the 5 years prior (source). This further underscores that DHR can continue to grow revenue with new, likely non-cyclical, innovations. But although revenue growth is definitely one reason I'm interested in shares of DHR, it's not the only reason.
Another factor to consider when debating purchasing DHR stock is what competitive advantage the company has. As I postulated at the outset, if DHR truly does have a business model based on scientific innovation driving quality of life improvements, they should be able to charge high prices for their products. This would show up as healthy gross margins. Let's take a look.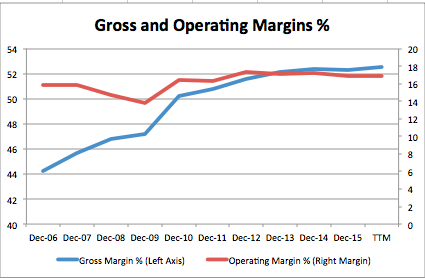 I'm always encouraged when the longer-term operating metrics support the narrative company management tells. In the case of DHR, this looks to be the case as gross margins are above 50%. In addition to the high gross margins, the consistent operating margins indicate the business is being run effectively with minimal disruption or interruption. It also implies the company's business model is sustainable and can be maintained in the years ahead, consistent with analyst estimates.
Given these steady margins, and the consistent revenue growth, we should also expect to see earnings growth trending higher. You can see for yourself in the graph below: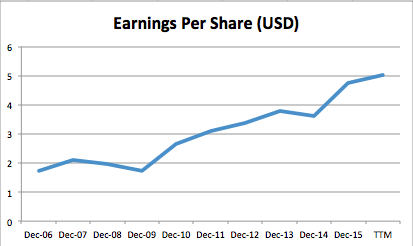 As shown above, this is about as good as it gets for consistent earnings growth. And while DHR does have a small and growing dividend, most earnings are being retained. In this case, I'm happy with this decision because DHR has been able to grow earnings while maintaining margins.
With more money falling to the bottom line, there is more opportunity to reinvest in profitable growth. Plus, if you think about the innovation-focused business model of DHR, there should be ample opportunity to reinvest profits for future growth. The chart of book value per share over the last 10 years demonstrates how this approach has helped the company grow equity value for shareholders: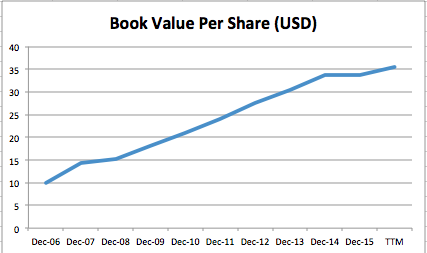 Pretty good, right? As a long term shareholder, this consistent equity growth really puts the wind in your sails. But, before declaring DHR to be a slam-dunk, we should ask if are there any reasons to avoid buying shares of DHR. It's important to think critically before jumping to any conclusions.
So as far as I can tell, the biggest risk right now with buying DHR is valuation. A broader market pullback could help mitigate this risk and allow a lower-cost entry point. But for now, DHR stock is a little bit pricey. And as value-focused investors, it's fair to pass on a stock rather than overpay. Unfortunately, this quality company does seem to consistently command a premium to the S&P-500 (source).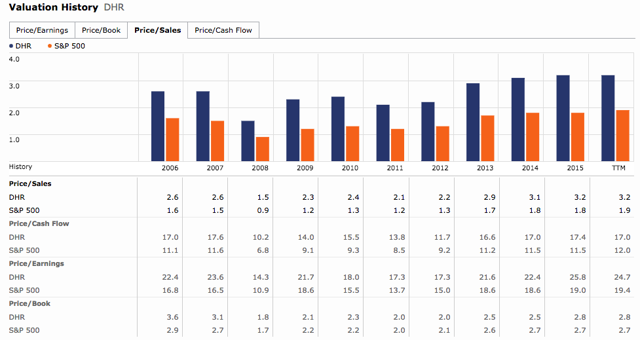 It's also worth noting that DHR has a modest debt load. The debt/equity ratio is currently around 0.50, which is a little higher than it's historically been. This means that on a cash-flow-to-enterprise-value basis, shares are even more expensive than shown in the graph above. On the other hand, interest expense is less than 6% of operating income so it's not a significant threat to shareholder earnings, yet.
Conclusion: Getting Into Business with DHR
After looking at these numbers, I'm convinced that DHR has a business model driven by successfully commercializing science and technology innovations. The sustainability of revenue growth, consistent margins, consistent earnings growth and ever-increasing shareholder equity on a per-share basis are very compelling and speak to this dominant competitive position.
For these reasons, I recently initiated a long position in DHR. But what do you think? Is DHR a quality company or is the price tag too expensive?
Disclosure: I am/we are long DHR.
I wrote this article myself, and it expresses my own opinions. I am not receiving compensation for it (other than from Seeking Alpha). I have no business relationship with any company whose stock is mentioned in this article.