The world collectively panicked after citizens of the UK voted to leave the EU. While the process may not be completed for years, the uncertainty alone was enough to trigger a rout in the market ( SPY, QQQ, DIA). In times of stress, investors often wonder what is the best asset to own. Every decision involves trade-offs, there is no magic pill that can deliver good returns and is low risk. However, I believe that overweighting the utility sector is a good middle ground for those that desire some stability along with steady returns.
In my previous article detailing the present macro situation, I stated that investors would do well by buying utilities (read Buy Utilities, Brexit Is Good). As every other sector of the S&P 500 sold off on Friday (SPY -3.6%), utilities remained strong, with the ETF (NYSEARCA:XLU) rallying by 0.56%. Of course, so did many other "safe haven" assets such as gold (NYSEARCA:GLD) and the Japanese yen ( YCL, JYN). Today we examine why overweighting the utility sector (conveniently through XLU) represent a much better choice over safe havens in today's market condition.
Understanding Safe Havens
I believe that only a few assets are truly safe havens. In my other article I talked about why gold has no intrinsic value. Without a guarantee of value, how can one call gold a safe haven asset? Currencies such as the yen suffer from the same problem. Unless you are thinking of moving to Japan soon, there is no guarantee of value in terms of US dollars. In fact, I believe that labeling yen as a safe haven asset is a misnomer as evident by the USDJPY graph below:
(click to enlarge)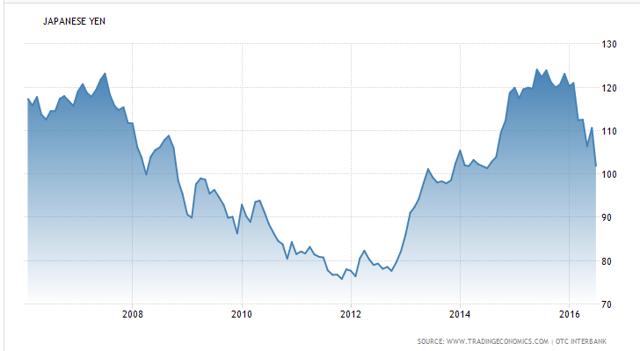 In addition to gold and the Yen, investors also piled into treasuries. Treasuries are one of the truly safe assets in my books, speaking from the perspective of a domestic investor. There is a guarantee of principal, the value does not swing dramatically (depending on the duration), plus you get some interest. If your investment horizon is long, you can choose longer duration bonds such as the 10 or 20 year treasury bonds at the expense of volatility during the holding period. But the end results are the same, you will get your principal plus interest.
Advantages Of Utilities
Utility stocks are not typically treated as safe haven assets. During the last recession, the sector fell along with the rest of the market.
(click to enlarge)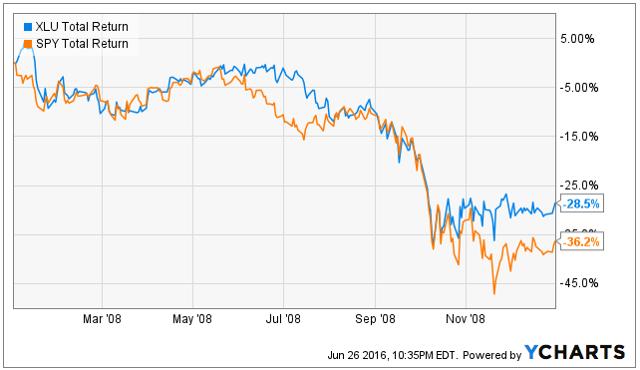 By purchasing a utility stock, you will be subjected to the full force of the market. This means that there is no guarantee of principal, and hence no protection over your investment horizon. So why bother?
What draws me to utilities is the fact that they generate substantial cash flow regardless of economic conditions. Commodity prices could play a role in determining short-term profitability, but over the long-term, utility companies can rely on their moats (since they provide essentials) to generate value year after a year. Their strong local competitive advantage is why many utility companies are regulated and have a cap on ROE. Their ability to consistently generate value is why investors often flock to them during a jittery market. We can see this in action during the downswing that we experienced earlier this year:
(click to enlarge)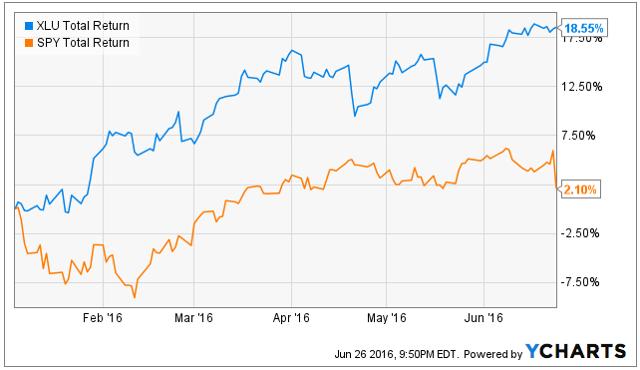 Even though there is no guarantee of principal for utility stocks, I believe that they offer an acceptable middle ground. During a sell-off (not necessarily a crisis), utility stocks offer enough protection; and during good times, investors don't have to sacrifice the excess return earned by equities (as opposed to investing in treasuries).
How do utility stocks compare to gold and the yen? Well, not only do gold and yen provide no cash flow, investors usually have to pay to hold them. Owning gold through GLD costs investors 0.4% per year; if you want to hold a short position on USDJPY (i.e. long JPY, short USD), you would be charged an overnight rate to simulate the interest rate differential between the two currencies. Utility stocks are the clear winner for me.
Conclusion
The utility sector is resilient in all but the most dire situations. What's more important however, is its ability to generate value throughout cycles. Sure, utility stocks don't provide a guarantee of principal; but in exchange, investors do obtain some stability and do not have to completely give up the excess return earned by stocks.
Click the "Follow" button beside my name on the top of the page to be updated with my latest insights. To learn more about the V20 Portfolio, whose goal is to compound capital at 20% over the long term, I encourage you to read the introduction to my investment process. Premium subscribers get full access to the V20 Portfolio. Track the portfolio through the latest update, here.
Disclosure: I/we have no positions in any stocks mentioned, and no plans to initiate any positions within the next 72 hours.
I wrote this article myself, and it expresses my own opinions. I am not receiving compensation for it (other than from Seeking Alpha). I have no business relationship with any company whose stock is mentioned in this article.