Low long-term interest rates to put pressure on investment returns
We think the main implication of Brexit for AIG (NYSE:AIG) is on the life insurance side with the yield on the US 10-year Treasury note dropped below 1.5%.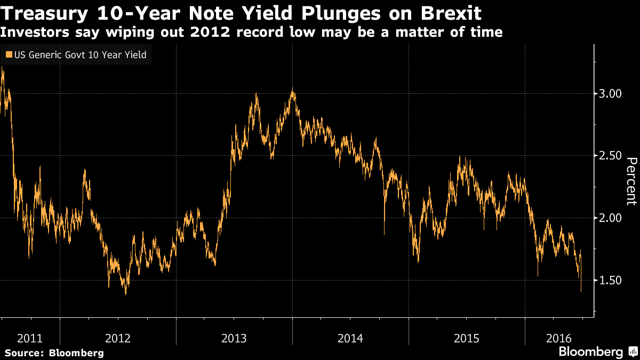 Click to enlarge
Source: Bloomberg
Bill Gross says the Treasury 10-year note's record-low yield level is in danger of being breached after Britain's historic vote to leave the European Union amplified risks to global economic growth. The sustained low interest rate environment has already had a significant impact on the life insurance/annuity profitability. Low long-term interest rates put pressure on investment returns, which may also negatively affect sales of interest rate sensitive products and reduce future profits on certain existing fixed rate products.
AIG's European commercial business and the profit improvement plan in P&C
According to Credit Suisse estimates, just 7% of AIG's revenues are generated in the UK and 14% in continental Europe. Having said that, AIG's European commercial business has been its best-performing commercial business - a part of the book the company has wanted to grow/maintain as part of the profit improvement plan in P&C, which is one of the main catalysts for AIG, in our view. To recap, AIG is looking to cut a 600 bps off of its commercial lines underlying loss ratio by YE2017. On our estimates, circa 200 bps of the improvement should come from the greater use of reinsurance (of which a large part of that is the quota share contract with Swiss Re), with the remainder from shifting its business mix away from underperforming businesses towards more highly profitable business and taking rate on business that it keeps that is running higher than its target. Brexit implications will likely limit the company's ability to improve the P&C business.
Why are we still positive on AIG?
Capital management plans are still intact
According to the company's guidance, AIG is aiming to return more than $25bn to shareholders through dividends and buybacks by YE2017. Sources of capital include operating subsidiary dividends and tax-sharing payments (capital benefit of $7-10bn), divestitures and run-off of legacy blocks ($5-7bn), capital freed from life reinsurance ($4-5bn), debt issuance ($3-5bn), and reduced hedge fund investments ($2bn). On our estimates, a much larger number (up to $15bn) than a $5-7bn capital reduction is possible, given the fact that the $17bn (ex.DTA) of capital allocated to the legacy portfolio. Hence, we believe the company's plan looks conservative and expect AIG to return $30-35bn to shareholders.
Cost-reduction initiatives
In addition, we believe that in a more challenging environment, AIG will further increase its focus on expense management to enhance margins. The company plans to save ~$800mn (or ~$700m net of reinvestments) in each of next 2 years, or ~12% total reduction from $11.1bn levels in 2015.
Fed regulation for insurers will be less onerous than for banks
Fed Governor Daniel Tarullo has recently provided initial outlines of the anticipated regulatory framework for insurers including AIG, MetLife (NYSE:MET) and Prudential Financial (NYSE:PRU) at the Federal level. We view key points made by Governor Tarullo as all being generally positive for AIG. Gov. Tarullo acknowledged the difference in funding structures for life insurers and for commercial banks and mentioned that capital and liquidity requirements for insurers should be calibrated differently than for banks. This would most likely mean that AIG can more rapidly deploy their growing excess capital positions through stock buybacks and dividends.
Bottom line
We do acknowledge that the stock could be very volatile after a Brexit vote, given that AIG is a classic high-beta play - its 5-yr average market beta is circa 1.4x. Hence, AIG has a history of fluctuating 40% more than the S&P500 (NYSEARCA:SPY) and the stock should underperform the S&P500 in a bear market. Having said that, AIG remains a high-quality name and a great long-term investment, in our view.
Disclosure: I am/we are long AIG, PRU.
I wrote this article myself, and it expresses my own opinions. I am not receiving compensation for it (other than from Seeking Alpha). I have no business relationship with any company whose stock is mentioned in this article.