Six months ago, I wrote a series of three articles advocating modest expectations, a long-term view, and an emphasis on quality. I was intentionally looking for companies that might contribute to the core of a conservative portfolio, yet outside the defensive sectors traditionally known for their dividends. Instead I chose to highlight high-quality positions in sectors that are a little more volatile: 3M (NYSE:MMM), Johnson & Johnson (NYSE:JNJ), and Wells Fargo (NYSE:WFC).
The first half of the year has been driven by a modest rebound in the commodity bear market, as well as further softening of interest rates. Oil has rebounded from $42/barrel at the start of the year to $47 today, while the yield on the 10-year Treasury has fallen from 2.24% to 1.56%, holding below 2% since January.
As always, some sectors benefit from these trends while others lag. The commodity markets have driven a matching rebound in the Energy (+10.3%) and Materials (+6.0%) sectors, while the erosion in interest rate expectations has boosted dividend-heavy sectors such as Consumer Staples (+5.2%), Real Estate (+3.1%), and especially Utilities (+16.5%). These latter three sectors were already highly valued at the start of the year, but their strong dividend yields are particularly attractive when the 10-year Treasury pays just half that. It has been very easy to make money on holdings in any of these sectors this year! Did you anticipate these winners?
Sadly, taking advantage of sector movements requires timely guesses that are beyond my ken. If I had tried to prognosticate in December, I might have guessed that interest rates would be heading higher, not lower. Nor can I offer any insight into the direction of commodity prices. In a different macro environment, the winning sectors and losing sectors might easily have been reversed. My gut feelings are not a reliable indicator!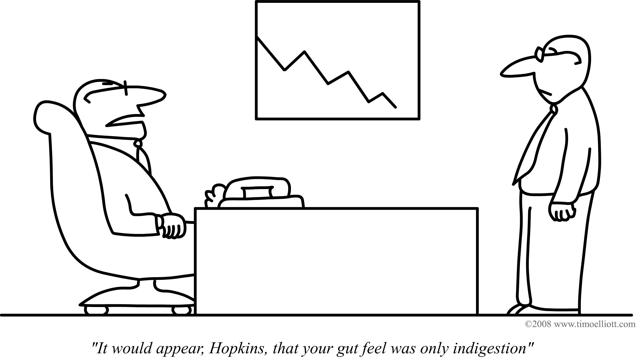 Click to enlarge
Instead, I strive to maintain sector diversification that fits my investment goals and risk tolerance, nominally 30% in Consumer (split between Staples and Discretionary), 30% in Health Care, 30% split between Industrials and Technology, and 10% split between Financials and Resources. I account for Real Estate separately from my other equity allocations, though it represents roughly another 10% position. My focus is to own quality companies in each of these sectors, rather than trying to guess which will outperform in a given year. With that in mind, I will revisit each of my three recommendations from December in the context of the relevant sector performance.
Health Care: Johnson & Johnson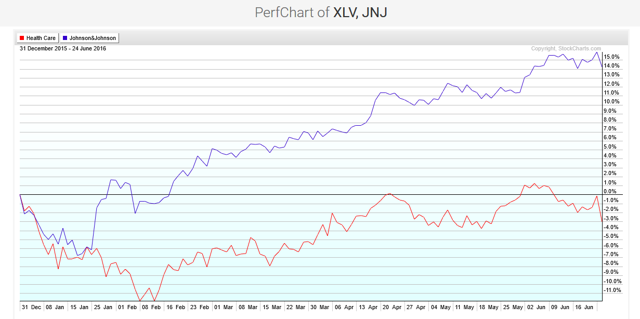 Click to enlarge
It has been a tough year in the Health Care sector, down 3.8% YTD. Pharmaceutical costs have come under the spotlight, leading to sharp declines in the shares of both leading pharmaceutical researchers, as well as those engaged in more suspect practices. There may be some fine companies that are being tarred with the broad brush of the political arena, however the overall sentiment has been exceptionally negative and has carried much of the industry lower. In contrast, Johnson & Johnson is up 12.6% on the year, hitting new highs while others have been hammered.
In various conversations last year, a certain Seeking Alpha user would regularly advocate for the "bargain" Gilead (NASDAQ:GILD) rather than the "overpriced" JNJ, citing an advantage in both the P/E and the growth rates, yet the latter is undeniably the steadier performer with the longer history of success. Though a sucker for "value" buys like Gilead, I look for stability and predictability in my core holdings rather than hoping for a potentially lucrative gamble. Thus GILD is a smaller speculative position in my portfolio, while JNJ is our largest household position.
As for the supposedly excessive valuation? Even a supposedly overpriced company will strengthen further when it reports a "beat and raise" as JNJ did with the 1Q16 results. I certainly don't expect double-digit returns every six months, but as long as Johnson & Johnson continues to execute its business plan successfully, the long term returns should easily meet or exceed my 8% target total return.
Industrials: 3M Company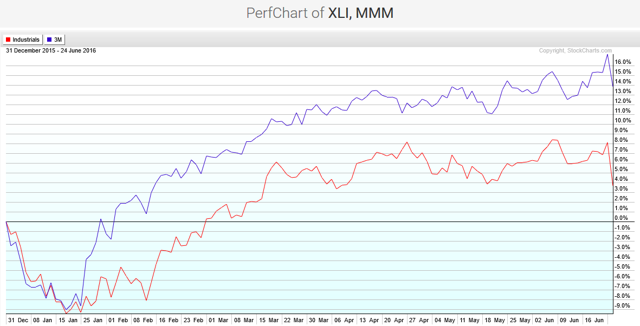 Click to enlarge
The Industrial sector has been simultaneously supported by continued low interest rates, while challenged by a weak global economy rife with uncertainty. In the wake of the Brexit vote, the sector fell 4.1%, leaving it up just 2.6% on the year. Nonetheless, the 3M Company is up 12.3% on the year, driven by a strong first quarter report that beat on the top and bottom lines, along with an 8% dividend increase and an optimistic outlook.
I wrote in December that the shares were above my comfort level, yet even if you bought the "overpriced" shares in December, MMM would have easily exceeded your expectations to date. So is it hypocritical for me to trade in and out of the position? I eagerly bought on the dip in January, but immediately hedged the position with a call option, and ultimately cashed out in April for a 12% three-month gain. In its place I now hold United Technologies (NYSE:UTX), another high-quality company that appears to be 25% cheaper and with similar growth prospects.
Still, I see MMM as the superior long-term holding with unbeatable stability and quality. If held for twenty years, an investor will enjoy the dependable dividend and growing business, regardless of whether it is purchased at $140 or $170. Am I making the right call in riding another horse for a few months, while waiting for a better re-entry point? Check back in another six months and I will tell you whether or not I regret this trade.
Financials: Wells Fargo & Co.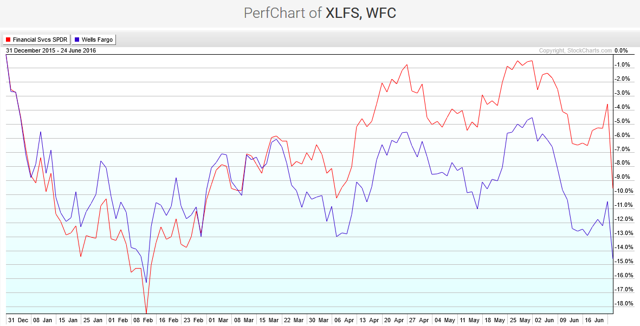 Click to enlarge
While falling interest rates support both leveraged businesses (including many Industrials) and dividend payers (especially Utilities and REITs), they are a clear negative for banks that make most of their profit on interest rate spreads. This has been a tough year for all of the major banks. US Bancorp (NYSE:USB) is down 6.6%, while JP Morgan (NYSE:JPM) is down 9.7%, and Wells Fargo is down 15.9%. The other two largest banks, Citigroup (NYSE:C) and Bank of America (NYSE:BAC) are both down over 22%! (They were clearly the weakest of the five at the start of the year, and thus it is unsurprising that they have been hit the hardest in a poor operating environment.)
I have to admit my investment in Wells Fargo as a mistake, a poor choice given the alternatives. While my personal comfort level with their business and management is high, that is partly an artifact of my experience with the shares. At the time, others made excellent arguments for both USB and JPM as higher-quality holdings. I don't mind that the shares are down on sector weakness. I do mind that I failed to correctly identify the strongest company in the sector.
That said, I will be stubborn and stick with WFC going forward - and I may add to the position on the current dip. While it would be nice if I could always hold the strongest companies in each sector, the key to long-term success is to consistently avoid the weakest. I have no real concern about the financial strength of Wells Fargo, or about their ability to weather this turmoil. My confidence and comfort level with their management is ultimately more important than distinguishing accurately between the best and second best in the sector.
Conclusion:
My investment philosophy begins from diversification among asset classes, as well as between sectors, but emphasizes higher-quality investments across the board. I do not need to chase yield or speculate on rapid share appreciation. It is enough if my picks are dependably profitable in good times and bad, as all three of JNJ, MMM, and WFC exemplify. If you had invested $10,000 in each of these three companies at the closing price on December 31, your positions would have paid dividends of $438 (an annualized rate of 2.9% on the initial investment) and would now be worth $30,892 (an increase of 3.0%). In contrast, the S&P500 pays roughly a 2.1% dividend yield, and has fallen a slight 0.3% on the year.
Of course, anybody who is substantially invested in Utilities, REITs, and Consumer Staples has done even better than that in this market. This has been the perfect setup for defensive holdings to shine, with a market that is weak enough to drive investors to those sectors yet just strong enough to avoid a broad crash that brings everything down. What distinguishes the above results is not the overall performance, but the fact that they come from picks made in December, from the sectors that have been among the weakest so far this year.
I know that I cannot accurately judge macro-economic trends. I know that my guesses about the market direction will often be badly off base. And I know that I cannot always distinguish the winners. Nonetheless, I have found that excellent companies will over time generate dependable long-term results. A rising tide raises all boats, but it is the strong that survive, even thrive, when the tide recedes. For a conservative investor with modest goals, owning quality is an easy path to success. And while this is merely a six-month check on an investment strategy that spans decades, it can nonetheless serve as an illustration of the difference that quality holdings can make in your portfolio.
Disclosure: I am/we are long MMM, JNJ, WFC, GILD, UTX.
I wrote this article myself, and it expresses my own opinions. I am not receiving compensation for it (other than from Seeking Alpha). I have no business relationship with any company whose stock is mentioned in this article.
Additional disclosure: I am an unsophisticated individual investor, writing from my personal experience. I hope people can gain insight from my articles, but please conduct your own due diligence before acting on any ideas that I offer.