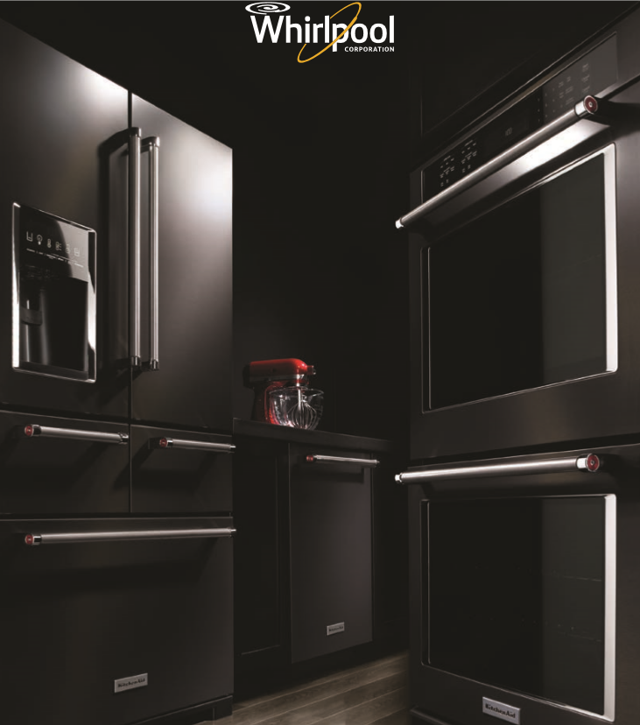 Source: Whirlpool 2015 Annual Report
Whirlpool (NYSE: WHR) is a consumer discretionary company with such iconic brand names as Maytag, Whirlpool, and Kitchen-Aid in America. However, it also has a large global footprint in Latin America, Asia, and Europe. Because of its European presence, Whirlpool lost 9% of its market capitalization in one day on Friday, and so far, it has lost another 5% today due to the United Kingdom voting to leave the European Union. Though the future is uncertain due to this decision, I believe Whirlpool is positioned to weather this storm and continue to grow. The company is a Dividend Challenger, having raised its dividends every year since 2010, and paid at least consistent dividends since 1993. It has also had an excellent dividend growth rate. Whirlpool's DGR for 1/3/5/10 years has been 20.0/19.9/14.9/7.2 respectively. This shows that the company values returning capital to shareholders, and has been doing so at an increasing rate of the last several years. Though the company has guided for continued currency headwinds and weak sales in emerging markets through 2016, it has been working on improving margins and has well-diversified sales: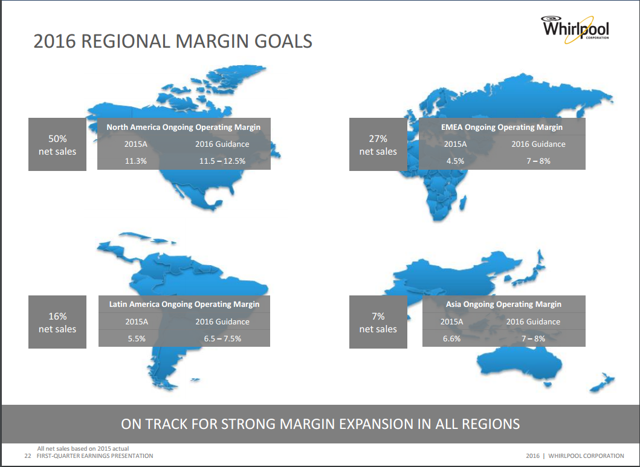 Source: Whirlpool Q1 2016 Earnings Presentation
Let's break down its sales in Europe. Whirlpool has already been dealing with negative currency impacts of both the ruble and the pound, and based off the recent pound movement, this will continue into at least the near future. The company has been dealing with lowering demand in Europe by focusing heavily on improving its margins. Here are the results from Whirlpool's EMEA division for Q1FY2016: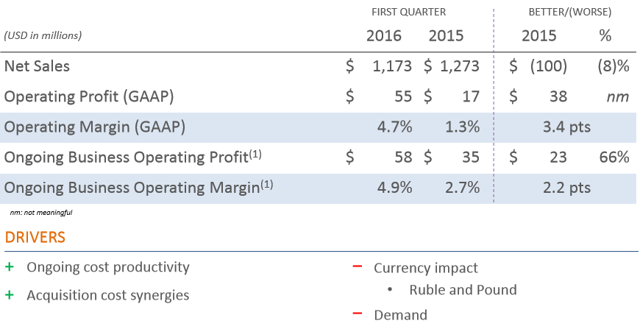 Source: Whirlpool Q1 2016 Earnings Presentation
This is really important. Companies that are able to improve efficiency in the face of reduced sales can weather hard times better. Brexit will be introducing some uncertainty to all the companies that have operations in the area. The fact that Whirlpool has already been working through the currency impacts and European demand issues shows that it should be capable of dealing with the impacts of Brexit. The following shows Whirlpool's manufacturing presence in Europe: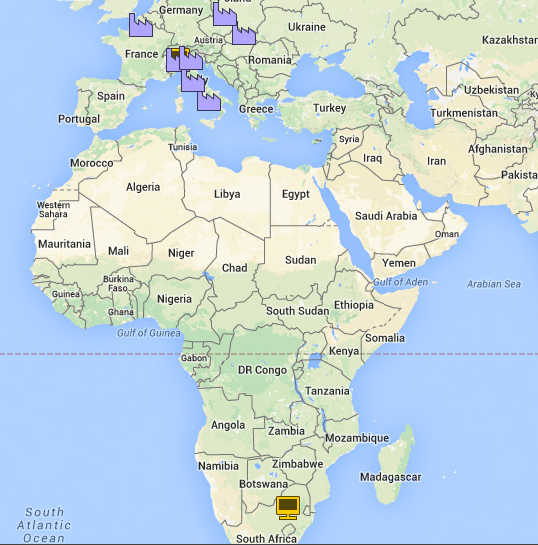 Source: Whirlpool Corp. Global Locations
However, there are still concerns. The negative currency impacts of the pound are almost assured, but it's impossible to know what impact Brexit will fully have on the company's business until it reaffirms guidance. Whirlpool doesn't have any of its manufacturing plants there, but it does have them in 9 countries across Europe. The more conservative investor may want to wait for that to happen. However, the opportunity might be gone once the future is more certain. In the short term, investors looking for value in the area should look for strong companies with well-diversified operations that will be able to deal with reduced demand.
Marc Bitzer, COO, said on the company's most recent earnings call:
First of all on the full year base as you know we guided towards 7 to 8% margin, we guided the market demand to be flat above zero, F up 2% and we said we would grow in line with market, we also said we have a lot of focus on server margin expansion in Europe. With that in mind and as I indicated in my prepared remarks we're actually very pleased with our performance in Europe in Q1. We delivered a substantial margin improvement 220 base points, and we continue to deliver integration cost synergies and I would argue we're fully on track towards the full year margin target.

And I mean as you know, we typically don't break down market share progress quarter-on-quarter country by country. Having said that, I reaffirm that one of the key strengths of the acquisition has been the market share strength and position, which we have in several key countries and that is to be honest one year or one and half years into the integration has been fully reconfirmed. Our business in particular, Italy, France, UK and Russia and Poland remained very strong and are very strong. We do not see for your question a decline in market share, significant decline in some of the smaller markets.
Remember:
The best thing that happens to us is when a great company gets into temporary trouble... we want to buy them when they're on the operating table.

- Warren Buffett
Quantitatively, Whirlpool has a solid ROE of 15.40%, a manageable long-term debt load of $3.2 billion, and it has authorized a $1 billion share repurchase program for the FY2016. That is around 8% of all its shares outstanding at current prices. The company is also paying a 2.46% dividend yield. With its earnings guidance for next year, the forward P/E is 9.49. This is very low for a company that projects earnings to increase at a rate of over 13% per year for the next 5 years. Whirlpool is also guiding to have $700-800 million in free cash flow for 2016. Though Brexit may prove to be a speed bump, I believe this is a good entry point into the worldwide appliance leader.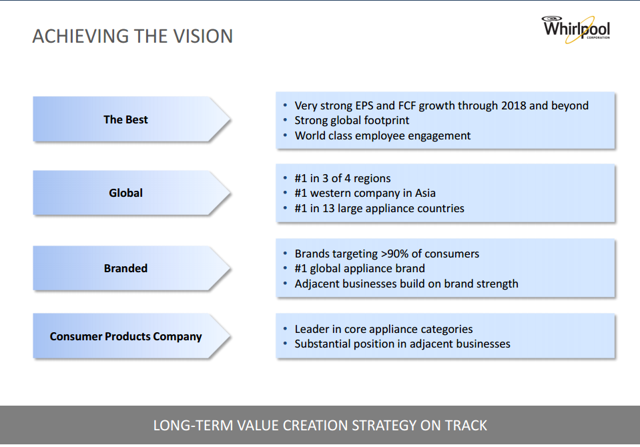 Source: Whirlpool 2015 Annual Report
I have attached one of Chuck Carnevale's F.A.S.T. Graphs to help illustrate Whirlpool's valuation: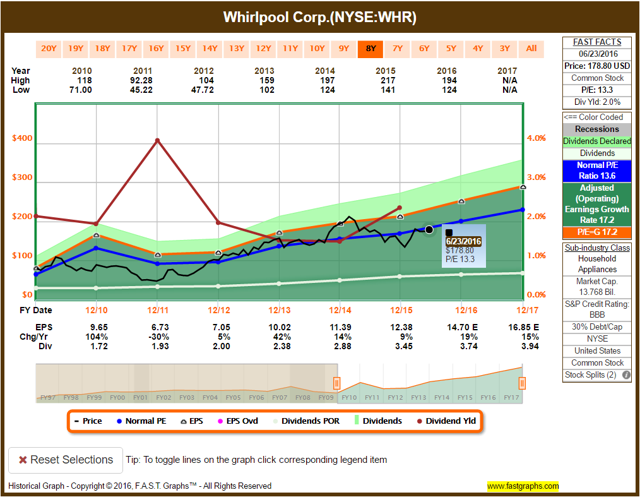 Source: F.A.S.T. Graphs
Notice that Whirlpool is resting on the blue line (or normal P/E ratio) at its previous price of $178.80. Once the graphs update, it will have taken a 12.9% dive further into undervalued (dark green) territory at the time of writing.
I believe the recent fall in Whirlpool's share price may have been an overreaction. The company's strong market position, free cash flow, and global diversification should pull it through any loss in sales in its European division. This is an excellent entry point for this Dividend Challenger; however, the more conservative investor may want to wait for it to reaffirm guidance. If Whirlpool were to lower its 2016 guidance, there may be an even better entry point in the future.
Financial statistics were sourced from FinViz, unless otherwise stated. Please do your own due diligence prior to making investment decisions.
Disclosure: I am/we are long WHR.
I wrote this article myself, and it expresses my own opinions. I am not receiving compensation for it (other than from Seeking Alpha). I have no business relationship with any company whose stock is mentioned in this article.