Last week a number of research houses either downgraded AT&T (NYSE:T) or lowered their price targets on it. BRG downgraded from "buy" to "neutral" as lead analyst James Radcliffe "didn't see much more upside to the stock". Jefferies lowered its price target from $60 to $53, and Pivotal Research adjusted its fair value estimate down from $50 to $41. While T trades at a 52-week high (see Figure 1), the general consensus is that the stock is fairly valued. MarketWatch reports a mean price target of $40.69, taken from 33 analysts. We delve into some of the reasons why sentiment may have changed during the past week.
Figure 1: 1-Year Price Performance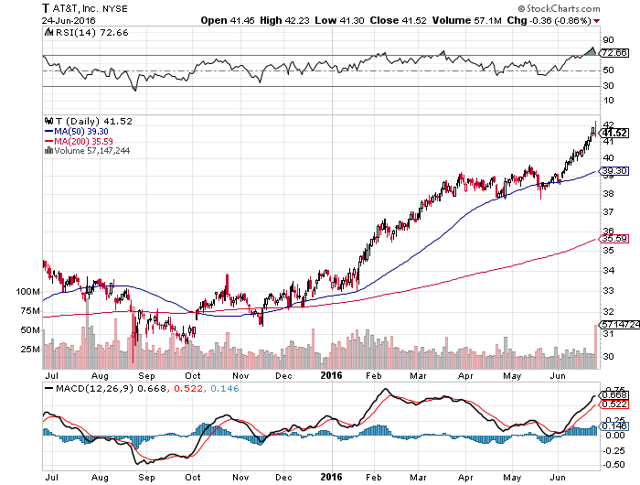 Source: stockcharts.com
Management recently held a presentation at a Wells Fargo conference. During the event, a question was raised regarding the firm's lower capital spending levels compared to recent quarters, and whether AT&T had entered a "new normal" period of lower spending on wireless infrastructure. President Bill Smith admitted that spend was lower than usual. In the first quarter, total capex accounted for just 11.5% of revenues, compared with 14.5%, 13.3% and 13.6% in the prior three quarters. He explained that part of it was due to seasonality, and that it was more appropriate to compare with the same period last year. He also alluded to productivity improvements, and that AT&T is finding ways to roll out new infrastructure at lower costs. His explanations lacked conviction. It is possible that a slowing US economy and weak demand from wireless customers are responsible for the low spending levels.
AT&T's core wireless business (45% of sales) continues to shown signs of weakness. In the latest quarter, gross customer additions fell 3% and the company lost 363,000 postpaid phone customers. This marked this sixth consecutive quarterly decline in postpaid customers. AT&T is losing market share to the smaller value carriers T-Mobile and Sprint, who have used aggressive marketing campaigns and price cuts to steal customers from the larger carriers. T-Mobile (NASDAQ:TMUS) added 877,000 postpaid customers in the quarter, and 42% of its new phone activations came from competitors. Almost as striking, 30% of Sprint's (NYSE:S) new activations came from competitors. Analysts are likely interpreting the switch to cheaper carriers as a sign of US economic weakness. While AT&T is one of the better stocks to own in a cyclical downturn, it is certainly not immune to fluctuations in consumer spending levels. In the latest quarter, AT&T's postpaid smartphone activations decreased 18% year-over-year to the lowest level in a decade, according to Morningstar.
Bill Smith's unconvincing response when pressed about lower wireless infrastructure spend will not have eased worries about continued weakness in AT&T's core wireless segment. To offset these declines, T has expanded its broadband businesses based on the premise that by offering packaged deals involving cable and Internet services, the company can attract more customers to its wireless network (and from its wireless network to wireline). Last year T completed its acquisition of DirecTV to build upon its U-Verse TV offering. But despite more than 3 million wireless customers accepting the packaged deal of unlimited data and DirecTV, AT&T still lost television customers in the latest quarter. The problem with AT&T's expansion into broadband is that the firm is less competitive in this business than it is in wireless. T is not able to provide the type of network speeds that cable can offer, and continues to lose residential customers to cable companies.
AT&T is losing marketshare in wireless and broadband businesses, and management's latest conference did little to ease concerns. We believe the lower price targets reflect suspected US economic weakness that is making T's higher-priced services less competitive.
Disclosure: I/we have no positions in any stocks mentioned, and no plans to initiate any positions within the next 72 hours.
I wrote this article myself, and it expresses my own opinions. I am not receiving compensation for it (other than from Seeking Alpha). I have no business relationship with any company whose stock is mentioned in this article.