By Tony Termini
*Note: This article was a written a day before the recent court ruling in Energy Transfer Equity's (ETE) favor. ETE jumped over 7% after the ruling. Our article on Energy Transfer Partners (ETP) before the ruling can be found here: Is Energy Transfer Partners A Buy?
As I write this article, there is no verdict yet in the trial between Energy Transfer Equity and Williams Companies (NYSE:WMB) regarding their merger (dis)agreement. WMB wants the deal to go through at ETE's original offer price, and ETE wants out.
It is my opinion that there are only two possible outcomes here. Either the judge will rule that ETE can get out of the deal scot free or he'll rule that the deal must go through. If the ruling is the former, then ETE should continue to trade higher almost immediately. If it's the latter, that sets up (again, in my opinion) a second binary scenario. Either they'll renegotiate the deal or they'll head to a higher court. Renegotiating the deal, at this point, doesn't seem likely to me. So, my position is that the two will continue to fight. In this case, ETE units may come under some selling pressure, which I would use to initiate or add to positions. Here's why.
ETE is the General Partner of four very solid operating companies; Energy Transfer Partners; Sunoco, LP (NYSE:SUN); Sunoco Logistics Partners (NYSE:SXL); and, Energy Transfer, Inc., which is not a public entity and currently owns all or a majority of, what I believe, are two of ETE's most promising growth opportunities.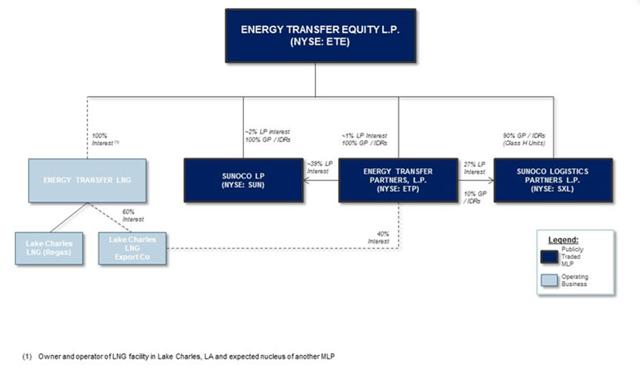 Click to enlarge(Source: Company filings)
Before we look at each business unit separately, let's look at the forecast for oil and gas, because after all, ETE owns and operates approximately 71,000 miles of natural gas, natural gas liquids, refined products, and crude oil pipelines. The chart below clearly shows that future demand for these products is expected to continue to grow for decades. According to the Energy Information Administration (NYSEMKT:EIA), energy consumption worldwide will expand by 48% over the next few decades. From a macro point-of-view, that sets a pretty solid foundation, in my opinion. Now, let's look at the individual pieces.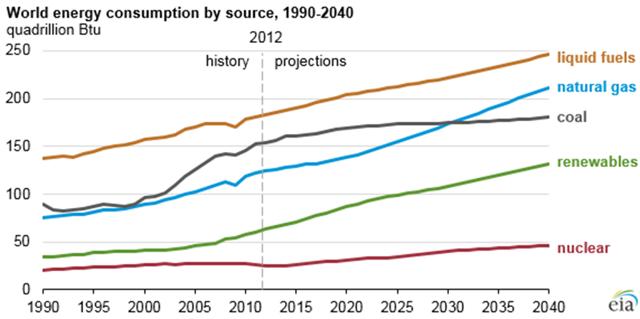 Click to enlarge
(Source: U.S. Energy Information Administration)
Energy Transfer Partners
ETP on its own (pealing out SUN, SXL, and Lake Charles) is a pure natural gas transportation and storage company. I think the demand dynamics for natural gas look great. That demand is going to come from the traditional sources like heating homes and businesses. But, future growth is going to be powered (no pun intended) by fleets of commercial vehicles, government vehicles, and public buses. Other growth prospects for natural gas in the transportation sector will come from railroads like BNSF (NYSE:BRK.A) (NYSE:BRK.B) and CSX (NYSE:CSX) and from automakers like Ford (NYSE:F) and General Motors (NYSE:GM). Even container ships will be powered by natural gas. Still further growth will come from electric utilities.
According to the Institute for Energy Research more than 72 gigawatts of generating capacity are about to convert to natural gas. To put that into perspective, Lawrence Berkeley National Laboratory says that's the amount of energy required to power 54 million homes. That's enormous capacity and represents a long-term income steam for ETP.
These are many of the reasons why America's Natural Gas Alliance expects production to double over 2010 levels in the next two decades.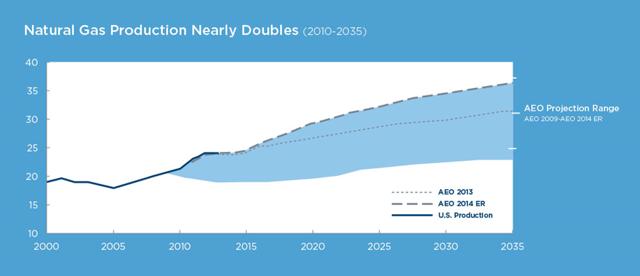 Click to enlarge
(Source: America's Natural Gas Alliance)
One final note on ETP and its exposure to natural gas is important here. Even though the MLP is a natural gas pure-play, the fact is that about 90% of its gross margins are fee-based. This partially immunizes ETP from price fluctuation.
Sunoco, LP
ETE is also the General Partner of SUN, which essentially owns gas stations and a wholesale fuel distribution business. I like the demand prospects of SUN. The reason for this is that according to the EIA the price of oil of a gallon of gas nationally should remain under $3.00 for the next couple of years or so. To me, that means more road trips. And, AAA expects that this summer's travel numbers will be higher than we have seen " in more than a decade". What's more, each of SUN's roughly 900 gas stations is also a convenient store.
Now, the National Retail Federation's 2016 forecast anticipates (non-restaurant) retail sales growth coming in at rates higher than the 10-year average of 2.7% and non-store (e.g., restaurants and gas stations) sales growth between 6 % and 9%, citing steady wage gains, job creation, and consumer confidence as the catalysts.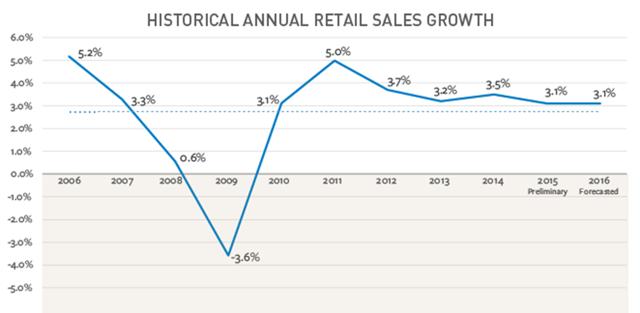 Click to enlarge
(Source: National Retail Federation)
What's more, SUN recently completed the acquisition of " Rattlers" gas stations and convenience stores in Texas and just announced plans to acquire the fuels business from Emerge Energy (NYSE:EMES). Both of these deals should be accretive to earnings and bode well for SUN's future growth prospects.
Sunoco Logistics Partners
Like ETP, SXL is an oil and gas pipeline. While there is some overlap, the main difference between the two ETE subsidiaries is geography. As such, the points made above regarding ETP apply here.
The last entity to look at is Energy Transfer, Inc., which is not a separate public entity. But, in my opinion it will be some day - see footnote (1) on ETE's org chart above. This has some very interesting growth prospects, most of which will come from Lake Charles LNG Export Company. So, let's look at that.
Lake Charles LNG Export Company
ETE owns 60% of Lake Charles LNG Export Company (ETP owns the other 40%). Lake Charles LNG Export Company is in the process of developing liquefied natural gas for Royal Dutch Shell (NYSE:RDS.A) (NYSE:RDS.B). When the facility is fully online, it'll be capable of both importing and exporting natural gas. Once this goes online, ETE will be poised to export natural gas, NGLs, and LNG all over the world. And, in my opinion, after the world gets over the shock of Brexit, it'll get back on track to more sustained, long-term growth.
And, to meet future demand, ETE has five new projects scheduled to come online within the next 18 months.

Click to enlarge
(Source: Company filings)
So, now, let's look at how each of these subsidiaries (SXL is consolidated with ETP) impacts ETE's EBITDA. As the table below points out, these segments contributed more than $1.6 billion to ETE cash earnings in the most recently reported quarter.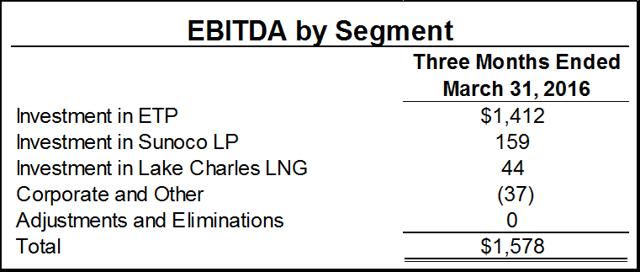 Click to enlarge
(Source: Company filings)
Finally, ETE's cash distribution is currently $1.14. At the current price of about $14.00 per unit, that puts the cash yield at roughly 8%. In my opinion, that makes ETE a great hold for total return investors looking for both growth and income.
Conclusion
When the cloud of uncertainty regarding the WMB deal clears, I expect ETE to continue its ascent. The ETE family has a lot of interesting business units that I believe offer great potential for future earnings and distributable cash flow growth. That should translate to higher payouts going forward. The fundamentals for their industry look solid and ETE has plans in place to build out capacity to meet growing demand. ETE is a buy.
Disclosure: I/we have no positions in any stocks mentioned, and no plans to initiate any positions within the next 72 hours.
I wrote this article myself, and it expresses my own opinions. I am not receiving compensation for it (other than from Seeking Alpha). I have no business relationship with any company whose stock is mentioned in this article.