By Parke Shall
Finish Line (NASDAQ:FINL) posted fantastic results last week when the company beat on both lines, and reiterated its guidance for 2017.
Seeking Alpha reported:
Finish Line is a rose growing in today's market carnage, surging more than 15% after FQ1 earnings and revenues both exceed expectations.
FINL says sales should rise slightly as the year progresses; Q1 sales at stores open at least a year rose 1.5%, down sharply from the 4.6% increase in the year-ago quarter and below analyst estimates, but comp sales are expected to rise by 3%-5% for the full year.
Reaffirms FY 2017 guidance for EPS of $1.50-$1.56 vs. $1.54 analyst consensus estimate.
Citigroup reiterates its Buy rating and $23 price target on the stock.
This sent the stock up in trading on Friday while the rest of the market was lower. Finish Line finished the day up over 20% on the day, which makes sense given that the company's analyst estimates are for $1.75 next year, and based on these estimates, the company is trading now at around 11 times forward earnings.
The pop in FINL stock comes after a month where it lagged the overall market.
Finish Line has no debt and the rest of the valuation looks relatively strong. At 11.6x forward earnings and 0.38x price/sales and 1.35x price/book, the company is hardly stretched on its valuation. Despite doing $1.9 billion in revenue over the TTM period, the company was only able to generate operational cash flow of $150.2M.
However, we want to bring a slight bit of reality to the situation and explain why we are not diving headfirst into Finish Line stock at these levels. We also thought that this dose of reality could help investors understand what some of the counterpoints are to owning FINL at this level are.
First, in terms of multiple expansion in retail, 11 times forward earnings is actually moving into the lofty category. As you can see from the below chart, many brick and mortar retail names have PEs between 8X and 14X. Only top premium names in retail are afforded valuations that are far above 11X earnings. We are not sure that Finish Line has the brand prestige nor the ability to consistently outperform so that it can maintain expanding its multiple from this point moving forward.
You can see that FINL is now well above its peers.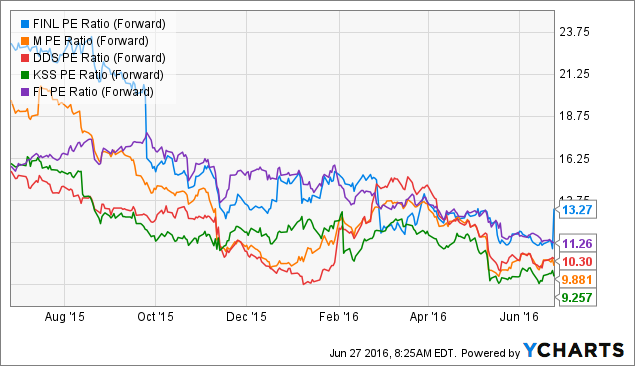 FINL PE Ratio (Forward) data by YCharts
After the United Kingdom voted to leave the European Union, there has been a fair amount of volatility in the market. Stock futures on Monday morning look as though they are going to open lower yet again after the 600 point selloff that US investors sat through on Friday.
Those that read our articles know that we believe strongly that the market is going to pull back for a 10% to 15% correction in coming quarters. Brick and mortar retail is not one of the sectors we would want to be overweight in during this time. It is a sector that has completely underperformed the market, as you can see below.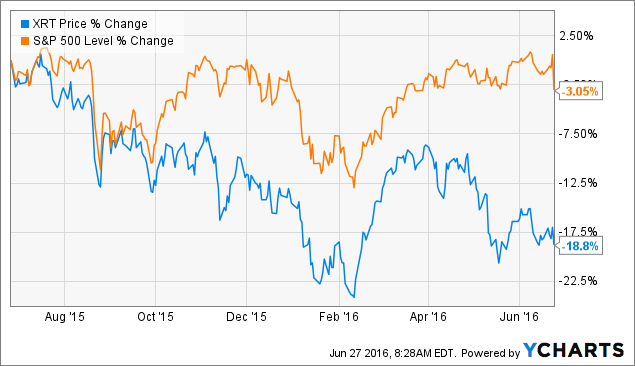 We have carefully picked and chose our main retail name, Macy's (NYSE:M), due to there being a potential catalyst to unlock far more value than is priced in. FINL does not have this unique attribute.
FINL does have appeal on an earnings basis. The company also has no debt, which sets it apart from numerous other retailers. It also makes the company a little bit better of an acquisition target than other retail names, especially with a price/sale of 0.38x. There could be a case made that larger department stores could acquire FINL and use them as "in between" stores just for shoes and sporting apparel, but we just don't think that the retail sector is ripe for mergers and acquisitions at this point.
Finish Line is a good company that just posted great results with a decent balance sheet to fall back on. However, we do think it is important to point out that brick and mortar retail has severely underperformed and will continue to underperform with the advent of online retailing.
It's also worth noting that a good portion of the move the company made on Friday is being attributed simply to shorts exiting the stock. As the valuation beefs up again and the stock price rises, these very same shorts may once again pile into FINL.
To combat this, we do not see FINL having a niche or proprietary product/service that would set them apart from a larger tectonic shift in the sector, which we predict will continue.
If FINL pulls back, potentially under $18, with the same quality of earnings, it may be worth a second look. However, at this time with this multiple we are not sure it is the perfect point to go jumping on the FINL bandwagon.
Disclosure: I/we have no positions in any stocks mentioned, and no plans to initiate any positions within the next 72 hours.
I wrote this article myself, and it expresses my own opinions. I am not receiving compensation for it (other than from Seeking Alpha). I have no business relationship with any company whose stock is mentioned in this article.