By Scott Tzu
We predicted in a series of articles that Pandora (NYSE:P) would trade to $12 per share before it became an acquisition target.
Back in October of 2014, the company was trading at about $21, and we made the following prediction.

Click to enlarge
We have reached that point and we have even moved under it.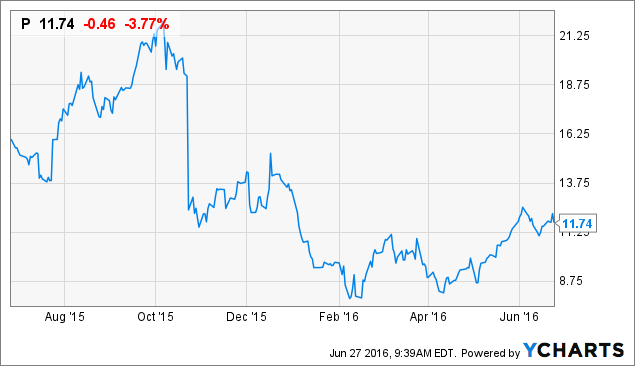 It looks like the $11 level could hold for Pandora for the time being.
Chartists would note that it appears Pandora "double bottomed" at about $8.50. For us, Pandora is another stock that we would consider potentially adding to if it is to be dragged down with the rest of the markets if they move lower. Should Pandora move lower from here, given all we know about how it is trying to sell itself, we'd consider picking up a small position. Even at $11, we think Pandora is worth a look on a speculative basis.
Pandora is no doubt an aging technology in the world of Internet radio. Spotify (Private:MUSIC) and Apple (NASDAQ:AAPL) have both made tremendous strides in conquering the streaming music market and companies like Amazon (NASDAQ:AMZN) and Google (NASDAQ:GOOG) (NASDAQ:GOOGL) are also trying their hand at streaming music.
Pandora, the original Internet radio streaming service, has failed to do anything spectacular as a public company but we believe can be easily taken private by a number of suitors who are looking to add a streaming radio element to their companies. This would also serve to take the company's financial underperformance out of the spotlight.
For instance, Microsoft (NASDAQ:MSFT) and Yahoo (NASDAQ:YHOO) are two names that come to mind but other companies looking to expand their technology offerings, like Verizon (NYSE:VZ) or T-Mobile (NASDAQ:TMUS), could also potentially wind up being a suitor for Pandora. The company has a clean balance sheet and no debt which makes them attractive to a potential acquirer.
This morning, Pandora even received an upgrade from Morgan Stanley,
Morgan Stanley upgraded Pandora (NYSE: P) from Equalweight to Overweight with a price target of $15.00 (from $11.00). Analyst Benjamin Swinburne thinks its core business is worth $11 per share, and he believes launch an on-demand product that could add another ~$4-7 per share in value.

Swinburne explained, "First, Pandora's core radio business, driven by highly engaged listeners, is growing and profitable. This profitability was not clear until the end of last year, after the Copyright Royalty Board set its cost structure through 2020. Second, after 15 years of digital indigestion we think the music industry has found its growth strategy - subscription on-demand and Pandora is positioned to help drive that growth as a result of its leading market share and high engagement in its core radio business."
Pandora, much like Yelp (NYSE:YELP), we believe is simply a parking lot right now until somebody comes around and is ready to acquire the company. It's not the best place to have your capital, as there is no fixed return and it is a stock that is vulnerable to larger market swings. Options are out of the question for us because we're unsure about the time element of any potential deal. Anytime you have a company without a firm floor in its book value that is not trading at a decent multiple and earnings basis, there is always the risk of further multiple compression.
But we do believe having a small speculative position in the company isn't a bad idea for a potential M&A play. We see the downside as limited now that the market knows that a sale is being considered.
Activist investor Corvex Management has also recently shared its ideas to create value in a letter to the company,
Let us be clear - it remains our firm belief that the company should immediately explore the potential value to shareholders that could be realized in a sale transaction, and to evaluate the results of a fulsome sales process against other options, including the risk-adjusted value of continuing to operate on a standalone basis. While we are not pre-judging the outcome, we believe there is likely to be significant strategic interest in the company at a substantial premium to its recent stock price, as well as to the long-term, risk-adjusted standalone trading value, from multiple potential buyers, including large internet platform companies, handset makers, integrated communications companies, media conglomerates, and other music companies. Pandora's logged-in mobile user base, deep reach and engagement, and differentiated song recommendation engine are unique assets, and we believe a large, well-capitalized acquirer could further accelerate the company's competitive advantages over time through synergies in areas such as technology and engineering, ad monetization, and customer acquisition and marketing. Simply put, we believe Pandora can become an even more differentiated product and a more valuable business as a part of a larger enterprise.
We had always thought this valuation that the company currently holds would be the area where M&A consideration finally begins to really take place.

Let's take a look at Pandora's valuation. At $12 per share, the company trades with an EV of $2.58 billion. The valuation can still look a little optimistic trading at 2.1x sales and 4x book, but we believe the M&A narrative can support this $12 level despite these fundamentals. Analyst estimates have been revised lower over the last 90 days, with EPS estimates for next year now at -$0.12 when Pandora was once expected to be profitable this coming year.
Here's our Take
There are two parts to identifying opportunities in the market.
The first is being able to understand the fundamentals in the financials and make decisions based on that.
The second is to understand the psychology of the market and what the narrative is behind the company that may or may not be supporting its stock price.
Both of these concepts have to work together in order for you to be successful investor.
Axiom, a shop that has gotten some much deserve respect from us due to their work on SUNE, also thinks a buyout is possible,
"Despite the CEO posturing, we believe Pandora's (P +2.1%) rich technology, the UI, and the large user base makes it a compelling acquisition even while it is pursuing an on-demand service. A sale could maximize shareholder value quicker," writes Axiom Capital's Victor Anthony, upgrading to Buy and setting a $16 target.

Anthony adds Pandora's core online radio business can further grow ad revenue by increasing ad load, selling more local ads, and using programmatic ad-buying platforms to sell remaining inventory. He also thinks "there is a greater probability of Pandora building a successful and differentiated on-demand [streaming] service while increasing the value of the core."
Shares are still down moderately YTD, and nearly 70% from a March 2014 peak of $40.44.
In the case of Pandora, the financials leave a bit to be desired still. That is clear and the stock has already suffered as a result. Although the company is producing a consistent revenue stream, its ability to earn has not yet been fleshed out and that makes it a poor candidate for a standalone on the public markets. However, this does not mean that the company could not generate bottom line traction for companies where it may experience synergies. For example, a company with a much larger balance sheet such as a Microsoft or a Verizon could immediately incorporate Pandora into offerings that it already has and immediately have it be accretive to earnings.
In the even the company can't sell itself, we've said in the past that the company needs to find a partner if it wants to have success going forward. The case for Pandora going it alone doesn't seem like it's going to build shareholder value. We believe it would essentially see the company jog in place and lose the race against time.
We may initiate a small speculative position in Pandora at any time.
Disclosure: I/we have no positions in any stocks mentioned, and no plans to initiate any positions within the next 72 hours.
I wrote this article myself, and it expresses my own opinions. I am not receiving compensation for it (other than from Seeking Alpha). I have no business relationship with any company whose stock is mentioned in this article.