When it comes to Apple (NASDAQ:AAPL), one item that often gets a bad reputation is the company's dividend. A number of investors think the stock's dividend yield should be much higher given the company's cash position. While it is true that some other tech names do offer more annual income, that doesn't necessarily mean Apple isn't a high yield name. Today, I'll discuss why.
When it comes to the S&P 500, only about 40% of the companies in the index are considered large cap (market cap over $10 billion) and have a dividend yield of more than 2.00%, according to Finviz. Apple currently ranks 155 on the list in terms of annual yield, basically putting it in the top 1/3rd of the index for income generation. That's not bad for a company that only restarted its dividend in 2012. When we look at the 17 mega caps in the S&P 500 (>$200 billion market cap), Apple and Microsoft (NASDAQ:MSFT) are the only two true technology names that actually pay dividends.
Apple right now is favoring the buyback route, and I agree that's the best way to go. Dividends are nice for investors, but they don't do anything for the company. At least the buyback reduces the share count, supports the stock when it is falling, and helps increase earnings per share. Apple is on pace to pay out around $12 billion in dividend payments this fiscal year, not exactly peanuts.
Another reason why Apple could now be considered a high yielder is when you look at fixed income. Thanks to Brexit and the Fed not hiking rates, US bond prices have soared recently, thus sending down yields. As you can see in the chart below, Apple actually finished Monday's trading with a higher annual yield than the 30-Year US Treasury. The chart represents the daily closing yield since the day after Apple announced its dividend raise in April.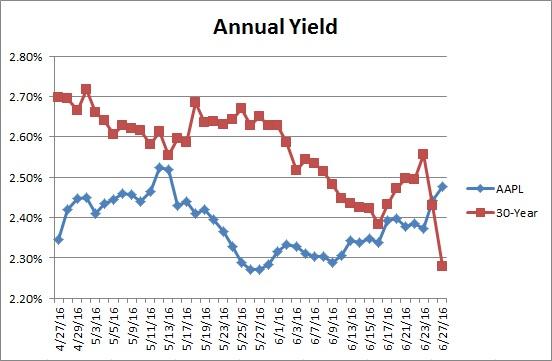 (Data sourced from Yahoo Finance)
Apple will currently earn you 20 extra basis points of pre-tax income compared to the 30-year, which is the long bond. Earlier this year when I looked at this Apple angle, the stock's yield was between that of the 5- and 10-year Treasuries. Now, the name is offering more than you'll get with the 30-year. In my opinion, that puts the name in the discussion as a high yielder.
Additionally, the numbers I mentioned above only take into consideration the status quo remaining. Apple has already paid out its raised dividend at the $0.57 level once. Most investors will expect that rate for another three quarters, and then probably a raise at the Q2 earnings report next April. For argument's sake, let's assume we get another 5 cent increase in the dividend. That would mean over the next 12 months, investors would yield 2.53%.
While there may be other stocks out there that do offer more income, investors may want to consider Apple a high yielder now. Thanks to recent market movements, the stock's dividend yield is now 20 basis points higher than the 30-year US Treasury. Even considering a modest dividend raise next year, Apple investors may get over 2.50% in the next year, putting the name in an exclusive mega cap club.
Disclosure: I/we have no positions in any stocks mentioned, and no plans to initiate any positions within the next 72 hours.
I wrote this article myself, and it expresses my own opinions. I am not receiving compensation for it (other than from Seeking Alpha). I have no business relationship with any company whose stock is mentioned in this article.
Additional disclosure: Investors are always reminded that before making any investment, you should do your own proper due diligence on any name directly or indirectly mentioned in this article. Investors should also consider seeking advice from a broker or financial adviser before making any investment decisions. Any material in this article should be considered general information, and not relied on as a formal investment recommendation.