Since the shocking Brexit last week, investors and analysts alike have arrived at the conclusion that it will significantly hurt international growth for Netflix (NASDAQ:NFLX). The company has shed almost $3 billion of its market cap, with the share price dropping nearly 7% in two trading days to just above $85, a mere $5 above its 52-week lows.
The sell-off, to us, feels overdone. NFLX has proven resiliency in the US during the Financial Crisis of 2008, and we are confident in NFLX's ability to sell its value-oriented product in foreign markets even during uncertain and tough economic times. We think the sell-off offers investors a good opportunity to buy into this high-growth story at a considerable discount.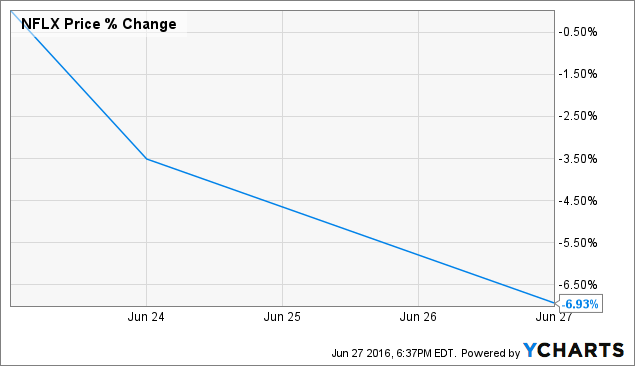 At the heart of our argument is the thesis that NFLX has proven resiliency in tough economic times. If we use the 2008 Financial Crisis as a case study, we can see that NFLX more than weathered the economic storm, and actually dramatically accelerated growth to new highs following the stock market's plunge in late 2008. In Q308, the company noted that a challenging economic environment contributed to slower-than-expected sub growth. That sub growth was 23%, only ~200 basis points lower than Q2's 25% growth rate and actually ~200 basis points higher than Q1's 21% growth rate. We can see, then, that growth actually didn't decelerate that much during the heart of the Crisis.

Click to enlarge
Nonetheless, the company cut sub and rev guidance for Q4 given broader economic uncertainty. In Q4, though, the company posted higher-than-expected 26% sub growth and 19% revenue growth, both of which topped the lowered guide and Street estimates. Sub growth stayed at 25% the next quarter, before racing to 31% by 4Q09. By the middle of 2010, subs were growing at a 42% Y/Y rate, higher than even 1Q07.
The point here is this: the Financial Crisis of 2008 was the worst economic disaster the United States has seen since the Great Depression. Despite the stock market crashing, the housing market bursting, incomes getting chopped, and consumer confidence sinking to an all-time low, NFLX still grew subs at a comparable rate to previous quarters during the worst of the Crisis, and accelerated growth to new highs within a few quarters following the heart of the Crisis. For some reason, Americans saw the value of Netflix and adopted it even during tough economic times.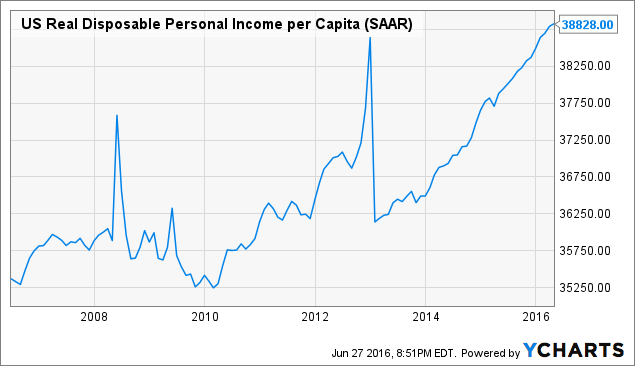 US Real Disposable Personal Income per Capita data by YCharts
More pertinent to investors, following 4Q08 which topped estimates, the stock soared. According to this article, NFLX stock rose 30% from February 2008 to February 2009, while the S&P 500 (NYSEARCA:SPY) dropped 43%. It was viewed as a defensive stock then, and we do not see any reason why it shouldn't be viewed as such now.
Some will say the stock is more richly valued now than it ever has been, and there is some merit to the argument. The company earned more per share in 2008 than it did last year, but investors should remember that the trailing P/E is non-normalized because the stock is trading on depressed earnings hurt by massive investment into international expansion and original content. Since 2008, revenues are up almost 5x. Once these investments pay off, earnings will likewise boom to more than 5x 2008 EPS, the P/E will compress, and we will have a similar stable story like that which investors saw in 2008. For reference, we still believe the company has $10 in annual EPS power within the next 10 years.
Nonetheless, there are some real challenges Netflix faces now in international markets that it didn't face in the US back in 2008. One such challenge is content requirements. The European Commission is proposing a requirement that all on-demand video streaming services, NFLX included, comprise their video library in such a way that 20% of the catalogues offered to EU subs are made locally. NFLX is largely developing original content to meet this requirement, especially in crucial markets like France and Germany, and the Commission has said that its current video library satisfies the quota. At this point in time, it is unclear how the Brexit affects this requirement, so NFLX might have to do some movie portfolio reconstructing to keep its service alive in certain European markets. If this does happen, the company will likely have to spend some money on acquiring some local content or a more meaningful amount of money on developing original local content, but this shouldn't be of significant amount considering pre-Brexit, NFLX already met the quota.
A more serious challenge is on the FX side, where significant appreciation of the dollar and weakening of the pound and euro will undoubtedly weigh on NFLX's top line results. International contribution margins will likely become more negative as a result, but the company was benefiting from a weaker dollar this year up until the Brexit. Despite the pound's collapse, the euro is still stronger than where it was at the beginning of the year. The real risk here from an FX standpoint would be further destabilization of the EU, but we think this risk is still too detached to price meaningfully into the stock at this point in time.
Investors should also remember that the Disney (NYSE:DIS) deal becomes effective in September, and this should provide a huge boost to NFLX content, especially with an onslaught of DIS-owned superhero and Star Wars movies set to launch over the next several years. It is also looking increasingly likely that Netflix will allow subs to download its content online and watch it later offline. This will help people watch on the go, and it eliminates the competitive advantage Amazon (NASDAQ:AMZN) Instant Video currently has from that feature.
Netflix proved its resiliency through tough economic times in the United States in 2008. We think that should say something about how the company will survive in today's teetering global economy. The markets currently think otherwise, as the stock has done nothing but sell off since the Brexit news. NFLX stock tanked with the markets back in late 2008, but a strong Q4 in January that topped estimates and guided higher had people some people saying "What Recession?" only 4 months after the Dow posted its worst day on record. The stock may not have found a near-term bottom, but we are confident the share price will be significantly higher in one year from where they are today.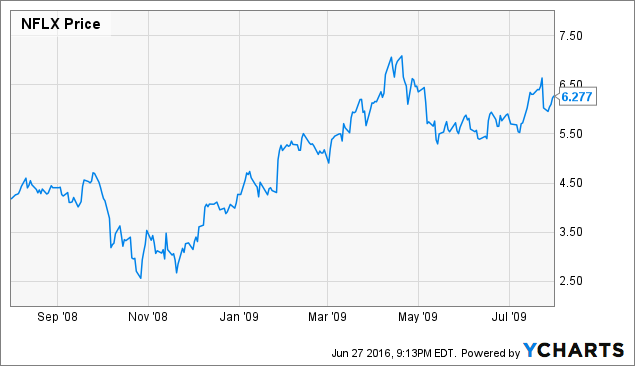 Disclosure: I am/we are long NFLX.
I wrote this article myself, and it expresses my own opinions. I am not receiving compensation for it (other than from Seeking Alpha). I have no business relationship with any company whose stock is mentioned in this article.