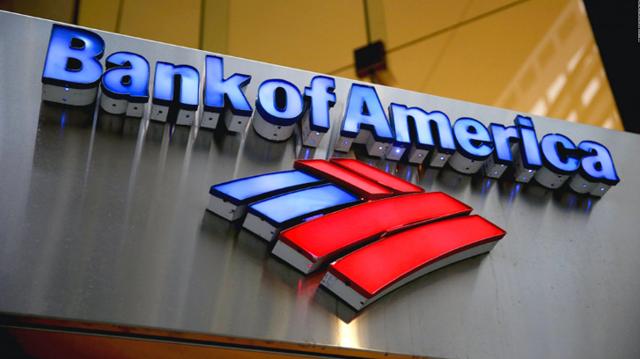 Bank of America (NYSE:BAC) has been destroyed in the last couple of days as a result of the Brexit vote. Banks in general are getting hammered and BAC is down almost $2 in the past two trading days, making it one of the biggest losers of the vote among the US banks. BAC's business is largely US-based and certainly isn't global to the extent that, say, Citi (NYSE:C) is. But BAC's been crushed anyway and it seems investors are forgetting that CCAR results are due out tomorrow afternoon, an event that could prove very positive for BAC and other banks.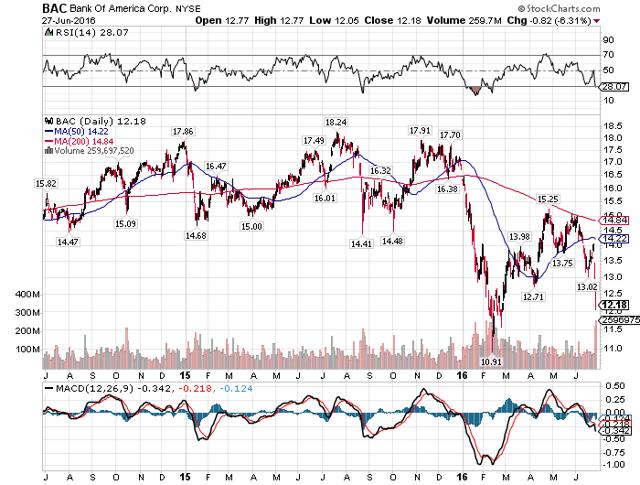 Last year, BAC went through the humiliation of failing the CCAR and the related capital return submission. Only in December of last year did BAC finally get approval for its capital return plan after it addressed some deficiencies in its risk controls. BAC had lots of problems in its CCAR submission last year, resulting in it becoming one of just a handful of banks to get its hand slapped by the Fed.
The regulator had this to say about BAC's initial, rejected submission last year:
The firm must continue to make steady, demonstrable progress prior to the 2016 CCAR cycle toward establishing and maintaining sound risk-management and capital-planning processes that are commensurate with the size and complexity of its operations.
That implies that the big question for whether or not BAC will pass this year the first time around and what kind of capital returns it can ask for are heavily dependent upon its ability to prove to the Fed that it has fixed the issues cited last year. Has it done so? We'll find out tomorrow afternoon but for me, I have to think BAC has worked tirelessly to address the issues brought up last year.
CEO Brian Moynihan - someone for whom I have great respect - was personally embarrassed last year when BAC failed. And given that he's perpetually on the hot seat among some large BAC investors about his role at the bank (some claim he has too much influence), if BAC fails again, it may cost him his job. Thus, I would hesitate to think anything other than that BAC has spent tens of millions of dollars (or more) and handed the submission process over to CAO Andrea Smith, to try and get to a satisfactory risk control state that will be to the Fed's liking. The CCAR is more and more difficult each year but with BAC passing with its resubmission last year, it should have received ample information regarding why it failed the first time and how it can avoid such a fate in 2016. In short, I don't think BAC failing again is a realistic possibility because of the stakes to Moynihan personally and the simple fact that BAC knows the microscope is on it due to the failure last year.
BAC's dividend stands at 20 cents right now, good for about a 1.5% yield after the beating shares have taken, trading for about $12.50 as I write this. I think BAC will ask for a dividend increase tomorrow, perhaps on the order of 2.5 cents quarterly per share, good for a 50% increase on the current level of a nickel. The current dividend costs just under a billion dollars per quarter so a 50% increase is certainly something BAC can afford - ~$6 billion per year is very achievable. And with BAC's yield slowly creeping up after being cut to basically nothing during the crisis, a boost to well over 2% would get some investors interested in owning the stock again. I don't think BAC would ask for more than a 2.5 cent increase but it may ask for less if it thinks buybacks are a better use of capital.
BAC's recent buyback authorizations have hovered around the $4 billion mark and for this year, I would think BAC will maintain that level. The wildcard is the dividend; if BAC asks for a penny, for instance, that would free up money for the buyback. If it does ask for 2.5 cents then it will have slightly less money available for buybacks. To be honest, at $12 a share I want BAC to keep its current dividend and ask for a huge buyback authorization but BAC would have made its submission a while ago, well before the Brexit carnage. The stock would have looked relatively less attractive for buybacks at that time so I think the dividend may have weighed more on its submission choices.
The thing is that regardless of the mix, investors want to see that BAC passed CCAR this year. The failure last year was a huge embarrassment for not only Moynihan but the CFO as well, leading to wholesale changes in the personnel leading the submissions and the processes BAC uses to create them. With shares beaten down so much after Brexit if BAC passes CCAR and gets a nice capital return program - say, $6 billion in total increases or more - we should see shares rise. The inverse of that is that if BAC does manage to fail again it would be a complete disaster and we could see shares retest the $10 level from the panic lows set earlier this year. My base case is that BAC learned its lesson last year and won't fail again but we are talking about the whims of a regulator so anything can happen.
With BAC at 9.5 times this year's earnings and the catalyst of a successful CCAR submission and commensurate capital return increase on the horizon, BAC looks good here. Rates continue to go lower and that is a problem but the bank has proven its ability to continue to make billions of dollars each quarter with a terrible rate environment. And let us not forget that the quality of consumer debt continues to strengthen, unequivocally good news for BAC and other lenders. Moynihan has built a more stable, prudent BAC than what existed when he took the top job and with the recent selloff, investors are ignoring BAC's potential. The CCAR submission is going to be a catalyst one way or the other but common sense would suggest there is no way BAC would allow itself to fail again.
Disclosure: I am/we are long BAC.
I wrote this article myself, and it expresses my own opinions. I am not receiving compensation for it (other than from Seeking Alpha). I have no business relationship with any company whose stock is mentioned in this article.