I've been following Under Armour (NYSE:UA) closely but two weeks ago I purchased some Nike (NYSE:NKE) before game 7 of the NBA finals. That's not WHY I bought Nike but I'm not going to hesitate to point out a positive in my favor. I chose Nike over all stocks but I want to highlight why I believe Nike is a better current investment than Under Armour.
Under Armour makes great products. From their air wick gym shirts to my favorite, their breathable summer collared shirts. The company has grown its top line over 20% for 24 straight quarters and I believe there is more to come. Kevin Plank has literally done everything right (including unloading tens of millions of dollars worth of stock near the top). The company has succeeded in North America and apparel and is branching out overseas and into footwear. I believe globalization is Americanization and that Under Armour will succeed in their efforts. However, I won't pay any price and I've successfully avoided the stock since I first began writing about it on Seeking Alpha.
Some of the main issues I see with Under Armour now:
1. Price. always the most important factor and Nike is much more favorably priced by the market, more on that later.
2. Rising inventory, declining margins, and falling free cash flow. Look, Kevin Plank is a world class salesman and you can only get more bullish listening to him. He keeps getting everybody excited pointing at that great top line number but there is more to a business than revenue growth. What's better, spending no money and sales going up 20% or spending 20% and having sales go up 20%? A lot of Under Armour's negatives are explainable and the company is doing well but it's not firing on all cylinders now.
3. Key people risk. Kevin Plank has been one of the best wealth creators of the last 20 years, what happens if something happens to him? I'll tell you, Under Armour's stock price will tank.
Plank is obviously the MVP of this operation but what happens if something happens to Jordon Spieth, Under Armour golf will ride the Hunter Mahan wave? What happens if something happens to Steph Curry, will people line up for the next Brandon Jennings shoe?
Nike has all the bases covered. Every sport, every segment, everything. If Lebron James permanently threw out his back celebrating his more recent championship, Nike has Michael Jordon, Kobe, Kevin Durant, Dreman Green, Kyrie Irving, Ben Simmons and a war chest full of money to get the next guy.
4. Fitness App. Under Armour spent $700 million on fitness apps... and this month sold $600 million worth of bonds... That's not a move I like. Especially when discussing the apps Kevin Plank made comments paraphrased like, "if we lose money we can always make it back." That's MY MONEY he'd potentially be gambling with and I don't like that bet. My dollars are my soldiers and I want them to go into battle, and come home multiplied.
Room for both?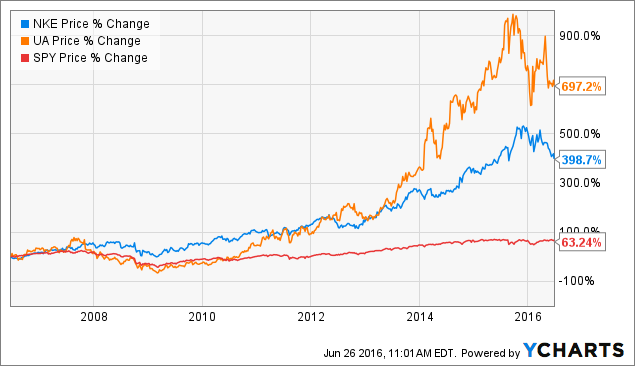 This isn't an either or, I believe Nike and Under Armour can both be great investments that beat the market. I've argued in the past that Nike existing makes Under Armour better. Kevin Plank is so competitive, he's at his best in that #2 spot fighting for the #1. Adidas (OTCQX:ADDYY) might be the real loser from Under Armour not Nike.
Why Nike?
Let's start with valuation.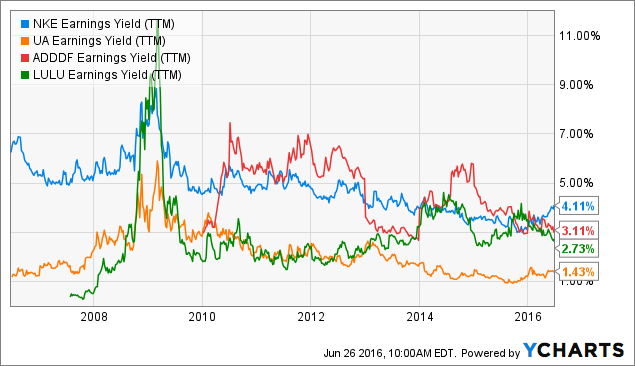 Nike has the highest in class earnings yield, Under Armour actually has the worst.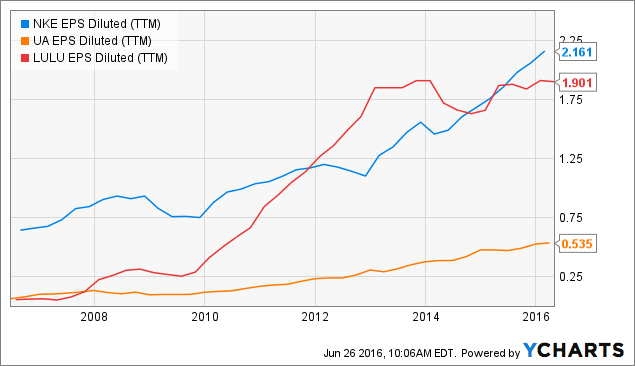 The reason why people are willing to pay up for Under Armour is their past growth and future growth expectations.
In 2011 UA earned .23 split adjusted, the 2016 projection is .59 cents per share. 157% growth over 5 years.
In 2011 NKE earned $1.10 split adjusted, the 2016 projection is $2.15. 96% growth over 5 years.
Under Armour is growing faster than Nike, but do you really want to pay nearly 3x the price? I don't. It's not like Nike is exactly a slow grower.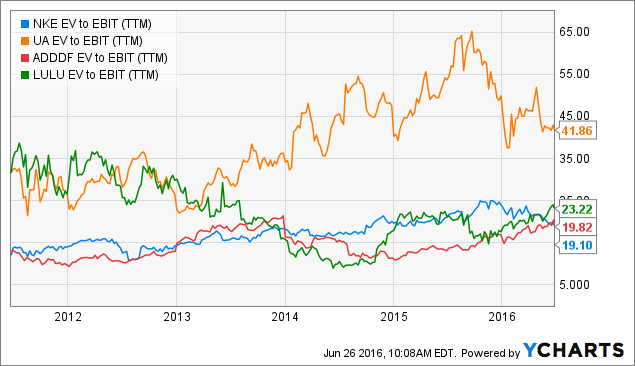 Nike has the best in class EV to Ebit ratio which factors in debt, once again Under Armour comes in last.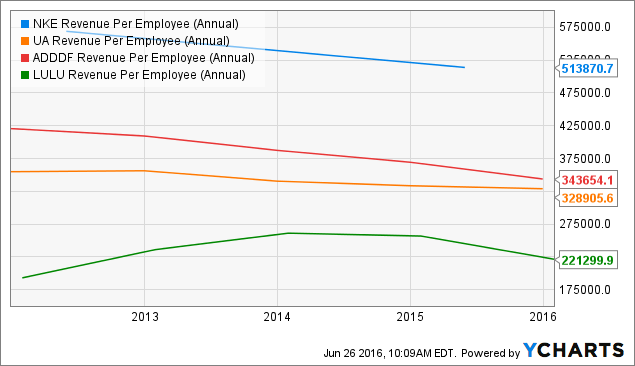 Revenue per employee? Nike maximizes their work force better than the competition.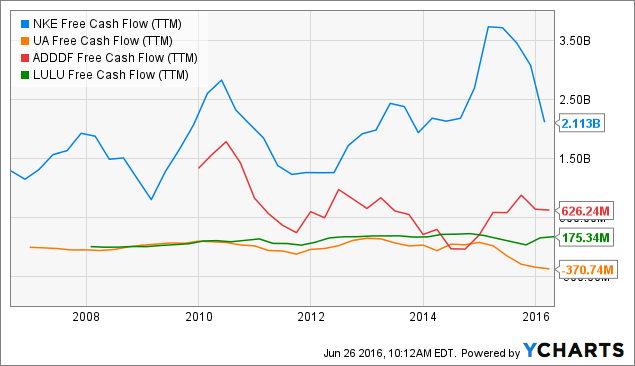 Under Armour isn't the only company with declining free cash flow, Nike has the same problem as well. However, look at Nike's trend up and to the right. Under Armour's free cash flow is flat to down over many years. I understand you have to invest in the business to grow the business but Nike can and has grown the business and gives capital back to shareholders in the form of dividends.
Dividends
If there were two equal companies and one company paid a dividend and one didn't, I'd take the dividend paying company every single time. Companies aren't usually equal but a lot of investors DO have a preference of receiving a portion of the profits of the company they own.
Nike pays a dividend, and they have paid it and grown it 14 years in a row to make the Dividend Contenders list. Maybe they are a future Dividend Champion?
Over the last 10 years the dividend has grown at a 15.5% rate.
If it wasn't for a small dividend decline on September 16th 2001 ( 5 days after the Terrorist Attacks) Nike would have kept the dividend the same or raised it since really September 4th 1987 - (there was a one time balloon payment on December 10th 1990).
Women's business
I argue that the key to Under Armour's growth is their International business and their Footwear business. If I had to add a third pillar it's their women's business. The company even launched a "woman empowerment" campaign with their top female endorsers but Nike has still been beating them.
I'd argue that Under Armour is male dominated and has machismo advertisements. Showing a ripped Defensive End screaming, "We must protect this house" is great for meatheads, gym rats, and football fans, but is it good for women?
Who is Under Armour's target customer in the female market? I couldn't tell you. I'm sure they great with the girls that go to the gym 3+ times per week (non yoga) but is that enough? What about athleisure for women?
Lululemon (NASDAQ:LULU) will dominate the yoga and athlesiure market. I've had this conversation with a yoga instructor/triathloner - Lulu's yoga gear compared to the competition is like an Under Armour air wick shirt compared to a fruit of the loom undershirt. It's THE BEST, it's the only thing serious people in the yoga community would wear. They are strategic too giving huge discounts to Yoga instructors who are basically models to their 30 person classes.
What about Nike? Nike has had 9 consecutive quarters of double digit growth for women's wear AND their women's business is growing faster than their men's business. Don't discount this fact - you can't ignore 1/2 the population.
Growth
Last quarter Nike grew overall 8%, 14% on a currency neutral basis.
Footwear grew overall 11%, 18% currency neutral.
Apparel grew overall 8%, 14% currency neutral.
Bright spots - China 23% growth, Chinese footwear 28%, Japanese footwear 34%, Central Europe footwear 27%. Under Armour is doing well in Asia but so is Nike.
Conclusion: Nike is a buy
I love the business and I'd rather sell shoes than shirts. Look how cheap they are to make in Asia and then how much they are sold for here. Nike is a huge beneficiary of the TPP, maybe #1. Serious runners replace shoes every 6 months, or you create a basketball shoe, slap Lebron James name on it and can charge $200 for it. Nike is dominant in the space and already has the distribution channels. There is more certainty and less "people" risk.
Look at Nike, their valuation, their dividend history and then look at a stock like Proctor and Gamble. We looked at Nike and Under Armour's growth over the last 5 years... Procter and Gamble will earn less in 2016 than they did in 2011... and Nike is trading at a cheaper valuation.
Nike reports after the bell on Tuesday June 28th. It could possibly come in a little short due to the liquidation of Sports Authority. Long term it shouldn't matter much as nobody bought anything at Sports Authority anyway.
Monday should be another turbulent day in the market post Brexit but long term Nike is a no brainer screaming buy compared to the rest of the market at these levels. If you are an investor willing to hold this stock - not a trader I don't see how you can lose money here. With that said, I've argued the market is overvalued and we may have just had our bubble pop. After the pop a higher beta name like Under Armour will go down more and then you can buy that stock too.
Disclosure: I am/we are long NKE.
I wrote this article myself, and it expresses my own opinions. I am not receiving compensation for it (other than from Seeking Alpha). I have no business relationship with any company whose stock is mentioned in this article.