It's Sunday evening as I write this, and if the S&P futures market is any indication, we'll be down a bit on Monday. I'm sharpening my pencil and looking for value, and am quite convinced that solid companies with limited Europe exposure will do well, especially if those companies have solid dividends with good margins of safety.
AbbVie (NYSE:ABBV) is one of those companies, in my opinion. AbbVie is the owner and distributor of Humira, the blockbuster Rheumatoid Arthritis drug. Sixty percent of AbbVie's revenue comes from North America, it has a terrific balance sheet and a generous 3.8% yield. This article takes a look at AbbVie's fundamentals, its valuation and what investors can expect going forward.
Diversifying to safety
Like many big drug companies, AbbVie relies heavily on research to produce new drugs to replace other drugs which go off patent. With AbbVie, that dynamic is more dramatic because Humira is so dominant within the company's portfolio. At one point Humira accounted for over half of the company's revenue. Humira has been open to biosimilar competition in the US, but it has thus far not yet stopped double-digit revenue growth of this drug. Humira will be open to biosimilars in Europe in April 2018.
Although Humira has driven AbbVie's double-digit growth rate in both earnings and revenue, management has worked swiftly to find other sources of revenue, not only from drug development but also through acquisitions. Months ago AbbVie acquired Pharmacyclics at a big premium of 39%, mostly for its Hep C drug Imbruvica. In April, AbbVie acquired Stemcentrix for another $5.8 billion. Stemcentrix brings Rova-T, a lung cancer drug set to come out by 2018, which is expected to have up to $5 billion in annual revenue.
Overall, there are some 50+ development programs, and more importantly, over 20 of which are in Phase III of approval. AbbVie has logged thirteen recent drug approvals. To give a "big picture" idea of this significance, have a look at this chart.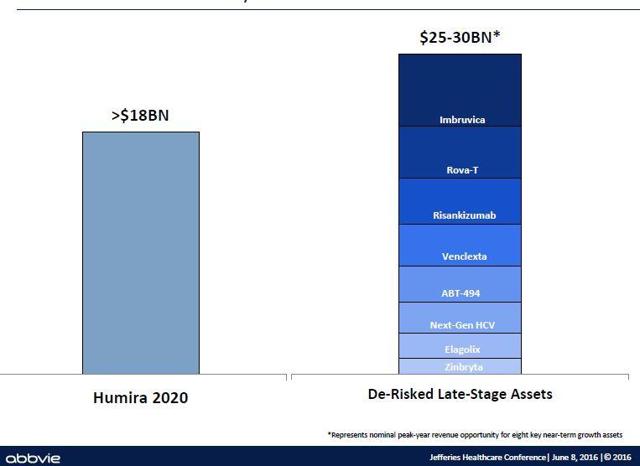 Click to enlarge
Courtesy of AbbVie Investor Relations.
As you can see, Humira will still be the big dog of the portfolio, but there will be other drugs thanks to both research and acquisition, not to mention the legacy drugs. Despite looming competition, AbbVie expects revenue and earnings growth in the double-digits.
Balance sheet and dividend
I don't know exactly how successful AbbVie's new drugs will be. I'm hopeful, but I don't know. What I do know, however, is that AbbVie has a solid balance sheet, great cash flow and a nice yield, and that counts for a lot. For example, the trailing divided of $3.4 billion is only 45% of trailing free cash flow of $7.5 billion.
AbbVie does have quite a bit of debt; about $30 billion, but with $8.6 billion in cash. Debt is just under 3.5 times EBITDA, but when cash is subtracted from debt, that number drops below 3 times. It's Moody's credit rating is Baa2, one notch above the minimum for 'investment grade' status, and outlook is stable.
Over the last couple years AbbVie has grown its dividend by a lot: 9 percent in 2014 and 20% in 2015. I fully expect double-digit dividend growth if AbbVie can successfully achieve its plan to 2020.
Valuation & conclusion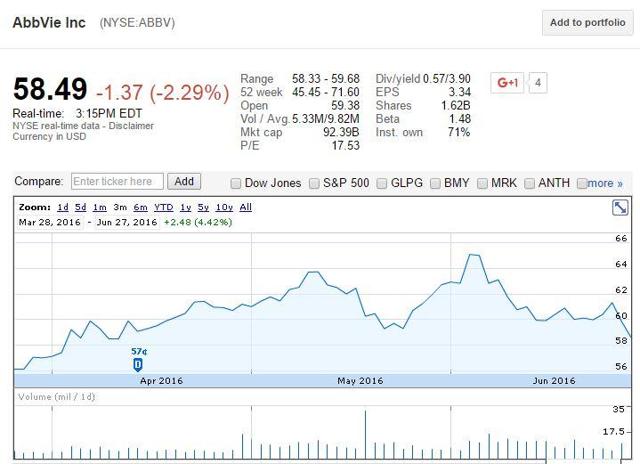 Click to enlarge
Courtesy of Google Finance.
AbbVie isn't down much since Brexit, but it's already been pretty cheap due to continued fears of too much reliance on AbbVie and looming competition.
AbbVie trades at 18 times trailing earnings, but just under 14 times expected 2016 earnings. Of course, AbbVie is fairly cheap for a reason, and I've discussed those reasons above, but consider this: AbbVie is somewhat insulated from Brexit woes, it has a solid pipeline, and most importantly, a sustainable, healthy yield. This kind of thing is what fleeing investors will cling to if times get bad.
If you're interested in AbbVie, feel free to follow me on Seeking Alpha. I am long the stock myself and periodically write articles on this company. I will continue to provide update articles when they are material and relevant.
Disclosure: I am/we are long ABBV.
I wrote this article myself, and it expresses my own opinions. I am not receiving compensation for it (other than from Seeking Alpha). I have no business relationship with any company whose stock is mentioned in this article.