Jazz Pharmaceuticals (NASDAQ:JAZZ) is a biopharmaceutical company that is headquartered in Dublin, Ireland and the company has three primary drugs, which are Xyrem, Erwinaze, and Deifetelio. The company was founded in 2003 and by 2005, Jazz Pharmaceuticals had acquired Orphan Medical and its product, Xyrem. The company has achieved many milestones and some of the many highlights of the company's history include a merger of Azur Pharma in 2012, the initiation of the JZP-110 Phase 3 clinical program and the U.S. launch of Defitelio in 2016.
From December 2010 to December 2015, a $100 investment would have increased six fold in just five years. Comparatively, a similar investment in the NASDAQ Index (NASDAQ:QQQ) would have remained flat, but a similar investment in the NASDAQ Biotechnology Index (NASDAQ:IBB) would have roughly tripled.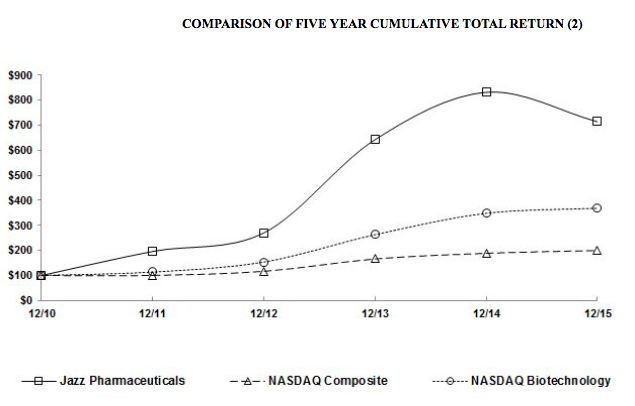 Source: chart from 2015 10-K
Three Primary Products

Source: Table created by Brett Wilson. % of net product sales data from 2015 10-K, YoY Growth data from Q1 2016 Conference Call.
As stated before, the company has three primary drugs, which account for 93.3% of the company's revenue.
First off, the company's largest product is Xyrem, which was 72.5% of the company's net product sales. The drug is manufactured in the U.S. by Jazz Pharmaceuticals and Valeant Pharmaceuticals (NYSE:VRX) in Canada. It is currently the only product approved by the FDA for the treatment of both excessive daytime sleepiness and cataplexy. Currently, the number of active Xyrem patients in the U.S. is 12,550 and the company stated in its 2015 10-K that there are significantly more narcoleptic patients with cataplexy and/or who could benefit from treatment with Xyrem.
Secondly, Erwinaze accounts for 15.4% of the company's net product sales. According to the Erwinaze website, Erwinaze "is part of a chemotherapy program to treat patients who have acute lymphoblastic leukemia, a type of blood cancer that affects the white blood cells that help fight infection. Erwinaze is used in patients who have had an allergic reaction to a different type of asparaginase treatment."
Lastly, Defitelio was 5.4% of the company's net product sales. Although the drug is a fairly small portion of the company's current sales, Defitelio was only approved by the FDA in the U.S. in late March of 2015. The drug is used for the treatment of children and adults hepatic venocclusive disease. Also, the drug is the first FDA approved treatment for the rare and life threatening disease. Even though the drug was not launched in the U.S. until 2016, the drug was commercially in Europe in 2014.
As I point in future sections, the company's heavy reliance on Xyrem is somewhat concerning. However, I do think that the product still has room to grow, which I point out in future sections.
Celator Acquisition
On May 31, 2016, Jazz Pharmaceuticals announced that they were acquiring Celator Pharmaceuticals in an all cash deal. The company's primary product is Vyxeos, which treats Acute Myleoid Leukemia. The product is expected to treat poor prognosis patients and the Phase 3 results produced fantastic results.
In my opinion, Celator Pharmaceuticals was a fantastic acquisition for Jazz Pharmaceuticals. Although Jazz Pharmaceuticals' primary product is a narcolepsy drug, Vyxeos fits in perfectly with Jazz Pharmaceuticals' long-term strategy. Vyxeos fits in well with Jazz Pharmaceuticals because the company already has experience with leukemia drugs. As I pointed in the previous section, Erwinaze was developed to treat acute lymphoblastic leukemia.
Plus, Jazz Pharmaceuticals has relied heavily on M&A activity to achieve its current position in the industry and the acquisition of Celator Pharmaceuticals shows that Jazz Pharmaceuticals is still serious about using M&A to continue to grow its revenues. In addition, Vyxeos could offset a decline in revenues from Xyrem if it is approved by the FDA.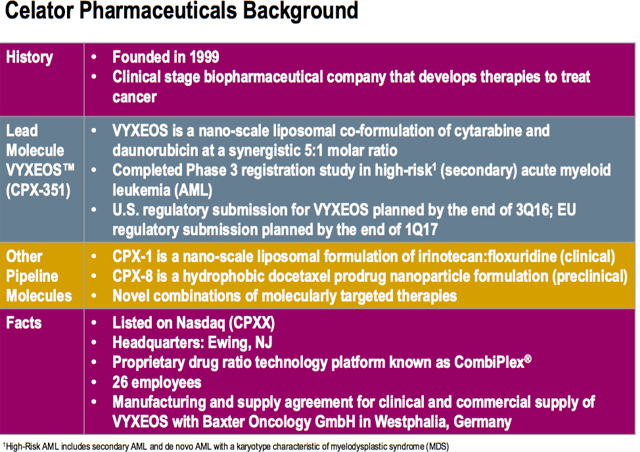 Click to enlarge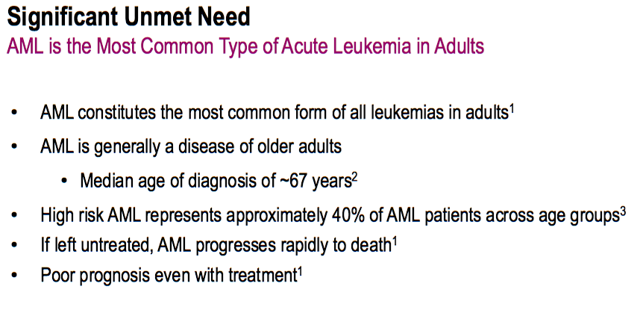 Click to enlarge
JZP-110 Update
On June 20, 2016, Jazz Pharmaceuticals provided an update on JZP-110, which is a Phase 3 wake-promoting agent. In 2014, Jazz Pharmaceuticals acquired the rights to the drug from Aerial Biopharma. As shown in the graphic below, Jazz Pharmaceuticals initiated U.S. patient enrollment in their Phase 3 clinical program in 2016. The company expects to receive preliminary data results from these trials in Q4 2016. Below the timeline chart is a diagram that shows the market potential of this product. According to the company, approximately 175k to 300k have had an inadequate response to the current wake-promoting therapies.
Similar to Vyxeos, the acquisition of the rights to JZP-110 fits in perfectly with the company's long-term strategy. Like Xyrem, JZP-110 is a treatment for narcolepsy. If Xyrem sales were to fall, JZP-110 has the potential to save the company from having declining revenues. Xyrem currently makes up roughly 70% of the company's sales and Jazz Pharmaceuticals needs to be developing products that could offset declining sales of Xyrem. If everything goes to plan, JZP-110 has the potential to offset any decline in Xyrem revenues since they are both narcolepsy drugs.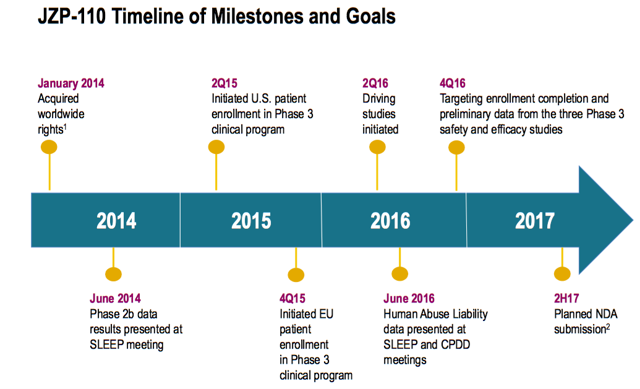 Click to enlarge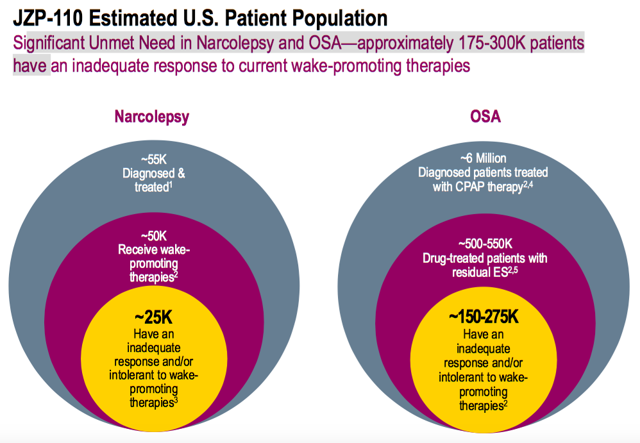 Click to enlarge
Key Statistics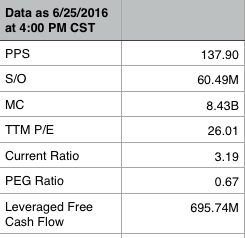 Source: Table created by Brett Wilson, data from Yahoo! Finance
Where the stock really shines is in its fundamentals. Unlike many biotech companies, Jazz Pharmaceuticals has great fundamentals. As shown in the chart above, the market capitalization is $8.43 billion. Also, the company's P/E ratio is slightly below the industry average P/E of 26.17. The company beats the industry average statistics in nearly every regard. For example, the company has a gross margin of 93%, but the industry average is 63%.
Turning to cash flow, the company's leveraged free cash flow of $695.74 million shows that they are in a healthy financial position and capable of buying out a much smaller rival. To put this number in perspective, Eli Lilly (NYSE:LLY), which is a significantly larger company, has a leveraged free cash flow of $516.24 million. Overall, the company appears to be in a very healthy financial position. Additionally, the stock has a PEG ratio of .67 and a PEG ratio between 0 and 1 typically indicates that the company is undervalued.
Additionally, Jazz Pharmaceuticals stated in its 10-K that they have never paid a divided out to its shareholders and they do not anticipate to pay a dividend out in the foreseeable future.
Balance Sheet
Turning to the balance sheet, Jazz Pharmaceuticals' balance sheet appears to be in great shape. CEO Bruce Cozadd stated in the company's Q1 2016 Earnings Conference Call that "Market conditions during the first quarter allowed us to accelerate share repurchases under our existing $300 million repurchase program while maintaining our strong balance sheet."
Also, despite the company's impressive growth over the past year, debt has slightly shrunk. In Q4 2015, the company's long-term debt was $1,150.86, and in Q1 2016, the long-term debt was $1,146.43.
Growth Drivers
First off, I believe that Xyrem certainly has room to grow. The total number of Narcolepsy sufferers in the U.S. is 160,000 according to Jazz Pharmaceuticals and more than half of these patients remain undiagnosed. In addition, Cataplexy occurs in 70% of these patients. Another positive aspect about Xyrem is that it is protected by 20 patents. Also, the first patent will not expire until 12/22/2019. However, as I point in the next section, this does not necessarily mean that Xyrem is a completely risk free product for the company.
JZP-110 is certainly a product that can propel the stock upwards if preliminary data from its Phase 3 clinical program is positive. As I pointed out in the section on JZP-110, the product has big potential.
As shown in the chart below, so far, the company has done a good job of meeting its goals. They did not put a check mark next to "Corporate Development" on the chart below, but the company has done an excellent job of expanding corporate development through the company's acquisition of Celator Pharmaceuticals in late May 2016. Also, there will likely be more partnerships and acquisitions in 2016 given the company's history of M&A activity over its 13-year history.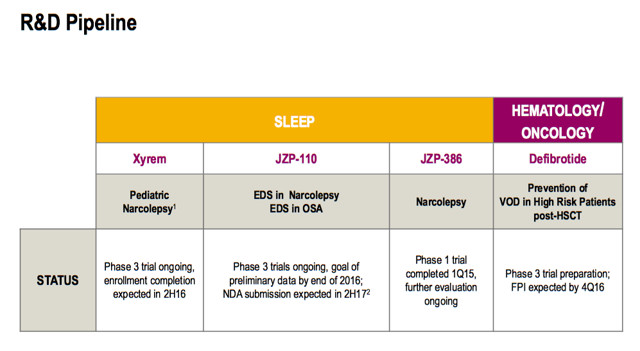 Click to enlarge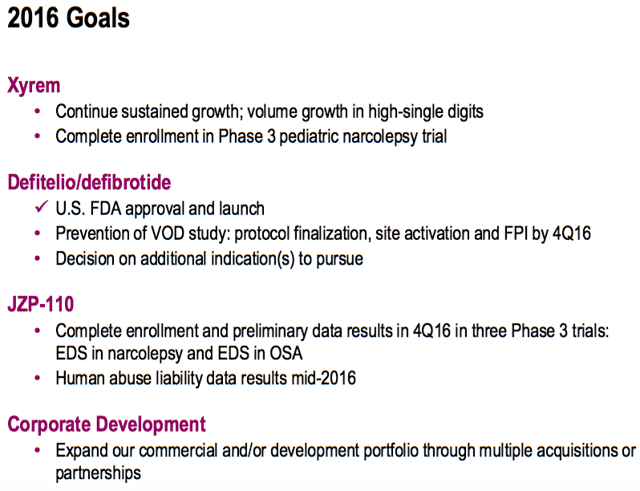 Click to enlarge
Risk Factors
Investors should always examine risk factors for a stock, but this is even more true in the highly volatile pharmaceutical industry. One of my primary concerns about the company is its current heavy reliance on Xyrem. A generic version of Xyrem would prove to be disastrous for Jazz Pharmaceuticals. According to the 2015 10-K, seven companies have sent Jazz Pharmaceuticals notifications that they had filed abbreviated new drug applications for Xyrem with the FDA in an attempt to get approval to sell a generic version of the Xyrem.
Jazz Pharmaceuticals has filed lawsuits against all seven of these companies. Some of the patents in the case could potentially go to court in the next quarter. In addition, another risk factor is that the Patent Trial and Appeal Board (PTAB) could issue a decision on the validity of Xyrem patents in July 2016. CEO Bruce Cozadd stated in the company's Q1 2015 earnings conference call that:
"Turning to a brief legal and intellectual property update on Xyrem. Patent litigation continues in the District Court in New Jersey. No trial dates have yet been set in any of the cases. We anticipate the trial of a portion of the case against the first filer, Roxane Laboratories, would not occur any earlier than the third quarter of 2016. We recently executed confidential settlement agreements with two of the seven ANDA filers, Wockhardt Bio AG and Ranbaxy. Under the settlement agreements, we granted Wockhardt and Ranbaxy licenses to manufacture, market and sell generic versions of Xyrem on or after December 31, 2025, or earlier depending on the occurrence of the certain events customary for settlement agreements with so called second filers."
So this is certainly positive news, but five of the seven lawsuits have yet to be settled. In addition, the company announced in the same conference call that the:
"hearing on those six patents was held last month and we expect a decision in late July." So this decision could potentially prove to be if the decision is not Jazz Pharmaceuticals favor."
Another issue that I find somewhat concerning is the company's very broad guidance for Erwinaze. Should the company report that net product sales for Erwinaze at the very low end of their guidance, then this could certainly send the stock downward. If net product sales for Erwinaze were only $200 million in 2016, this would represent a decline in year-over-year growth.
However, if they reported near the high end of the guidance, this would represent a significant year-over-year growth of Erwizane sales. In addition, the company specifically states in their 2015 10-K that their success depends on their ability to commercialize on their other products and failure to do so could impact the company's growth prospects. Although Erwinaze only makes up a somewhat small portion of the company's revenue, a decline in year-over-year revenues would certainly be bad for the company.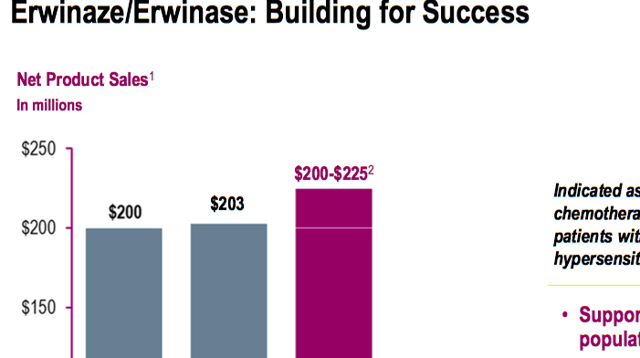 Click to enlarge
Conclusion
In my opinion, Jazz Pharmaceuticals' treatments have serious market potential. However, Jazz Pharmaceuticals is heavily dependent on sales of Xyrem currently, but the sales of the product still have room to grow. The company states that 50% of narcolepsy patients remain undiagnosed. Plus, 70% of narcolepsy sufferers also suffer from cataplexy and Xyrem treats both narcolepsy and cataplexy.
JZP-110 has huge market potential and investors will know the results of the Phase 3 clinical program in Q4 2016. Also, The company has strong cash flows and a healthy balance sheet. Overall, Jazz Pharmaceuticals is one of the best biotech stocks on the NASDAQ.
Disclosure: I/we have no positions in any stocks mentioned, and no plans to initiate any positions within the next 72 hours.
I wrote this article myself, and it expresses my own opinions. I am not receiving compensation for it (other than from Seeking Alpha). I have no business relationship with any company whose stock is mentioned in this article.