24 June 2016: Bought 35 shares of WMT at $72.15 per share.
Wal-Mart Stores, Inc. (NYSE:WMT) is the world's largest retailer. Based in Bentonville, Arkansas and founded in 1962, WMT is a multinational retailer consisting of more than 11,000 stores under 72 banners in 28 countries. It is the biggest private employer in the world with over two million employees.
WMT is a Dividend Champion with an impressive streak of 43 consecutive years of dividend increases. The company pays quarterly dividends in January, April, July and October.
At my buy price of $72.15 the stock yields 2.77%. Adding 35 shares of WMT to DivGro increases projected annual dividend income by $70 to $11,464.
Before this buy I owned 34 shares of WMT, which I bought in June last year at $75.40 per share and at a starting yield on cost (YoC) of 2.55%. Adding these 35 shares reduces my per share cost basis to $73.76 and increases average YoC to 2.71%.
Dividend History
Following is a 10-year yield chart for WMT. The yield has generally increased over this period, though it is down from the 5-year high of about 3.5%: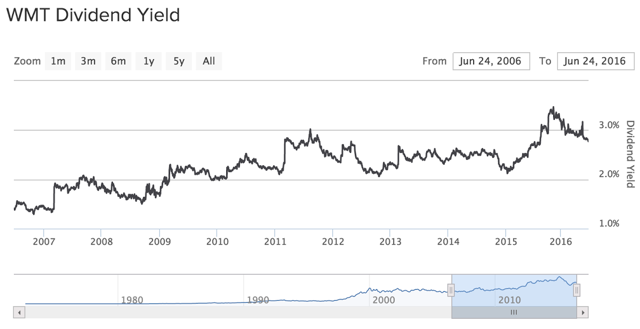 Click to enlarge
Source: Dividend.com
The following table presents WMT's dividend growth rates according to data available at tessellation.com. The data represent dividend growth rates through the end of 2015:
WMT Dividend Compound Annual Growth Rate
1-Year
3-Year
5-Year
10-Year
15-Year
2.094%
7.779%
10.568%
12.891%
17.705%
WMT has paid 149 quarterly dividends through the end of 2015. So far this year, WMT has paid 3 quarterly dividends of 49¢, 50¢ and 50¢ per share, respectively. The latest increase of 1¢ per share, or 2.04%, was disappointing. It follows similar small increases of 2.128% and 2.083% in prior years.
Here is a chart showing the quarterly dividends paid by WMT since January 2000. On the chart, I've indicated phases of low dividend growth (red dashes) and high dividend growth (green dashes). Over the time frame of the chart, WMT's compound annual dividend growth rate is about 15% (blue dots).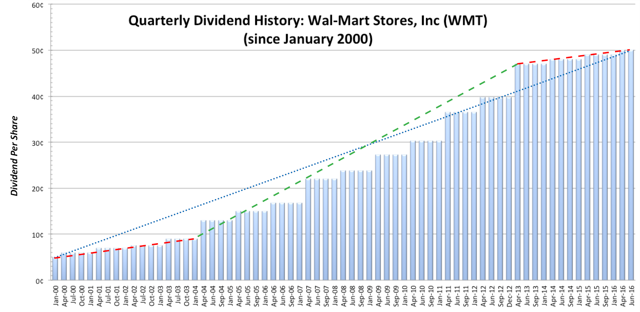 Click to enlarge
Data source: gurufocus
WMT has a solid track record of dividend payments and dividend growth, the recent slowdown notwithstanding. While concerns are being expressed about WMT's recent dividend increases, I'm not too concerned. The company is busy repositioning itself to compete in the online market, which should boost earnings in the future and allow the company to once again grow its dividend at a healthy pace.
I consider the payout ratio to determine how sustainable a dividend is and how likely future dividend increases are. If the payout ratio is too high, dividend growth will be limited unless EPS (earnings per share) can be increased significantly. This chart shows WMT's 10-year history of dividends, free cash flow and EPS: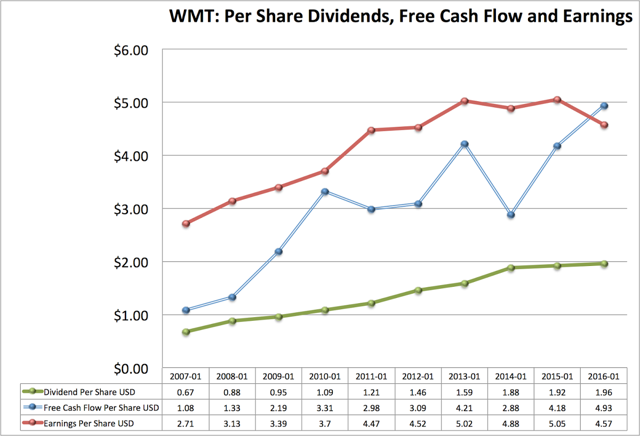 Click to enlarge
Data source: Morningstar
It is clear that WMT easily covers the dividend, whether we consider EPS or free cash flow. The latest EPS payout ratio is 42%.
Stock Performance
The company's 10-year price history is shown in the following chart, along with my buy prices. My most recent buy is indicated in green.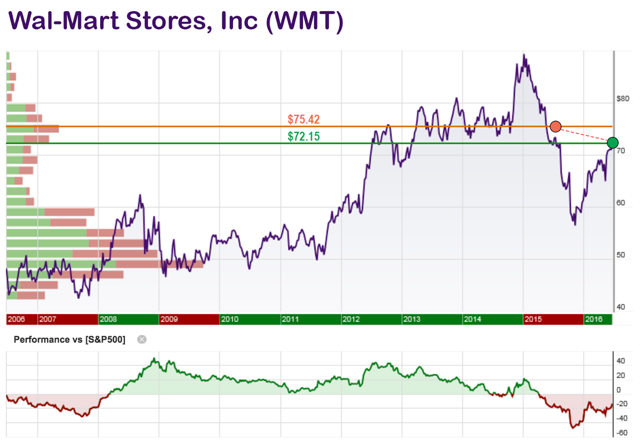 Click to enlarge
Source: Scottrade
WMT has underperformed the S&P 500 by about 20% in the last decade, mostly due to the stock's poor performance last year. In November, WMT turned a corner and has been outperforming the S&P handily.
Because WMT is a dividend paying stock the picture looks a little better if we include dividends. According to longrundata.com, an investment in WMT 10 years ago would have returned 6.57% on an annualized basis with dividends reinvested.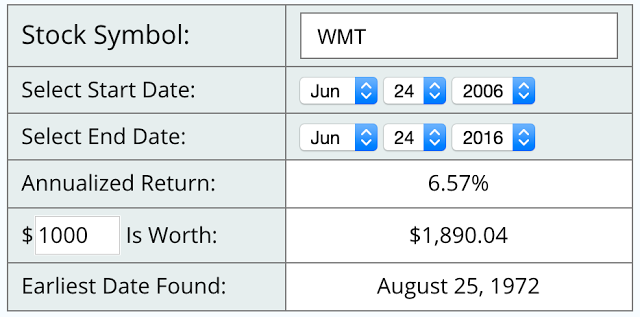 Analysis of WMT
My fair value estimate of WMT is $66.49 per share. I use a proprietary stock valuation model based on several data points, including a multistage DDM (dividend discount model) analysis.
For comparison, Morningstar's fair value estimate is $75 while S&P Capital IQ has a fair value calculation of $63.70 and a 12-month target price of $79. According to TipRanks, based on 16 ranked analysts offering 12-month price targets for WMT in the last 3 months, the average price target is $71.62.
I use the fundamental analysis tools available at finbox.io. The site provides a comprehensive list of stock valuation models and a quick way to view the average fair value estimate of several models with default settings. According to finbox.io, the average fair value for WMT is $85.41, implying an upside of about 20%.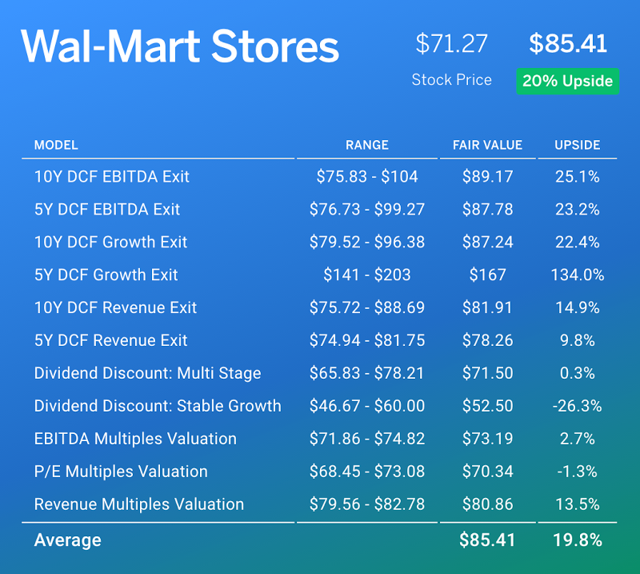 Click to enlarge
Finally, the following earnings- and price-correlated F.A.S.T. Graphs chart for a 10-year period indicates an estimated price of $64.14 for the Normal P/E Ratio of 14.4 for WMT.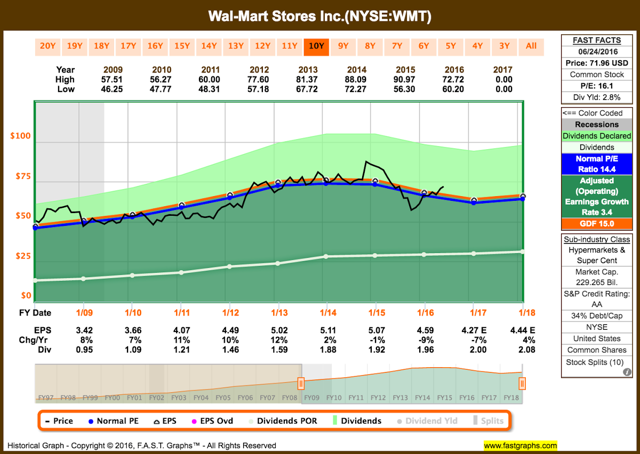 Click to enlarge
Excluding the highest and lowest of these fair value estimates and using the average of the remaining values, I get a fair value estimate of $71.25. My buy price of $72.15 implies a premium to fair value of 1.26%.
The following table provides some key statistics for WMT from data sources that include the CCC spreadsheet, Finviz, and gurufocus.

Click to enlarge
WMT passes the following of my selection criteria:
Dividend streak: at least 5 consecutive years of dividend increases (43 years)
Dividend yield: at least 2% but less than 8% (2.77%)
Dividend growth rate: median of 1-yr, 3-yr, and 5-yr DGR is at least 6% (7.8%)
Equity valuation multiple: price to earnings ratio is less than 16 (15.92x)
Dividend payout ratio: ratio of dividend to EPS is less than 60% (44%)
WMT fails the following of my selection criteria:
Debt ratio: debt to equity ratio is below 60% (67%)
Fair value: price discount is at least 5% of fair value estimate (1.26%)
Based on these statistics, WMT earns 5 out of a possible 7 stars: (★★★★★☆☆)
Other Ratings for WMT
The following table presents ratings of WMT from several sources, for comparison to my rating:
Click to enlarge
Concluding Remarks
WMT regularly returns cash to shareholders and has a long track record of paying and increasing dividends. In fiscal 2016, the company returned $10.4 billion to shareholders through dividends and share repurchases. The company's board of directors authorized a new share repurchase amount of $20 billion in October 2015, to be utilized over the next 2 years.
The company has sound long-term fundamentals, including its wide scale of operations, strong international presence, increased cost savings and growing e-commerce business. The latter has been performing quite well due to increasing demand. Walmart.com offers more than 7 million varieties of products as well as a delivery service and several pickup services. Furthermore, WMT launched its own mobile payment system.
WMT started fiscal 2017 on a positive note, with earnings and revenues beating expectations. While revenues increased 0.9% year-over-year, earnings declined 4.9% from the year-ago earnings. Higher sales in the United States could not overcome currency headwinds and weaker international sales.
The company is partnering with China e-commerce giant JD.com to increase its competitiveness in the Chinese retail market. For WMT, the deal with will grow its footprint in China's growing e-commerce market. For JD.com, benefits include greater product and geographic diversity through WMT's Yihaodian business.
CEO Doug McMillion recently told delegates at the Consumer Goods conference in South Africa that WMT expects to add $45 to $60 billion of new sales over the next 3 years. If this expectation materializes, it certainly would be a great accomplishment.
According to Street Report, 30 analysts covering WMT have a consensus Hold rating, with 6 Buy ratings, 3 Sell ratings, and 21 Hold ratings.
35 shares of WMT adds $70 to DivGro's projected annual dividend income. I updated my portfolio to reflect this recent purchase.
If you enjoyed this article and stock analysis and would like to read similar articles in future, please click on the Follow link near the top of this article. Thanks for reading!
Disclosure: I am/we are long WMT.
I wrote this article myself, and it expresses my own opinions. I am not receiving compensation for it (other than from Seeking Alpha). I have no business relationship with any company whose stock is mentioned in this article.