Most of my readers know that I use regional manufacturing surveys to get a better picture of the economy and to predict the direction of the ISM Index which is published a few days after most regional surveys.
In this article, I discuss the Dallas FED manufacturing activities. Let me start by saying that the index hit -18.3 this month. Slightly worse than the expected value of -15.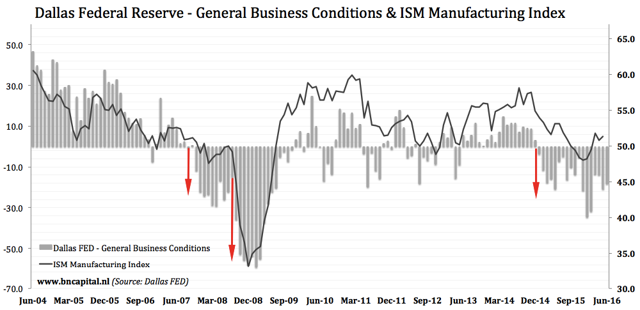 Click to enlarge
The index is still a bit higher than the February lows but has been in contraction since the third quarter of 2014. I need to mention it again. The third quarter of 2014 has been the quarter where growth slowing started. The continuing contraction puts a tremendous downward pressure on the ISM index. I don't expect higher ISM values unless regional PMIs enter the growth zone.
Production is contracting again. Since 2014, there has been no period of strong growth. The strong period between 2009 and 2014 has ended.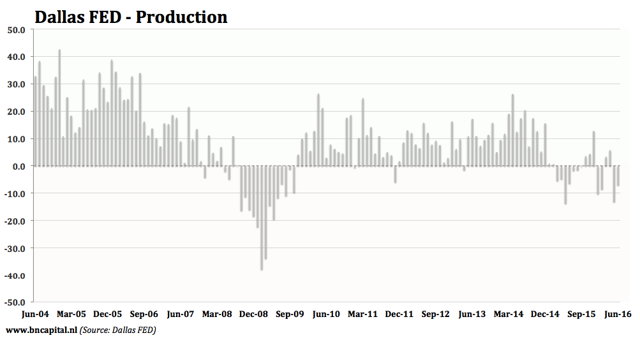 Click to enlarge
New orders are almost as important as official production data. In this case, we see it once again: no growth whatsoever since 2014. The growth peak in 2016 has been ignored completely.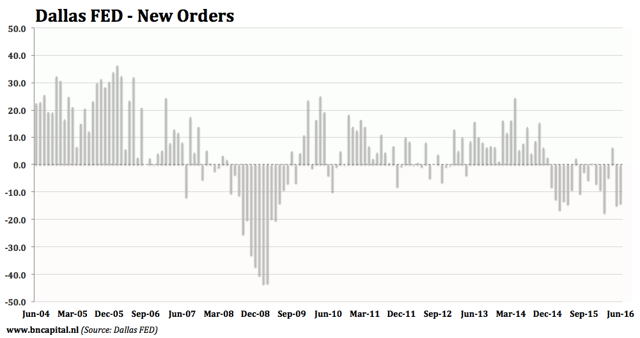 Click to enlarge
Shipments look a bit stronger than production and orders. In all fairness, however, there has not been a clear uptrend since 2014 either.
Click to enlarge
Employment is very interesting too. This indicator can be used as a guideline for the official nonfarm payroll data. Employment is contracting since 2014. If we ignore two months of consecutive growth, we get a depressing picture that just printed the lowest value since the financial crisis.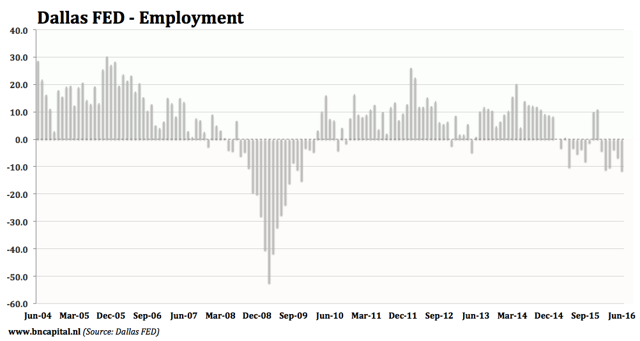 Click to enlarge
Are companies investing? The answer is: no. Capital expenditures are slowing since 2014 and have printed two very weak months in May and June. Note that there has been a strong period of growth between 2008 and 2009 which has been ended abruptly in 2014.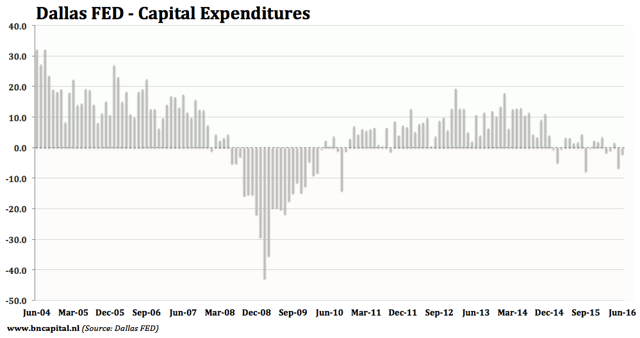 Click to enlarge
As much as I hate to be that guy, I need to report the facts. And the facts tell us that we should not expect any growth in the coming ISM report as well as the nonfarm payroll report. I will write an article one or two days before the official ISM report where I compare all important regional PMIs with the ISM Index to get a clearer picture.
Disclosure: I/we have no positions in any stocks mentioned, and no plans to initiate any positions within the next 72 hours.
I wrote this article myself, and it expresses my own opinions. I am not receiving compensation for it (other than from Seeking Alpha). I have no business relationship with any company whose stock is mentioned in this article.