Potash Corp. (NYSE: POT) shares enjoyed upside after Alexander Lukashenko signaled that Belaruskali was open to negotiations with Uralkali, although on its own terms. However, the upside did not last as global markets were crushed by the outcome of the Brexit referendum. Is Brexit a major problem for Potash Corp.?
At first glance, Britain has little to do with the potash market. I discussed a potash project in the UK (Sirius Minerals York project) in "Potash Corp.: A Threat From Africa", and this project was a hot topic in the comments section. One thing is certain about this project - it is not coming in this decade, and who really knows how the world will look politically after 2020.
As far as consumption goes, China, North America, India and Brazil set the tone for potash markets. UK has no influence yet on potash prices. Thus, Brexit itself has no influence on the potash market and Potash Corp. However, the consequences of Brexit can put pressure on Potash Corp. shares, which have been under serious pressure in recent days.
The most important factor is the rally in the U.S. dollar (NYSE: UUP). The U.S. dollar strength/weakness is of outmost importance for commodities, and the recent trade sell dollar/buy commodities unwinds due to Brexit shock. Apart from the influence in the financial markets, the strong dollar weighs on farmers' ability to pay for potash, as local currencies weaken in comparison with the greenback.
Chinese yuan is a crucial factor, especially given the fact that potash exporters were unable to reach an agreement with China.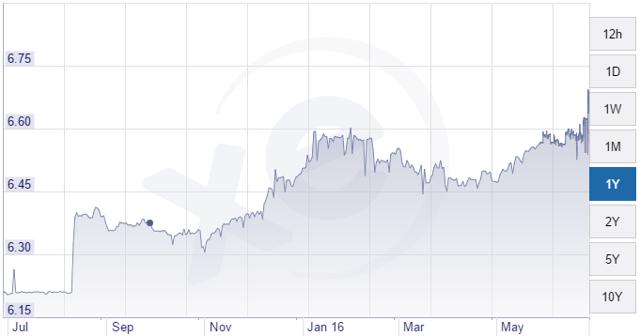 Click to enlarge
Chart from XE.com
As you can see, yuan weakened on Brexit, and pressure on the Chinese currency can mount - both technically and fundamentally. I believe that Brexit will further postpone the potash contract with China.
I also think that the possibility of no contract this year also increased. This is no good news for Potash Corp., which could be forced to cut its dividend (which is already not covered by projected earnings) in the second half of the year.
The no contract situation will certainly put pressure on the market which will have to adapt to another model of relationship between suppliers and consumers.
The situation in the currency markets should be monitored closely to estimate the possible damage for Potash Corp. shares.
I expect further weakness if the dollar continues to rally. It looks like the only thing that can stop the dollar in summer will be Fed stepping in and cutting the rate.
The Fed did not show great leadership this year and often delivered ambiguous or contradictory commentary, so at this point I wonder if anyone can really predict what they will be doing.
In this case, it's better to be reactive than proactive and just watch what the Fed will be doing, not saying. There's no reason to panic and try to position yourself ahead of potential Fed moves.
In my view, the Fed policy should be taken like weather - if it rains, don't forget your umbrella, but there's no reason to carry it 24 hours a day.
Brexit could make Potash Corp. shares cheaper and even provide a solid buying opportunity if ordinary selling turns into panic caused by liquidations by the funds that got caught at the wrong side of the trade in other positions.
In the long-term, Brexit has almost no influence on potash business, as UK currently plays no role in the potash market and people will need to eat regardless of Europe's political map.
Thus, a significant short-term weakness should be viewed as a potential entry point. At the same time, investors should not forget that the dividend cut risk is real as potash market fails to meaningfully rebound from the bottom.
Disclosure: I/we have no positions in any stocks mentioned, and no plans to initiate any positions within the next 72 hours.
I wrote this article myself, and it expresses my own opinions. I am not receiving compensation for it (other than from Seeking Alpha). I have no business relationship with any company whose stock is mentioned in this article.