While Emerson Electric (NYSE:EMR) has managed to maintain its year-to-date gains, it's down by more than 8% just over the last few post-Brexit trading days. I've always admired Emerson as a business, but I've never seemed to have the cash on hand to buy in when it dropped to my buy price. Divesting of its network power business has also caused some uncertainty, but overall I think it's a solid company operating within the context of a very moaty franchise. It's also at the top of my watchlist - especially if its shares continue on their downward trajectory.
Brexit - Bad for business?
Emerson was recently called out specifically in a Barron's article as one of the industrial companies that will likely experience some pain from the Brexit fallout. Its involvement in Industrial spending was cited as a concern. It's also got some decent exposure to Europe as well.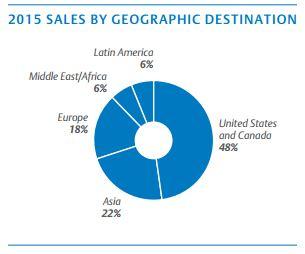 Source: Emerson 2015 annual report
The stronger Dollar also comes into play here, seeing as over half of Emerson's sales come from abroad. Sales dropped 9% for fiscal 2015 and were expected to continue to decline even pre-Brexit, so there's a lot of moving parts going on here, especially related to its numerous headwinds. Still, I think the firm has quite a bit of staying power, and I'm also confident that its management will maintain the necessary skills to weather the numerous headwinds it's sailing into.
The moat and management skill - in numbers
Below I constructed a chart using data from Morningstar (as well as all other charts and graphs in the rest of the article, unless otherwise noted) to illustrate why I consider Emerson a superior outfit.

The firm constantly earns returns in excess of its cost of capital. This provides evidence of a very strong competitive advantage, and likely explains its ability to consistently raise dividends for almost 60 years straight. After a rougher stretch from fiscal 2012 through 2014, capital allocation ratios notably improved for 2015.
Taking the perspective from the equity holder's view, I broke down Emerson's return on equity over the last few years using a five-part Dupont analysis.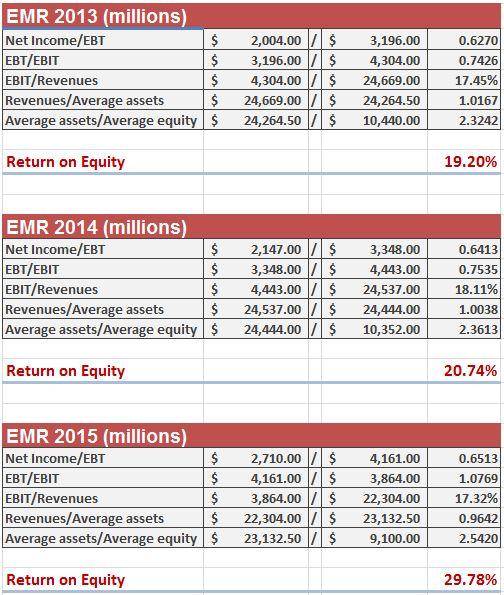 We can see that a little more leverage has been driving ROE higher over the last three years, despite a weaker asset turnover. Looking at 2015, ROE hit a three-year high as well, despite weaker operating margins. How can this be?
The proportion of pretax earnings to operating earnings immediately sticks out in the 2015 section of the Dupont analysis. It's materially higher than the two preceding years. After digging into the 2015 annual report, I noticed that the company realized an extra gain of $1,039 (in millions) attributed to its pretax income. It was related to gains on divestitures of business on the income statement, and is obviously not something that will occur every year.
Adjusting for this abnormal gain, I estimate net margins in the 9.2% ballpark, versus unadjusted, abnormally high net margins of 12.15% for fiscal 2015. Adjusted ROE, therefore, would be more like 22.57%. That's still an improvement from the last few years, but not nearly as impressive, and also on the lower side of its historical numbers. This also suggests that Emerson's trailing P/E might have been slightly inflated.
Examining the free cash flow drain
Emerson's free cash flow fell off a cliff in 2015.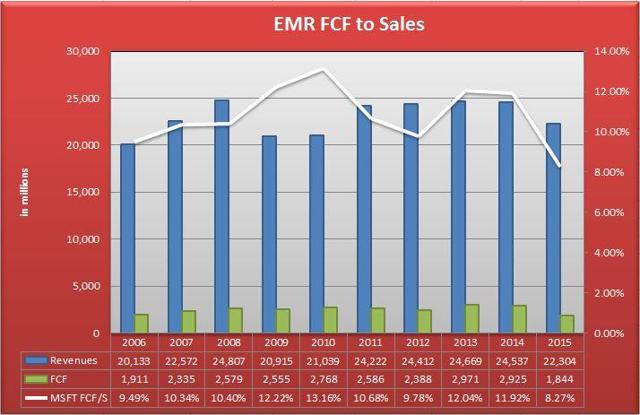 The company churns out a significant amount of cash year-in and year-out, but 2015 was different, with FCF as a proportion of sales dropping to a decade low. It wasn't correlated to a large step-up in capex, either.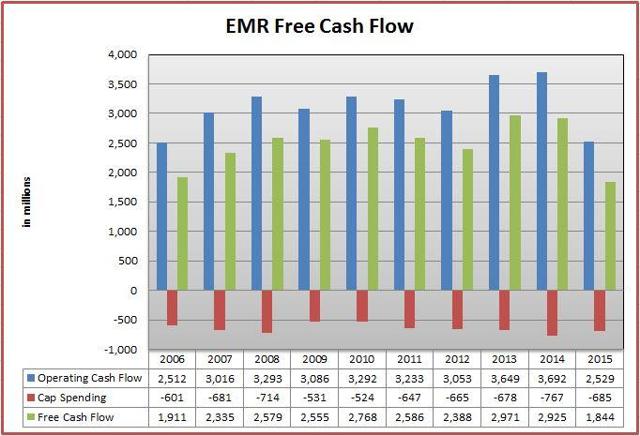 Once again, by consulting the firm's financial statements, we can conclude "one-time" issues are also distorting cash flow.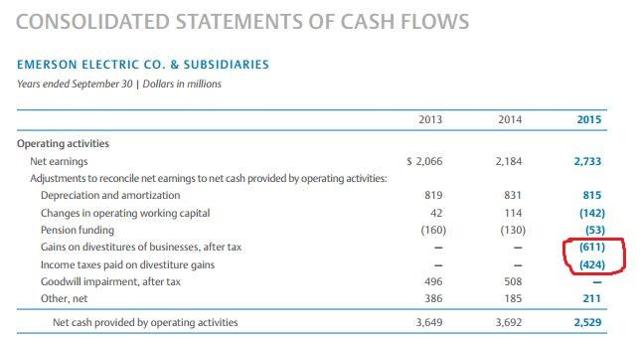 Source: Emerson 2015 annual report
We can see that divestitures are to blame here. I'm not too worried about the big drop in 2015's FCF therefore, especially when looking at TTM FCF/sales, which is showing signs of normalizing at 10.65%. That number includes half of fiscal 2016 factored in, and I wouldn't be surprised to see it continue to inch upwards as 2015's numbers are phased out.
One last cash flow related issue I'd like to expand on involves Emerson's cash conversion cycle. The CCC is loosely defined as the amount of days it takes a firm to transform raw inputs into cold, hard cash.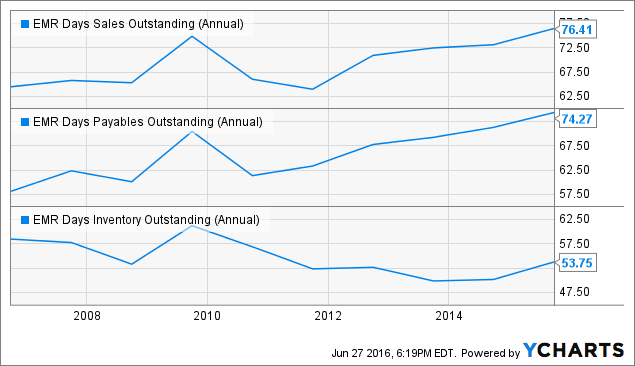 EMR Days Sales Outstanding (Annual) data by YCharts
Emerson has increased the amount of time it takes to pay suppliers over the last decade. That means it's also stretching its cash, which in turn helps boost operating cash and free cash flow in the process - some would argue artificially so. It's also allowing vendors to take more time to pay it, which could be a red flag for revenue manipulation, but I chalk it up more to the financial duress from the recent oil and gas fallout. Probably nothing major, but definitely something to keep an eye on going forward.
Speaking of divestitures...
Emerson is also planning on shedding its Network Power business, which traditionally contributes a significant amount of its revenues.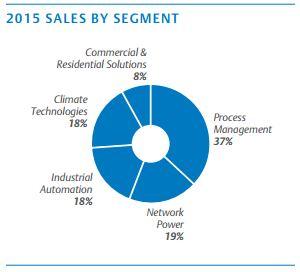 Source: Emerson 2015 annual report
Despite the large amount of sales it adds to the mix, I can see why management would want to get rid of it. Its margins are by far the weakest - coming in at just 5.2% for fiscal 2015. This compares with 21% for Commercial & Residential Solutions, 17.5% for Process Management, 14.6% for Industrial Automation, and 17.4% for Climate Technologies.
SA contributor Willow Street Investments recently wrote a more detailed article on the subject, as well as the possibility of further acquisitions by Emerson to boost growth.
Conclusion
Emerson recently exceeded estimates when it reported its 2Q results for fiscal 2016 in May. It also continues to expect weakness across its businesses, with sales expected to fall 5% to 8%. Due to its weakening growth prospects and cyclical nature, I'd feel comfortable paying between 12 to 14 times 2016 earnings. That translates to a buy range between roughly $37 to $43 a share, which would also provide a dividend yield in the 4.5% to 5% range. Maybe we get those prices, maybe we don't - but that's where I personally think shares look attractive for initiating a starter position.
If you enjoyed this article and would like to receive further updates and articles in the future, please feel free to hit the "Follow" button at the top of the page next to the author's name.
Disclosure: I/we have no positions in any stocks mentioned, but may initiate a long position in EMR over the next 72 hours.
I wrote this article myself, and it expresses my own opinions. I am not receiving compensation for it (other than from Seeking Alpha). I have no business relationship with any company whose stock is mentioned in this article.
Additional disclosure: Articles I write for Seeking Alpha represent my own personal opinion and should not be taken as professional investment advice. I am not a registered financial adviser. Due diligence and/or consultation with your investment adviser should be undertaken before making any financial decisions, as these decisions are an individual's personal responsibility.