There's just a few days left in the quarter, meaning we're about to get the Q2 delivery estimate from Tesla Motors (NASDAQ:TSLA). While the timing of the announcement is uncertain, especially given the upcoming holiday weekend, it is sure to create a heated debate about whether or not the automaker will be able to meet its yearly delivery guidance. As the quarter comes to a close, the latest round of news might shed some light on the situation.
The first data point is the monthly update from the European Alternative Fuels Observatory, seen here. According to the data, Tesla has sold 5,360 Model S units year to date in the region, compared to 5,396 at this point a year ago. While that number is down slightly, it's better than the roughly 3% decline that was seen at the prior month's figure. Tesla has lost a few percentage points of market share this year, although sales in the last month have done a little better than earlier in 2016.
The second item is the recent change to the Model S lineup. Tesla is now offering a 60 kWh battery option again, along with a 75 kWh. Better yet, the company recently updated its design page, seen below, to break out the models. When the 60 version initially came back, you had to select the option for the "range boost" to get the 75 version. The new page is much cleaner and easier to understand.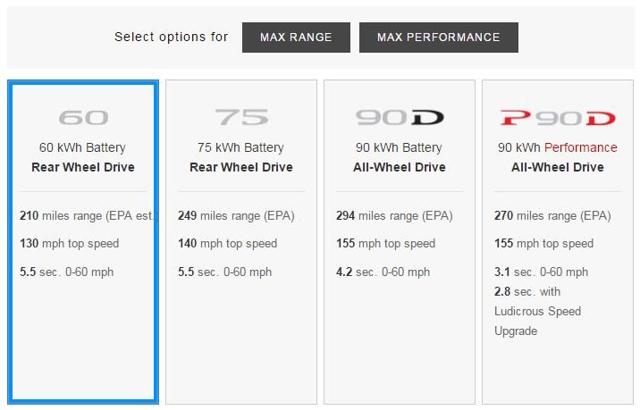 Click to enlarge
(Source: Tesla Model S design page)
With the 60 kWh version starting at just $66,000 before incentives, Tesla is hoping to spur demand and perhaps get some Model 3 reservation holders to order a higher priced Model S instead. It is unclear what the margin impact will be, although the new 60 kWh version will probably hurt CPO prices for older Teslas. Why buy a two or three year old Model S that has several thousand miles on it when you can get a brand new one?
While we are on the subject of CPOs, I've noticed an interesting trend on the EV consolidator page. At the peak in May, there were a total of 872 Model S vehicles on the site between CPOs and Inventory vehicles. As of today, that number is down to 462. Cutting this number at the end of quarter will help reduce the amount of inventory on Tesla's balance sheet, hopefully improving the company's cash position slightly. Again, the margin impact is uncertain, because if Tesla is slashing prices to reduce inventory, margins will be hurt.
Additionally, we've seen several negative analyst comments regarding Tesla since the announcement of the SolarCity (NASDAQ:SCTY) deal. A number of analysts have taken away Buy recommendations, along with a few price target cuts. With the potential for more dilution, analysts are cutting estimates on both SolarCity and Tesla. SolarCity is now expected to lose more than $10 a share this year on a non-GAAP basis, basically double what analysts were looking for in February 2015 for this year. Additionally, the chart below shows how Tesla EPS estimates for this year have come back down towards their low after seeing a late May spike.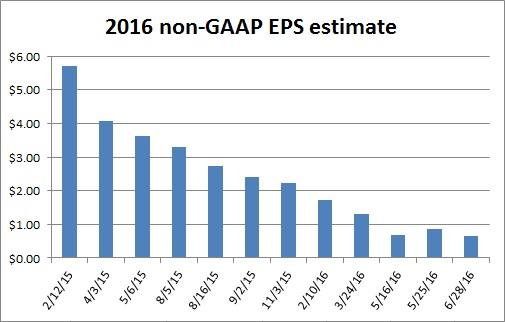 (Source: Yahoo! Finance analyst estimates page)
While much of the attention focusing on Tesla has been in regards to the SolarCity deal in recent days, a more important data point is coming when we get the Q2 delivery estimate in the coming week. Sales out of Europe have done slightly better recently, while a new lower cost Model S could get some Model 3 reservation holders to convert. Analyst estimates are dropping, as more dilution and larger losses would be incurred if the SolarCity deal goes through. Will Tesla be able to make its 2016 yearly delivery guidance? We should have a better idea of the situation by this time next week.
Disclosure: I/we have no positions in any stocks mentioned, and no plans to initiate any positions within the next 72 hours.
I wrote this article myself, and it expresses my own opinions. I am not receiving compensation for it (other than from Seeking Alpha). I have no business relationship with any company whose stock is mentioned in this article.
Additional disclosure: Investors are always reminded that before making any investment, you should do your own proper due diligence on any name directly or indirectly mentioned in this article. Investors should also consider seeking advice from a broker or financial adviser before making any investment decisions. Any material in this article should be considered general information, and not relied on as a formal investment recommendation.