Shares of Eli Lilly and Company (NYSE:LLY) have surged 11.06% from its March low, along with the S&P 500 Healthcare sector, up about 4.85% despite mixed first-quarter earnings results and the political dark cloud hanging over prescription drug prices. Presumptive nominees from both parties have continued to ramp up their rhetoric against the pharmaceutical and biotechnology industries, with Congress also jumping into the debate and holding a series of hearings on the issue of drug prices. Speculators have been using the political noise as a backdrop to take short positions against the sector.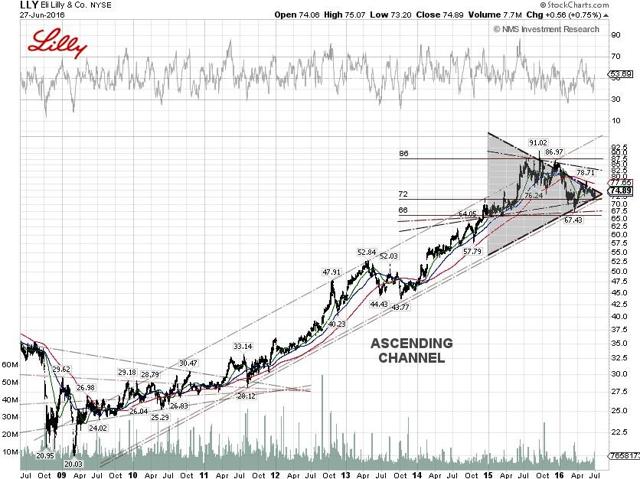 Click to enlarge
Since the beginning of 2015, Lilly's stock has been trading in the range between $66 and $86 per share and is now bumping into the trendline resistance of the symmetrical triangle chart pattern. The stock is about to break out, despite that the company reported earnings that were lower-than-expected for the first-quarter 2016, but slightly raised its outlook for the year. Revenues from new pharmaceutical products, including diabetes drugs Trulicity (dulaglutide), Jardiance (empagliflozin) and Basaglar (biosimilar insulin glargine), as well as cancer drug Cyramza (ramucirumab), helped offset sagging sales of established products like Humalog (insulin lispro).
Basaglar, also known as Abasaglar in Europe, could potentially become a blockbuster for Lilly, as the original branded product Lantus (insulin glargine), manufactured by Sanofi S.A. (NYSE:SNY), generated net sales of about $6.39 billion in 2015. Lilly and its strategic partner Boehringer Ingelheim, started launching Basaglar in the U.K. in September 2015, with a 15%-20% discount to Sanofi's branded drug. First-quarter 2016 sales were just $10.6 million. Lilly plans to roll out Basaglar in the U.S. in December 2016.
In a presentation to the investment community in May, Eli Lilly announced potential launches of 20 new products in the 10 years beginning in 2014 and extending through 2023. In addition, the company said it could launch an average of two new indications or line extensions for already-approved products per year during that same time period.
Lilly's Blockbuster Drugs Are Facing Patent Cliffs and Generic Competitions
Eli Lilly's top-selling blockbuster drugs, meaning those with $1 billion or more in annual sales, generated revenues of $11.34 billion in 2015, accounting for 56.76% of their total reported revenues. The revenues of Lilly's blockbuster drug portfolio have fallen nearly $6 billion since losing patent protection for depressive and anxiety disorder drug Cymbalta (duloxetine) in December 2013 and mental disorder drug Zyprexa (olanzapine) in October 2011.
Sales of Cymbalta tumbled 36.36% to $1.03 billion in 2015, compared to $1.61 billion during a previous year, as a long list of companies, including Dr. Reddy's Laboratories Ltd. (NYSE:RDY) and Teva Pharmaceuticals (NASDAQ:TEVA), started competing with Lilly with their generic versions.
Lilly's Humalog, a rapid-acting human insulin analog used to lower blood glucose, showed continuous low single-digit growth in 2015 with revenues of $2.84 billion, up 2.04% year-on-year. Another top-selling diabetes drug from Eli Lilly, Humulin (insulin isophane), a long-acting form of insulin, generated revenues of about $1.31 billion last year, down 6.62% year-on-year, primarily due to the loss of a government contract in Brazil, and the unfavorable impact of foreign exchange rates.
Although Humulin and Humalog have already lost their patent protections, in June 2000 and May 2013, respectively, both drugs, which are biological products, may be facing biosimilar threats and risk of interchangeability in the future. In an SEC Form 20-F 2014 filing, Sanofi S.A. said its insulin lispro biosimilar (SAR342434) entered Phase 3 clinical trials in November 2014, to compare SAR342434 to Humalog in patients with type 1 diabetes mellitus on top of Lantus (insulin glargine) treatment (SORELLA 1), and in patients with type 2 diabetes mellitus (SORELLA 2). The top line results from the SORELLA study are expected in the second-quarter 2016.
Lilly's Cialis (tadalafil), for the treatment of erectile dysfunction and enlarged prostate or benign prostatic hyperplasia, generated revenues of $2.31 billion in 2015 with sales in the U.S. last year up 21% year-on-year, while revenues outside the U.S. were down 16% during the same period. The Cialis patent in the U.S. will expire in July 2016 and in Europe sometime in 2017, after which sales are expected to drop sharply due to generic competition. Sandoz, the generics pharmaceutical division of Novartis (NYSE:NVS), has been selling Tadalafil, a generic version of Cialis, in Brazil since December 2014 under a licensing agreement with Eli Lilly.
In an SEC Form 20-F 2014 filing, Sanofi said it signed a license agreement with Eli Lilly in 2014, giving the company exclusive rights to apply for approval of Cialis over-the-counter, or OTC, in the U.S., Europe, Canada, and Australia after certain patents expire. Transferring from proven prescription drugs (Rx) to nonprescription OTC status, referred to as "Rx-to-OTC switch", may help Lilly combat counterfeit and falsified medicines sold illegally via the Internet. In early 2015, the FDA sent out a warning that counterfeit versions of Cialis tablets have been entering the U.S.
Lung cancer drug Alimta (pemetrexed) and osteoporosis drug Forteo (teriparatide), which generated sales of $2.49 billion and $1.35 billion in 2015, are soon to be at risk due to generic and biosimilar competitions.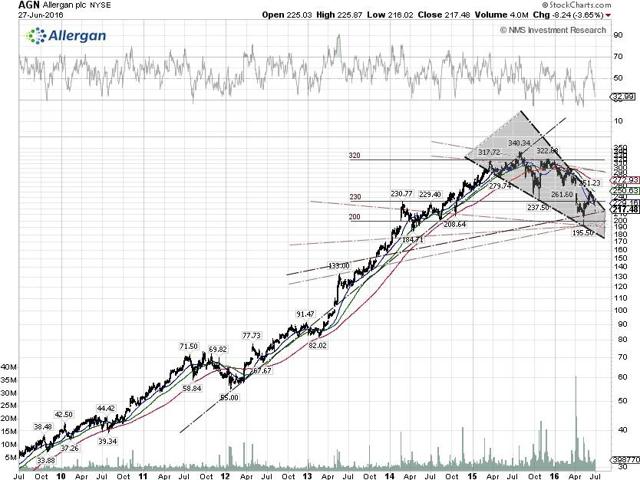 Click to enlarge
In major European countries, the compound patents for Alimta expired in December 2015, while the Alimta vitamin regimen patents, which cover a series of vitamin B12 injections used to reduce the drug's side effects, expire in June 2021. According to Lilly's first-quarter 2016 financial report, the United Kingdom High Court ruled in February 2016 that the Alimta vitamin regimen patent would not be infringed by Allergan's (NYSE:AGN) pemetrexed trometamol product, a generic version of Alimta marketed in the U.K., France, Italy, and Spain with instructions to dilute the product only with a dextrose solution.
German drugmaker Stada Arzneimittel (XETRA:SAZ) announced in October 2014 that it would launch Forsteo (biosimilar teriparatide), which is being developed by Hamburg-based Richter-Helm BioTec GmbH, throughout Europe following the expiration of the patent of the original product in December 2018. The European Medicines Agency, or EMA, said in January 2016 that it accepted Richter's regulatory submission for the proposed biosimilar to teriparatide.
Litigation Risks Rise as Biosimilar Market Gets Crowded
Developing and marketing biosimilars is not without risks. More biosimilars competing with the same reference product will add to their pricing pressures, in addition to discounts of 15% or more for a biosimilar compared to the branded drug. Legal challenges to the patents could delay the entry of biosimilars into the market, giving more time for originators to develop innovative drugs to replace the patent expiring reference products, thus making the biosimilars obsolete.
The litigation risks could be high, as the procedure involves a so-called "Patent Dance", in which the biosimilar applicant and the reference product sponsor exchange patent-related information before the biosimilar can enter the market.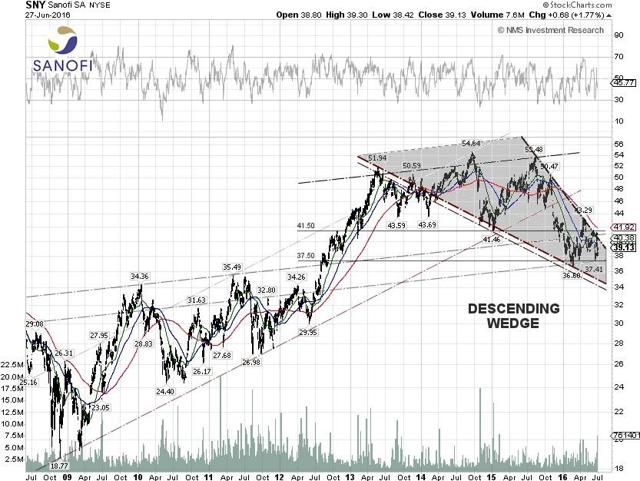 Click to enlarge
In January 2014, Sanofi sued Eli Lilly, alleging that Lilly infringed patents of its top-selling diabetes product Lantus, after being notified that the company applied for FDA approval of Basaglar, a biosimilar version of Lantus. Although Lilly had said it would not launch its biosimilar product before the February 2015 expiration of Sanofi's patent on the active ingredient in Lantus, the patent infringement lawsuit triggered an automatic 30-month stay of the biosimilar approval by the FDA, under the Hatch-Waxman Act, which would keep Lilly's generic off the market until mid-2016, according to Reuters.
Sanofi announced in September 2015 that it had reached a settlement agreement with Lilly in which Lilly will pay royalties to Sanofi in exchange for a license to certain Sanofi patents. In addition, Lilly agreed not to sell its Basaglar insulin glargine biosimilar product in the U.S. before December 15, 2016.
More competitors are on the horizon. Bangalore-based Indian drugmaker Biocon Ltd. (OTC:BCNQY) may be ready to enter the biosimilar race in the European Union and the U.S. after the company and its partner Fujifilm Pharma received approval in March from the Japanese Ministry of Health, Labour and Welfare to market its biosimilar version of Sanofi's Lantus in Japan.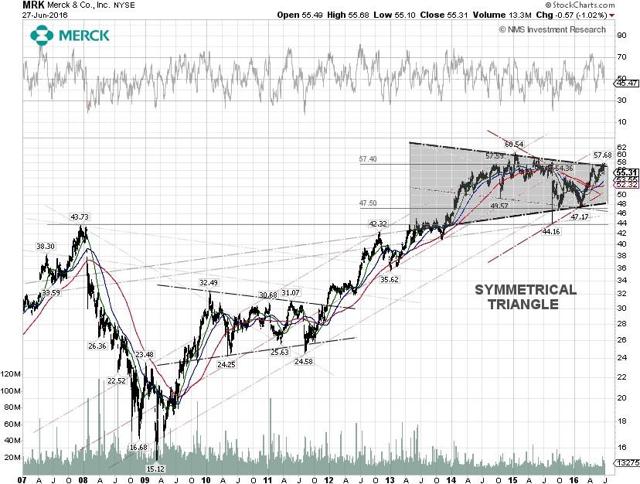 Click to enlarge
Late last year, Merck (NYSE:MRK) filed for approval in Europe for MK-1293, its biosimilar version of Lantus co-developed with Samsung Bioepsis, and is planning to submit it to the FDA for approval this year. According to FiercePharma, the drug could be on the EU market by year's end, and available for the U.S. launch late next year.
Conclusions
Shares of Eli Lilly have surged from its March low, and is about to break out, despite reporting earnings that were lower-than-expected for the first-quarter 2016. Revenues from new pharmaceutical products helped offset sagging sales of Lilly's top-selling blockbuster drugs that are facing patent cliffs and rising generic competition.
Lilly's Basaglar, a biosimilar version of Sanofi's diabetes drug Lantus to be launched in the U.S. in December, could potentially become a new blockbuster for Lilly but it is not without risks. As the biosimilar wars heat up, competing with the branded drug reference product and other biosimilar manufacturers will add to pricing pressures. An additional unknown will be how Sanofi responds to the biosimilar threats to its product, as Sanofi could offer even more discounts and rebates to derail Basaglar's growth plans.
Disclosure: I am/we are long AGN.
I wrote this article myself, and it expresses my own opinions. I am not receiving compensation for it (other than from Seeking Alpha). I have no business relationship with any company whose stock is mentioned in this article.