Back in September 2015, ConocoPhillips (NYSE:COP) brought the Surmont 2 expansion online with its 50/50 partner Total (NYSE:TOT) up in Alberta. As production from the expansion ramps up it will add ~109,000 gross bpd of heavy crude output to the facility, boosting the Surmont complexes production up to 136,000 gross bpd of heavy oil. The Surmont facility uses the steam assisted gravity drainage technique to extract viscous bitumen from the ground. Once extracted, the bitumen is blended with sweet synthetic and condensate diluents in order to be able to move through pipelines and marketed effectively.
SAGD projects utilize injection wells that inject steam into the ground to heat up the bitumen resources that are too viscous to simply be pulled from the ground through a production well. As the temperature underground increases, bitumen is able to flow to a production well where it gets extracted from the ground. SAGD oil sands developments can be economical on an ongoing basis (once the hefty upfront costs have been spent), especially if the operator can achieve an ideal steam-to-oil ratio. New SAGD projects aren't appealing or economical at current prices.
The biggest pitfalls SAGD developments and operators face is the huge pricing differential between WCS (Western Canadian Select) and WTI (West Texas Intermediate) grades of crude. Heavy crude has a higher sulfur content, is more expensive to produce and process, and there is limited pipeline takeaway capacity out of the region. Add in hefty transportation costs as well and SAGD oil sands operators are realizing a ~$15-20/barrel differential to WTI pricing. That's why new projects aren't attractive at $45-50 WTI, but existing endeavors (especially when considering past expenditures as sunk costs, a common theme in the oil market these days) can still generate positive free cash flow on an ongoing basis.
The FCCL Partnership
The Surmont facility is operated by ConocoPhillips, but the upstream super-major has other oil sands investments as well. ConocoPhillips teamed up with Cenovus Energy Inc (NYSE:CVE) to develop bitumen reserves in the Cenovus-operated Foster Creek, Christina Lake, and Narrows Lake ventures through a 50/50 partnership. This is known as the FCCL Partnership.
After a pilot project in the Foster Creek facility started up in 1996, commercial production from the development began in 2001, the first commercial use of SAGD at Alberta's oil sands region. Last year the complex produced a gross 130,000 bo/d as a series of growth projects were completed over the past decade and a half.
Foster Creek G is the next endeavor the partnership is looking forward to, which is guided to come online by the third quarter of this year. Once operational, it should add a gross 30,000 bpd of heavy crude output to the venture. The Foster Creek venture has 2P bitumen reserves of 1.35 billion barrels.
Nearby at the Christina Lake development, a successful pilot project back in 2000 kicked started a series of growth projects. Two years later the venture was producing commercial amounts of heavy crude through the steam assisted gravity drainage technique as well. Christina Lake produced a gross 150,000 bpd of heavy oil last year.
By the third quarter of 2016, the Christina Lake F growth project should be completed and will add an additional gross 50,000 bpd of heavy crude production to the venture. The Christina Lake development and the surrounding area has 1.4 billion barrels of 2P bitumen reserves.
Construction on the Narrows Lake development, which has 2P bitumen reserves of 0.47 billion barrels, was delayed last year in light of low crude prices.
Currently viable
Based on the results of Cenovus and other SAGD operators like Devon Energy Corporation (NYSE:DVN), which owns the three Jackfish SAGD oil sands developments, high-quality SAGD operations need $35-$40 WTI to generate positive operating cash flow. That means that the SAGD asset is more than covering ongoing operating costs (including LOE, transportation, pricing differentials, processing, etc). Below is what that looks like.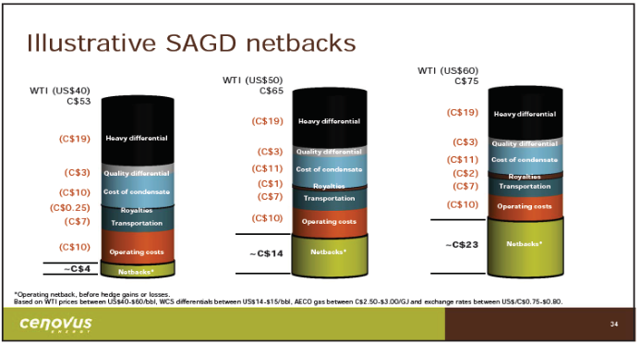 Click to enlarge
Source: Cenovus Energy May 2016 Presentation
Devon Energy Corporation noted in its June 2016 presentation that its three Jackfish operations were profitable at $35 WTI and above, with cash flow streams reaching $500 million at $50 WTI. That really means that its generating positive operating cash flow, prices would need to be much higher to recoup upfront construction costs.
ConocoPhillips and Cenovus Energy's Christina Lake and Foster Creek developments are right next to Devon Energy's Jackfish complexes in the southern part of the "sweet spot corridor" as you can see in the map below.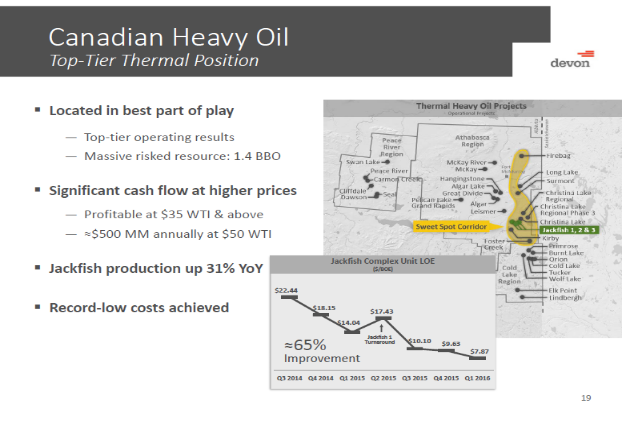 Source: Devon Energy Corporation June 2016 Presentation
As West Texas Intermediate pricing has managed to keep its head above $45/barrel for a while now, even with the Brexit turmoil underway, ConocoPhillips' SAGD operations should be cash flow positive on an ongoing basis.
On a side note, events like the Brexit and the sharp difference between $35 WTI and $45 - $50 WTI in regards to its oil sands operations is why ConocoPhillips should consider a hedging program, at the very least when WTI is over $50.
Getting back to the point up above, that doesn't mean that the high upfront costs are being adequately recouped. But it does mean that operators like ConocoPhillips, Total, Cenovus, and Devon are at least generating something from their investment. Most future expansions have been delayed indefinitely until the pricing picture changes, with only those that were already significantly completed still being worked on.
Implications for ConocoPhillips
The importance of bringing the Christina Lake and Foster Creek expansions online on the heels of its Surmont 2 development becoming operational is that it allows ConocoPhillips to do what it needs to do. Breakeven on a cash flow neutrality basis at a lower crude pricing point.
As Conoco's oil sands projects under construction are completed, major capital expenditures roll off in return for mild amounts of cash flow generation. That's how the upstream player was able to push its capex spending down while maintaining a relatively flat production base. When combined with its dividend cut, Conoco is forecasting that it can achieve cash flow neutrality around $45 WTI/Brent. It remains to be seen if that will actually be the case, which is why Conoco's upcoming earnings reports will be worth going over.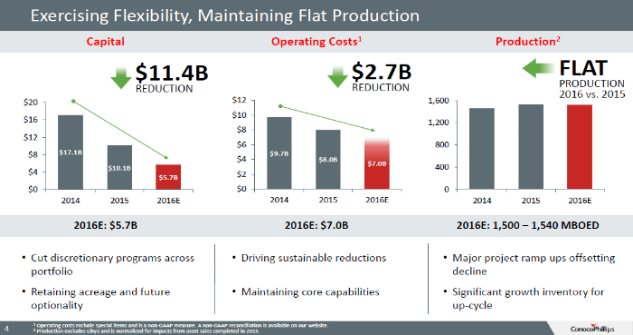 Source: ConocoPhillips June 2016 Presentation
Final thoughts
A large part of ConocoPhillips' bull thesis comes down to the super-major's ability to turn huge drains on cash flow in the form of major development spending into assets that generate positive operating cash flow. Bringing the Surmont 2 oil sands expansion and the first train at the APLNG facility online was part of that thesis, and now investors need to see more. Turning these two SAGD developments online on top of completing the second train at its APLNG facility by the end of 2016 will keep the ball rolling in the right direction.
In the event WTI moves back up to $50/barrel, ConocoPhillips' operating cash flow streams from its oil sands assets would surge upwards. Same thing if WTI rises to $55/barrel or more. It isn't unrealistic to speculate WTI and Brent will exit 2016 on much stronger footing than it's on today and that due to increasingly bullish long term fundamental shifts towards a reduction in the global oversupply of crude oil, WTI may exit 2016 at or above $50/barrel. If that happens, ConocoPhillips may generate free cash flow which interested investors can read about here.
Disclosure: I/we have no positions in any stocks mentioned, and no plans to initiate any positions within the next 72 hours.
I wrote this article myself, and it expresses my own opinions. I am not receiving compensation for it (other than from Seeking Alpha). I have no business relationship with any company whose stock is mentioned in this article.