In a recent article on Cliffs Natural Resources (NYSE:CLF), I had advised why investors should consider booking their profit in the stock given the weak prospects of the iron ore market in China. However, there are certain positives about the company that are worthy of a look as they might prove to be a tailwind for the company from a short-term point of view, even though its long-term prospects are not that strong.
So, in this article, we will take a look at those points that might give hope to investors in the short run that Cliffs will be able to sustain its impressive performance in the short run. At the same, I will also focus on the reasons why investors should not expect these positives to last forever.
Higher steel pricing in the U.S. could lead to higher production
In the past one month, the spot steel price in the United States, particularly that of hot-rolled band, has risen approximately 12% to $697 per metric tonne. In fact, the spot steel price for the hot-rolled band has improved around 81% since the beginning of this year.
This growth in the spot steel price in the U.S. is due to a combination of factors. For instance, the Commerce Department's decision to hike import tariffs on Chinese steel, apart from an increase in demand from the construction and auto sectors has created a positive environment in the country's steel sector.
As a result of an improvement in housing starts and consistently strong auto demand, strong destocking activity is being witnessed in the U.S. steel industry. For instance, in the month of April, steel inventories at service centers in the U.S. fell 22% year-over-year. Such destocking activity will ultimately lead to an increase in steel production going forward as the market for flat-rolled steel is currently in a deficit, which will ultimately lead to higher demand for iron ore.
Iron ore in the U.S. has benefited positively due to the recent steel market conditions in the U.S. According to Statista, iron ore monthly prices had improved nearly 50% until April to $59.58 per dry metric ton unit from $39.6 per day metric ton unit in December last year. In fact, the iron ore prices in April were 16% higher on a year-over-year basis. The following chart represents the improvement in the iron ore prices this year.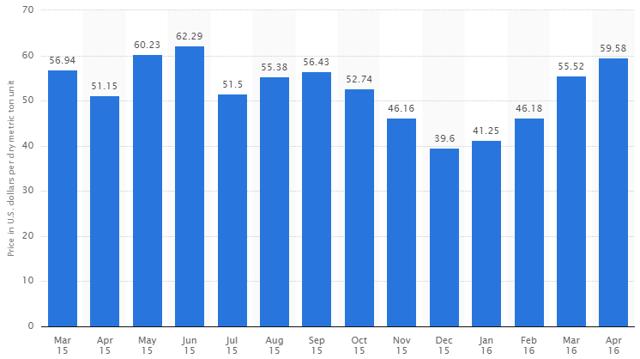 Click to enlarge
Source: Statista
As a result of the favorable conditions in the U.S. steel industry, Cliffs generated $46 million in EBITDA from the U.S. iron ore segment last quarter, which was double of what it generated from the Asia Pacific segment. Additionally, the company had also lowered its cash production cost by over 26% on a year-over-year basis to $48 per long ton. Thus, the U.S. could prove to be a source of strength for Cliffs Natural Resources, but in my opinion, the positive trend will not continue for long. Let me explain why.
Weakness in economic conditions will be a headwind
Cracks have been appearing in both the construction and auto markets in the U.S. of late. For instance, last month, housing starts in the U.S. showed a slight dip of 0.3%. Additionally, housing starts for the month of April had also been revised down from the prior-reported growth of 6.6%. On the other hand, the outlook for the auto industry, which is another key consumer of steel, has also been tempered of late.
In May, U.S. auto sales fell 6% year-over-year and automakers now feel that achieving sales of 17.5 million units this year is not likely. In fact, auto sales might even decline in 2016 as compared to last year. According to a Reuters report:
"Risks continue to mount for the second half of 2016," said Jeff Schuster, senior vice president of forecasting at LMC Automotive.

After assuming a healthy rise to an annualized rate of 17.5 million vehicles in the second half of the year, up from 17.1 million for the first half, 2016 sales would be 0.3 percent lower than last year's record of 17.47 million vehicles, Schuster said."
This negativity in the U.S. auto market is not surprising since the job market in the U.S. has started losing momentum, along with other key economic indicators. In fact, last month, job creation in the U.S. fell to its lowest in the past five years as employers added only 38,000 jobs. Additionally, the number of people not a part of the labor force increased by a sizable number of 600,000.
Moreover, last week, the International Monetary Fund slashed the 2016 growth forecast of the U.S. economy to 2.2% from the April forecast of 2.4%. Thus, weakness in economic conditions in the U.S. will have an impact on the country's steel production as the spending power declines, which will lead to lower auto and home sales.
Hence, the strength in steel prices that the U.S. has seen of late will not continue going forward. Moreover, I had explained above that Cliffs had managed to reduce its cash production costs impressively last quarter, but investors should not forget that the company had to incur non-cash production cash cost of $15 per long ton, which was a result of idling costs of $25 million.
Additionally, Cliffs' iron ore pellet volumes in the U.S. had declined 35% last quarter on a year-over-year basis on the back of a customer termination. Hence, it is evident that Cliffs Natural Resources is facing headwinds in the U.S. market as well despite certain positives.
Conclusion
Even though Cliffs Natural Resources generated its strongest EBITDA numbers from the U.S. market last quarter due to reduced costs and improving prices, investors should not miss the fact that there are difficulties prevalent in this market. Weakness in economic growth and hiccups in the job market will impact the end-markets where steel consumption is strong, thereby leading to a drop in iron ore demand.
So, despite certain positives, investors should continue to avoid Cliffs Natural Resources.
Disclosure: I/we have no positions in any stocks mentioned, and no plans to initiate any positions within the next 72 hours.
I wrote this article myself, and it expresses my own opinions. I am not receiving compensation for it (other than from Seeking Alpha). I have no business relationship with any company whose stock is mentioned in this article.