Shares of Boeing (NYSE:BA) have slipped more than 8% since Brexit. The stock now trades at a forward P/E of 12.8, well below its average multiple of 18.5 from the last commercial aircraft cycle. Given that we are in the midst of another cycle, the valuation does not seem justified. While there are fears that commercial airline demand might be peaking, Boeing CEO Dennis Muilenbeurg says this isn't the case. This is an excellent entry point in a wide-moat company with powerful secular headwinds. Brexit creates some uncertainty now, but it won't impact long-term trends in commercial air travel. What's more, the company offers an attractive dividend yield of 3.26%. We see an excellent opportunity for long-term total returns in Boeing.
Brexit will create a scare but long-term investors shouldn't be worried. Global passenger volumes have been on a secular uptrend since the 50s (Figure 1), overcoming temporary setbacks caused by economic shocks, recessions, terrorism, and financial crises. Passenger volumes will continue to ascend thanks to rising incomes in emerging markets that will drive travel spending. Global air travel is expected to double between 2010 and 2020, and the Asia-Pacific region will see the strongest growth. RockCheetah, a travel consultant, predicts that Asia Pac will account for a quarter of global tourist arrivals by 2020 (compared to 21.8% in 2010), with residents expected to comprise one third of all spending in the region (compared to 23% in 2010). Being one of the major OEMs in what is essentially a duopoly in the aircraft manufacturing market, Boeing has significant exposure to emerging markets. Its sales in the US accounted for just 40% of total revenues in 2015. BA's China and Other Asia regions comprised almost 30% of revenues. Last week CEO Dennis Muilenbeurg dismissed fears that the current airline cycle had peaked. Instead he says demand is actually strengthening: "over the next twenty years, growth in air transport demand will generate demand for 38,000 new planes. To deal with that, we plan to increase deliveries again from about 760 planes in 2016 to more than 900 in five years".
Figure 1: Global Passenger Volumes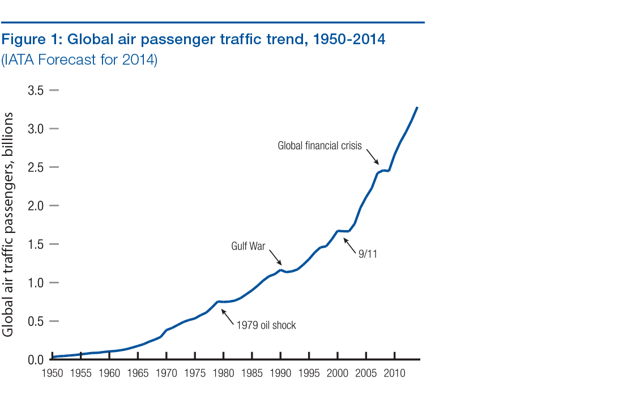 Click to enlarge
Source: IATA
Boeing's dominant position in the aircraft OEM market will allow it to fully reap the rewards of long-term travel growth. Boeing has a wide moat thanks to its technological expertise, customer relationships, and scale. Given the high cost of equipment and design failure, customers are less willing to switch to unproven manufacturers, and the company's scale and customer networks are too difficult for new firms to replicate. Furthermore, because switch costs are high, BA earns a steady stream of aftermarket revenue, which helps offset cyclicality. Boeing has earned returns on invested capital in the high 20s and low 30s since 2010, leaving plenty of room for the dividend. Despite high capital costs, Boeing pays out half of its earnings to shareholders, a testament to the firm's superior profitability.
Long-term investors should take a serious look at Boeing, especially after Brexit. The firm's low valuation is not justified, and many research houses seem to agree. S&P and Morningstar maintain buy ratings, with price targets of $160 and $138 respectively. Last week Morgan Stanley initiated coverage on BA with an "overweight" rating, owing to recent stock price underperformance and margin upside potential. The weak military spending environment in the US is one area of concern, but increased demand from foreign customers is helping to pick up the slack. And, if Trump wins in November, things could really get interesting for Boeing.
Disclosure: I/we have no positions in any stocks mentioned, but may initiate a long position in BA over the next 72 hours.
I wrote this article myself, and it expresses my own opinions. I am not receiving compensation for it (other than from Seeking Alpha). I have no business relationship with any company whose stock is mentioned in this article.