In my previous article, "There Is a Blossoming in Residential Construction," I examined the demand side of the residential sector of America. However, in this article I will try to perform cost analysis of this sector. It is worth noting that cost dynamics have significant impact on the supply economics of any sector or commodity.
The cost of inputs (i.e. land, labor and cement and other aggregates) is one of the key determinants of profitability in the housing sector. Land prices have been on steady rise since 2011 on the back of recovery in the economy. Moreover, during the same period labor costs have also registered growth primarily on the back of labor-supply constraints, resulting in gross margin attrition.
The below graph shows a steady rise in the average costs of both land and labor along with an exception of a brief period of financial crisis. However, note that the average costs of labor and land have not risen to a pre-financial crisis level.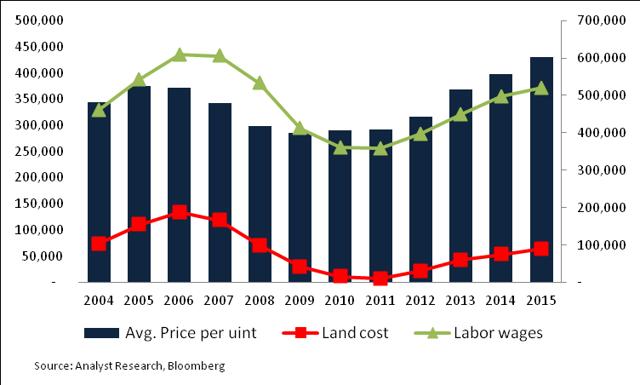 Click to enlarge
On average, land and other construction costs usually account for 80% of the average selling prices of a new home in 2015, according to NAHB's construction cost survey. Further, if we break down the above-mentioned cost, then finished lot costs 18% of the average selling price. Direct construction costs are ~62% of average selling price, where labor and materials are the major contributors. Nevertheless, this industry-wide cost structure results in gross margin clocking in at ~20%.
The below table illustrates an interesting picture, where a significant cost increase has been witnessed due to a ~5% surge in land and labor costs, resulting in gross margin attrition.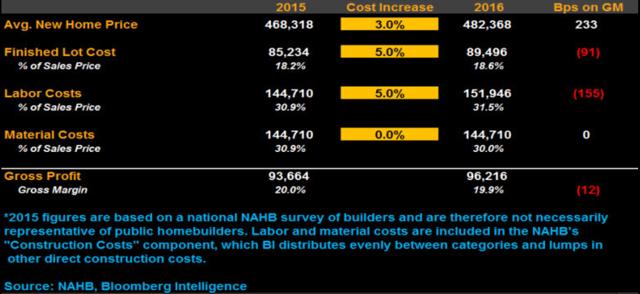 Click to enlarge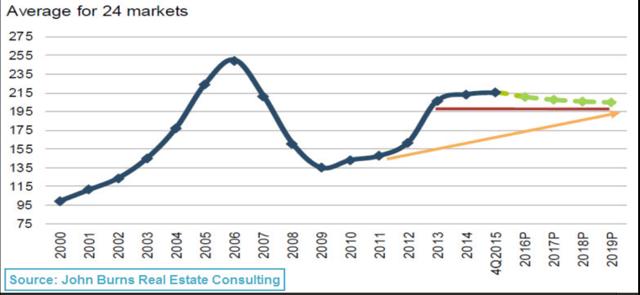 Click to enlarge
According to JBREC, finished-lot prices have stabilized to some extent and may decrease with passage of time for the next few years. Finished-lot prices have been one of the primary concerns for homebuilders, especially for those who invest in land when the prices are rising or have reached a peak. The above graph summarizes the price pattern of finished-lot prices across time.
Material costs might remain subdued for the remainder of this year. However, going forward, I opine that the material costs will increase at a much faster pace than labor and land prices. Further, labor costs will continue to rise on the back of rising demand and corresponding shortage in supply following burgeoning construction activity. Thus, labor costs, which contribute ~31% to the homebuilder's construction cost, will continue to dent the earnings of this industry.
In conclusion, I foresee expansion in net margins of homebuilders. Thus, benefiting Taylor Morrison (NYSE:TMHC), Meritage (NYSE:MTH), Home Depot (NYSE:HD), M.D.C. (NYSE:MDC), KB Home (NYSE:KBH), WCI Communities (NYSE:WCIC), LGI Homes (NASDAQ:LGIH) and M/I Homes (NYSE:MHO).
Disclosure: I/we have no positions in any stocks mentioned, and no plans to initiate any positions within the next 72 hours.
I wrote this article myself, and it expresses my own opinions. I am not receiving compensation for it (other than from Seeking Alpha). I have no business relationship with any company whose stock is mentioned in this article.