Gap, inc (NYSE:GPS) has seen a fall in the stock by 48.3% in the last one year and over 20% fall YTD. This erosion in the stock value reflects the shifting customer preferences for fast fashion apparels and falling margins due to lower pricing power. This fall in stock price has led to lower p/e multiple of 10.14 ttm and a very attractive dividend yield of 4.5%.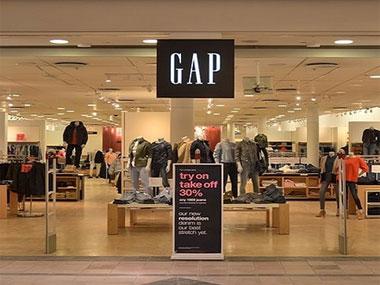 Many investors are betting on a turnaround pursued by the management. The company is looking to build a more responsive supply chain which should help in providing it a sustainable competitive advantage. However, this is already proving to be a more difficult task than earlier envisaged.
CEO Art Peck has referred to supply chain efforts as a "journey, not a destination". The company has a higher lead time of close to nine months against the stated goal of a three-month lead time. Eventually this transition would take a lot more investment and time than earlier estimates made by the company.
Fall in margins
GPS has seen its margins fall in the past three years against stable margins showed by competitors. The gross margins have fallen from 39.0% in 2013 to 36.2% in 2015. Operating margins have also fallen from 13.3% in 2013 to 9.6% in fiscal 2015.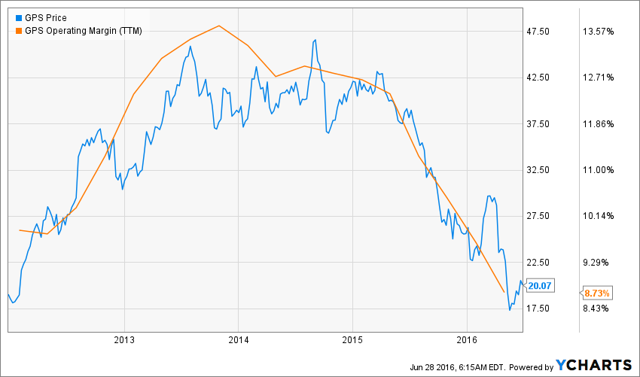 Click to enlarge
Fig: Fall in operating profit margin (NYSE:TTM) since last year is reflected in the rapid fall of the stock price
Behind this fall in margins lies the reduced ability of the company to use its brand image to increase the pricing power. On the other hand the growth in off-price retailers like TJX (NYSE:TJX) and Ross Stores (NASDAQ:ROST) in the past few years has shown a greater preference for value among customers.
A growing preference for online shopping also poses serious risk for the company. Although the company is making efforts at rightsizing its store base which should help in cutting costs, these cuts will not help in providing topline growth.
Increase in competition
Competition from other fast retailers like H&M, Zara and Uniqlo will continue to take away market share from GPS. There has been a rapid growth of performance-based apparel in which Gap's Athleta brand fits, but this brand still contributed less than 5% to total revenue in 2015. This reduces its ability to provide noticeable boost to margins or topline in the next five years.
Competitors like Zara already have a very efficient supply chain which gives it greater cost advantage over GPS. GPS will try to catch up with Zara and other competitors in the next few years by making its supply chain more responsive. However this requires both time and significant investments.
Lower possibility of dividend growth
The management gave rapid increase in dividends in the past five years. They increased the dividends from 11.25 cents/ quarter in 2011 to 23 cents/quarter in 2015. This dividend growth along with a lower stock price has resulted in the stock giving very attractive yield of 4.58%. However the dividend payout ratio has also increased to 45.92% which reduces the management's ability to provide similar dividend growth in the future.
The company is also facing higher expenses as it undertakes this turnaround, increasing its investments in supply chain, online channel and advertising. The future store growth will be in the international markets where real estate availability can be an issue. Also the cultural and economic differences in these markets can put further pressure on operations and margins. As the recent delays in West Coast Port shows, any disruption in supply chain can have considerable impact on topline and margin performance.
Conclusion
The company continues to face serious headwinds in terms of increased competition, changing customer preferences, cyclical weakness in apparel and higher requirement for investment in supply chain. These are long term challenges for the company and it will take the management another 3-4 years to show a change in the direction. Till that time it is difficult to justify an investment in this stock and it looks more like a value trap with significant downside risks.
Disclosure: I/we have no positions in any stocks mentioned, and no plans to initiate any positions within the next 72 hours.
I wrote this article myself, and it expresses my own opinions. I am not receiving compensation for it (other than from Seeking Alpha). I have no business relationship with any company whose stock is mentioned in this article.