A lot is happening in the global financial markets. Just three days after Moody's cut UK's credit outlook to 'negative', and ratings agency Standard & Poor's slashed Britain's ratings by two notches to AA with 'negative' outlook. More downgrades, it says, can follow for the nation.
On June 26, I had written an analysis titled, S&P 500: An Inch Away From Tumbling?, wherein I suggested that the U.S. stocks were on their crucial support levels. Today, S&P 500 (NYSEARCA: SPY) has conveniently breached the support and is flirting with the psychological 2,000-mark. DAX, CAC 40, and FTSE 100 ended their day with steep losses of 2.5-3 percent. Crude oil (NYSEARCA: USO) is trading with a loss of roughly 3.70 percent. And, gold futures are edging higher as fears of UK entering into a recession gain steam.
Note: I am expecting S&P 500 to register a short-term, meaningful support around 1,930-1,940, but a strong rebound cannot be ruled out.
Investors are worried that the Bank of England may cut its benchmark rate to zero, in order to meet the liquidity needs in the economy post-Brexit. A similar liquidity infusion approach is likely to be adopted by the ECB as well. These would pressurize the net interest margins of the banks, which are taking the severest beating among all the sectors.
UK banks such as Lloyds Banking Group plc (NYSE: LYG), The Royal Bank of Scotland Group plc (NYSE: RBS), and Barclays plc (NYSE: BCS) are down 10-20 percent even today. For the two trading sessions, the losses are in 30-40 percent range. This cannot be just due to the fear of lower interest rates pressurizing the NIMs. Big reputed global banks don't lose so much in market cap based on just rates or downgrades.
So, what could be causing so much destruction in these stocks? So, here's my take:
Brexit was not an event that many anticipated to play out. These big financial banks may have taken huge positions in the market on that event, and dived deep into losses after the results. This happened before as well. When the Swiss National Bank decided to decouple the Swiss franc from the euro, big investment banks such as Citi and Deutsche, and several other hedge funds ran into huge losses.
No information from the managements and CEOs of these banks to allay the fears is fueling the investors' worst rumors. They are losing their credibility by the second.
Smart money is probably expecting huge write-downs in goodwill and multiple impairment charges in the coming quarters.
Some are even expecting recession in the United Kingdom to arrive earlier than 2017.
Possibility of more of such referendums is hurting the European stocks, and they are affecting the US stocks because of the deep interconnectedness.
No fundamental measures such as the low P/E, attractive dividend yield, negative enterprise values are helping these financial stocks. In fact, RBS (NYSE: RBS) is taking a brutal beating on the highest volume ever.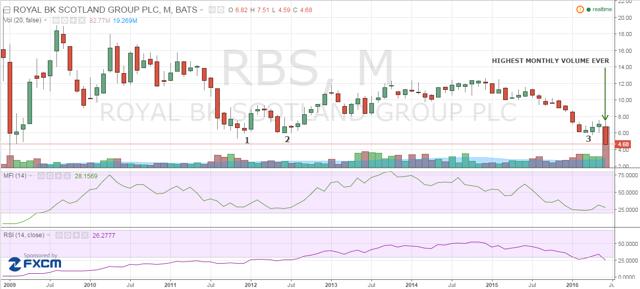 Click to enlarge
Source: TradingView
For the past many years, RBS had keenly respected the $6-mark, even in the direst situations (see the monthly price chart above). But, this month has seen the stock crack this floor on huge volumes, which coerces me to think that investors have bailed out of this leaking ship. I expect the stock to hit $3 soon.
But, if anybody thinks that these stocks are technically oversold and are ripe for sharp rebounds, this may help: None of them have significant oversold RSI levels, and their MFI readings are well above 20.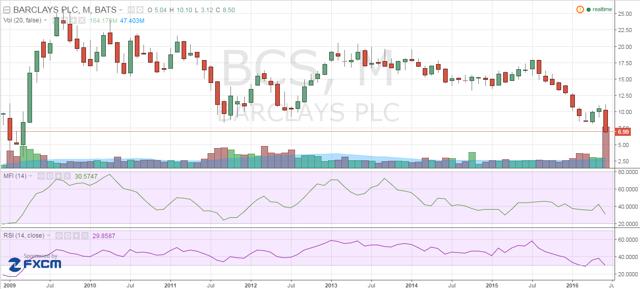 Click to enlarge
Source: TradingView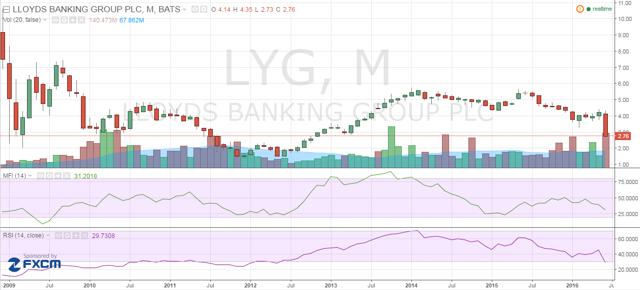 Click to enlarge
Source: TradingView
Conclusion
The massive implosion in the UK banking stocks is teaching us an important lesson: Nothing should be taken for granted in the financial markets. The slide in the global stocks may continue until they meet their near-term downside projections, but do expect volatility to make huge swings.
There is definitely more to the market turmoil than meets the eye. While we cannot know everything that is going on behind the scenes, we know that it is indeed very terrible.
Investors must enter this market only from a long-term perspective, and wait for entering lower levels when they do so. Although the recent losses have taken much of the "loss-factor" or risk factor out of the market, there is no certainty that more losses cannot be incurred. Be prepared to see volatility in your portfolios.
Disclosure: I/we have no positions in any stocks mentioned, and no plans to initiate any positions within the next 72 hours.
I wrote this article myself, and it expresses my own opinions. I am not receiving compensation for it (other than from Seeking Alpha). I have no business relationship with any company whose stock is mentioned in this article.