Note that this is a follow up to my original article on Support.com (NASDAQ:SPRT) that can be found here. Please see it for initial background information on the company.
The activist shareholder group led by VIEX Capital Advisors captured five Board of Director seats at Support's annual meeting last Friday (6/24/16). This means that the activists now hold all but one Board seat and are in firm control of the company. The news pushed the stock significantly higher on a terrible overall day for the markets due to the UK's "Brexit." We will look at what the future might hold for Support a little later in the article, but first let's recap how we got to this point.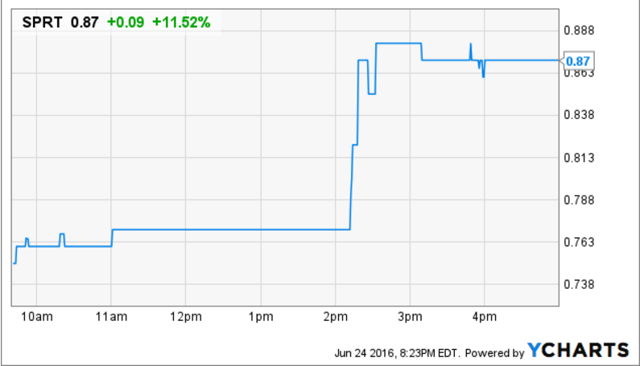 Click to enlarge
VIEX Capital Advisors and its affiliates are collectively Support's largest shareholder, owning ~14.9% of the company. After management rebuffed their request for Board representation, VIEX went hostile early this year, promising to "liberate" shareholders by gaining control of the Board. They later released their slate of five nominees (see below) as well as a detailed presentation that can be found here.

Click to enlarge
Support's management took action to try and stave off the activists. In March three Board members resigned and were immediately replaced with new, presumably more qualified directors (see here and here). In April management instituted a shareholder rights plan, ostensibly to preserve the company's roughly $126.2 million in net operating loss carryforwards (NOLs). Management's real goal with the rights plan was almost certainly to limit the possibility of future activist involvement via a poison pill. Management also unveiled a long overdue cost cutting plan and accelerated its outlook for profitability to full year 2018 from year end run rate 2018. Most recently, and perhaps sensing defeat, two directors (including Chairman Jim Stephens, the architect of Support's SaaS strategy) declined to stand for reelection.
In the end none of this was enough, as shareholders still voted in favor of the activists. The sole "legacy" board member that will remain in place is Tim Stanley, who was just appointed in March.

Click to enlarge
Observant readers of the press release surely noticed that SPRT's CEO Elizabeth Cholawsky was not relected to the board. I expect her to resign in the near future for two reasons: (1) a CEO of a publicly traded company in the US without a board seat is highly unusual and (2) the activist shareholders now in control of the Board have expressed serious reservations about her qualifications for the position. If Dr. Cholawsky does resign, Richard Bloom will likely be taking the CEO position on an interim basis.

Click to enlarge
VIEX has spelled out in reasonable detail its plan to maximize shareholder value. As I mentioned in my previous article, Support is currently losing significant amounts of money (-$4.67 million income from operations in Q1), but VIEX is prepared to move very quickly in order to prevent the company from burning through more cash.
Support's Nexus SaaS initiative will be deemphasized in favor of maximizing cash flow from its legacy customer service support operations. I believe these legacy operations can be profitable if the losses from Nexus and corporate costs are both reigned in. Support has ~200 corporate employees, an outsized number that even Cholawsky was planning on reducing. The traditional customer support operations were profitable in 2013 before the rollout in Q1 2014 of the SaaS strategy. A history of past profitability (even if limited) is important with any badly beaten down stock as one of the biggest risks is that the underlying business is so impaired that it will never turn a profit again.
VIEX also has outlined plans to repurchase stock. As such, a stock repurchase authorization will likely be approved by the board in the near future. Even after the run up over the past couple of trading days the stock remains a net net ($71.75M in combined cash, short term investments, and accounts receivable against a market cap of $49.3M and total liabilities of $9.93M) so any share repurchases will be immediately accretive.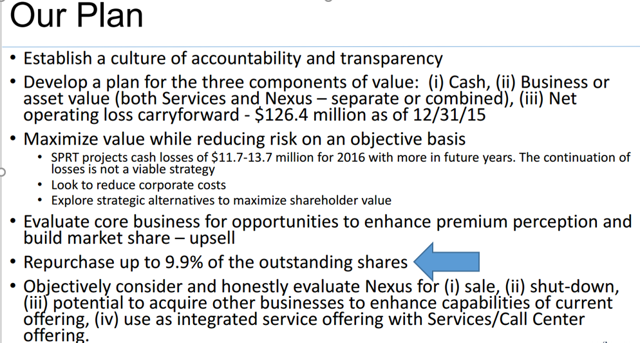 Click to enlarge
Finally, although VIEX has not heavily emphasized it, I believe their end goal is to sell the company's operating businesses as soon as practicable. A sale would likely generate a higher IRR for their limited partners than any extended effort to turnaround the company. Also, VIEX believes Support has "subscale operations (that) do not support public company overhead." This is a group of hedge funds - they don't want to be stuck operating a company for years. I expect a press release in the near future announcing that Support has retained a financial advisor to assist with a strategic review.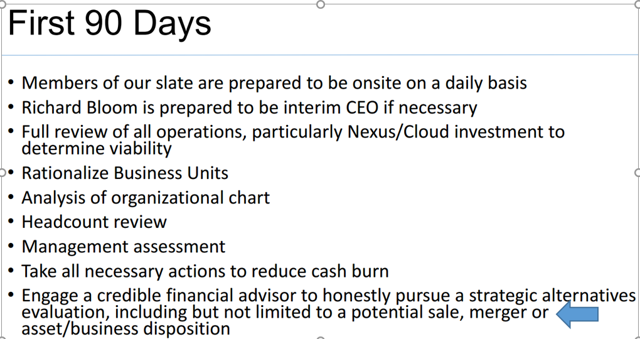 Click to enlarge
As a net net the market is assigning Support a negative enterprise value - so any positive value sale price would be accretive. A potential acquirer looking to establish back-end customer support relationships with Support clients like Comcast, Office Depot and Staples could find it very attractive as an strategic acquisition target.
Support is far from a widows and orphans stock. The most obvious risk is that the new Board bungles operationally, causing the underlying business to further deteriorate. This might drive away potential suitors and/or cause cash burn to accelerate. Support's main customer relationships are fairly stable though, so while this is a potential issue it doesn't look probable. The extremely low valuation of the company and the surplus cash pile both give the new Board some time to execute its strategy. Furthermore, VIEX has plenty of skin in the game they will do everything they can to maximize shareholder value.
My short term (90-day) price target for the stock is its 3/31/16 NCAV per share of $1.12. There will be further upside if and when the company is sold.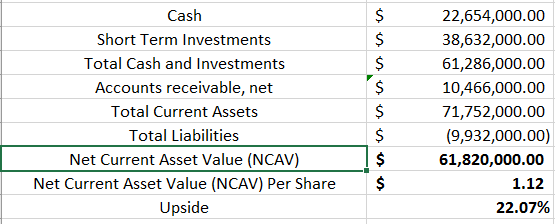 Disclosure: I am/we are long SPRT.
I wrote this article myself, and it expresses my own opinions. I am not receiving compensation for it (other than from Seeking Alpha). I have no business relationship with any company whose stock is mentioned in this article.
Editor's Note: This article covers one or more stocks trading at less than $1 per share and/or with less than a $100 million market cap. Please be aware of the risks associated with these stocks.