A casual observer would probably not expect that Consumer Products is the smallest segment of Johnson & Johnson (NYSE:JNJ). Today, we take a look at the company's Consumer segment, third and smallest in size after the Pharmaceuticals and Medical Devices segments covered in weeks past.
At a giant conglomerate like Johnson & Johnson, third place is no light matter. As reported on Johnson & Johnson's 2015 Investor Fact Sheet, the Consumer segment still represented in 2015 the "6th largest Consumer Health Care company" in the world. After submitting the mistakes, mentioned in the previous articles, on this same fact sheet, we are happy to report that the company has fixed the pie chart showing the segment breakdowns. The Consumer segment in 2015 represented about 19% of sales at $13.5 billion, as shown in the corrected chart below.
Johnson & Johnson 2015 Sales by Segment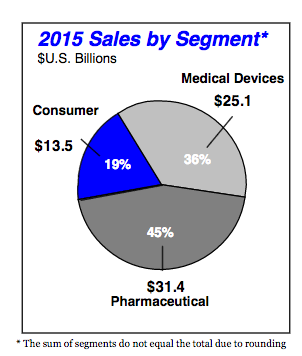 Source: Johnson & Johnson 2015 Investor Fact Sheet.
Per the 2015 Annual Report, this $13.5 billion was a decrease of 6.8% from 2014, largely from negative currency impacts. The segment saw negative currency impacts of 9.5%, more than erasing the 2.7% operational gain. A stronger dollar will continue to punish the company as it brings money back to the states. Remember that a full 49% of Johnson & Johnson's total sales are abroad, including 23% in Europe. This European slice is significantly poignant today with the beating the pound has taken and risk to the euro.
Breaking this down into the domestic and international sales for the Consumer segment amplifies the issue. A full $8.3 billion, or about 61.5%, of sales in the segment were abroad in 2015. The year saw 2.7% operational growth but included 14.7% negative currency impacts on sales growth compared to 2014. Even double-digit growth in India, Russia, and Brazil could not stem this decline. The tremendous currency impacts of this year could signal weaker growth in 2016.
The segment is broken down into over-the-counter, skin care, baby care, oral care, women's health, and wound care/other in order of sales. There is decent balance, with OTC representing 29.4% of sales on the high end, to wound care/other at 8.7% at the other end. Wound care/other was almost 10% in 2014 but saw a couple of divestures in 2015.
With all of this in mind, how does Johnson & Johnson stack up to its peers in the Consumers segment? Annually, Johnson & Johnson updates its Proxy Statement with a "Competitor Composite Peer Group" within each of the three main segments (Page 40). The competitors listed for the Consumer segment in the 2016 proxy are Beiersdorf AG (OTCPK:BDRFF) (OTCPK:BDRFY); Bayer AG (OTCPK:BAYZF) (OTCPK:BAYRY); Colgate-Palmolive Company (NYSE:CL); GlaxoSmithKline plc (NYSE:GSK); The L'Oreal Group (OTCPK:LRLCF); Pfizer Inc. (NYSE:PFE); The Procter & Gamble Company (NYSE:PG); Reckitt Benckiser Group plc (OTCPK:RBGPF); Sanofi SA (NYSE:SNY); and Unilever (NYSE:UL) (NYSE:UN).
We used our analytics platform to look at total shareholder return. Note that this return assumes dividend reinvestment and that Johnson & Johnson in 2015 increased its dividend for the 53rd straight year (2015 Annual Report page 22). Our software is currently limited to United States-based companies. Because some of the competitors are also conglomerates, we focused our comparison on the United States-based consumer goods companies, Colgate-Palmolive and Procter & Gamble.
Chart: Total Shareholder Return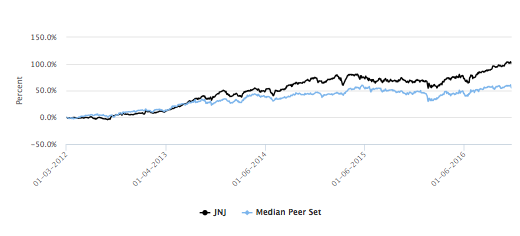 Source: Enlight Research.
Note: The Median Peer Set includes Colgate-Palmolive and Procter & Gamble.
From the beginning of 2012 to close on June 27, JNJ saw 102.92% total shareholder return. Both competitor consumer product companies lagged behind, with Colgate at 70.2% and Procter & Gamble at 40.36%. With not even a fifth of sales coming from its Consumer segment, this lead likely rests on other segments. The companies have significant differences even when considering the Consumer segment section of JNJ only. For example, Colgate-Palmolive reported in its 2015 Annual Report that 75% of net sales in 2015 were outside of the US, substantially higher than Johnson & Johnson's international sales proportion.
These differences point to debate in the comments of our previous articles - the wisdom of a breakup of Johnson & Johnson's segments. For shareholders, are there worthy benefits in having a diversified company with several different revenue streams to balance business cycles? On the other hand, would the segments be more successful with singular focus, without regard to the goals of the larger organization? Finally, would shareholders be better served in diversifying on their own rather than through conglomerate, better able to compare similar competitors?
As of now, if you believe that Johnson & Johnson's consumer segment presents superior value potential over its peers in that line, you must also commit to how the other two segments will largely shape your returns. Despite being one of the largest consumer goods companies in the world, investors have to look elsewhere to invest in a company primarily focused on that market.
We don't purport to know definite answers to these questions and they vary by individual preference. However, it is worth being aware of how the different segments break down in large conglomerates, especially as they seem to breed constant coverage of potential break up. In the case that they do, or do not, shareholders can be more informed about what exactly they are holding. Would you like to see a break up? If so, would you hold all three segments or partially or fully divest?
As a tribute to our corporate governance mission, we applaud all three companies for significant gender diversity in the boardroom. Women, according to the 20% by 2020 mid-2016 study, accounted for 17.9% of directors in the Fortune 1000. Each company is above that threshold, as well as the 20% goal, and has at least three women directors.
Graph: Board Gender Diversity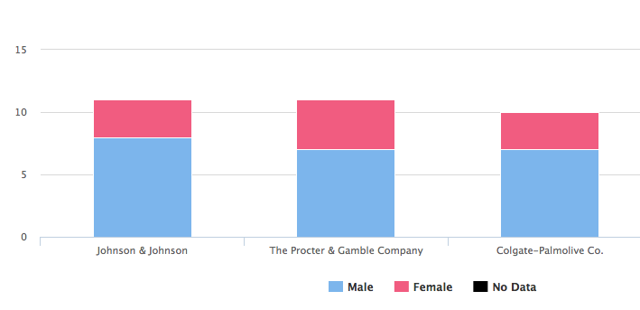 Click to enlarge
Source: Enlight Research.
Gender diversity also has value implications for shareholders. A 2008 study published in the Harvard Law Review found that increased gender diversity improved some elements of governance but weakened firm performance. Other studies, like one covered by The Wall Street Journal, have found improved firm performance. It's a mixed picture that is still developing, but at the very least, beyond more fully representing consumers and other stakeholders, diversity prepares the company for stability moving forward. This is particularly pertinent as the push towards diversity, especially by institutional investors, puts significant assets behind the various campaigns.
Interested in seeing similar metrics done with another company and peer set? Drop us a comment, send us a private message, or check out our profile to access our free real-time monitoring platform.
Disclosure: I/we have no positions in any stocks mentioned, and no plans to initiate any positions within the next 72 hours.
I wrote this article myself, and it expresses my own opinions. I am not receiving compensation for it (other than from Seeking Alpha). I have no business relationship with any company whose stock is mentioned in this article.