Caterpillar (NYSE:CAT) released its machine retail sales figures for the three-month period ending May, and they were awful - as expected. Resource Industries declined 27% year over year, Construction Industries fell 8% and Energy and Transportation declined 30%. The weakness was broad-based: with the exception of the construction segment, sales were down in each geographic region. It is important to mention that the sales figures are reported in constant dollars, and therefore, provide a more reliable picture of underlying demand trends (measured by unit volumes). We briefly dissect the fundamentals behind the data and how they shape our global economic outlook.
Resource Industries (17% of sales in 2015), perhaps more than any other CAT segment, faces a period of prolonged headwinds. Despite a general rise in commodity prices over the last few months (Figure 1), demand declined. This is because the increase in commodity prices reflected a weaker dollar (Figure 2) more than improved end market fundamentals, so it did not result in greater demand for mining equipment. There were major declines across the board, but the biggest declines occurred in the Asia Pacific region. Sales in Asia Pac were down 55%, 47% and 48% year over year in March, April and May, respectively. There are a number of reasons for this. China's structural shift away from an investment and manufacturing-led growth model to an economy based on consumption is crimping demand for iron ore and copper and, by extension, mining equipment. CAT has struggled in China, as the government has limited coal consumption. Many new firms have entered the mining industry in recent years, and the competitive dynamics are different than they are in North America. Whereas CAT has carved out a moat in developed economies by leveraging its scale and distribution efficiencies to lower the total cost of ownership for customers, clients in China care more about upfront prices. As Morningstar explains, there is "less emphasis on equipment's lifetime operating costs and more emphasis on new equipment purchase prices." CAT will likely have to lower prices to gain market share in China.
Figure 1: PowerShares DB Commodity Index Tracking Fund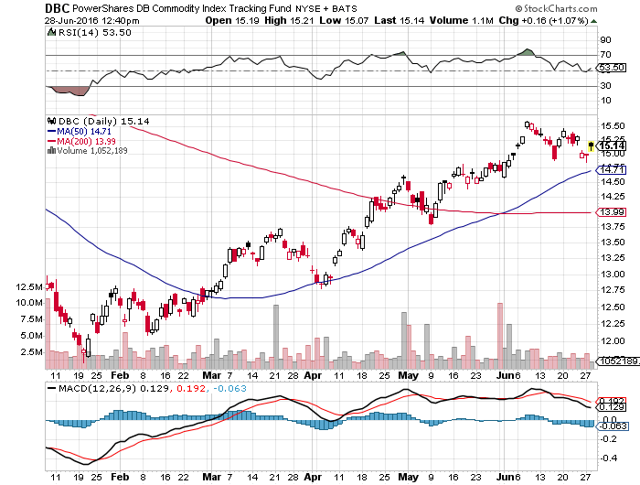 Click to enlarge
Source: StockCharts.com
Figure 2: US Dollar Index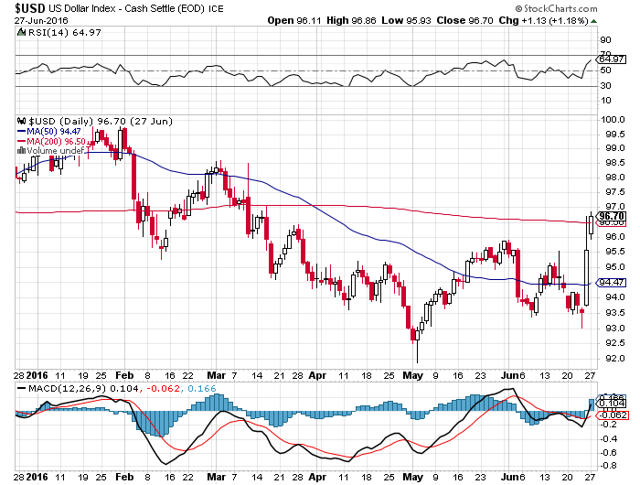 Click to enlarge
Source: StockCharts.com
Construction Industries (38% of sales) was CAT's best-performing segment over the past three months, but that's not saying much. Only in Asia Pac were sales positive. China's non-manufacturing PMI data suggests construction activity remained stable, but it has largely been fueled by the state's massive debt binge. Infrastructure and residential construction spending expanded in India as the population continued to urbanize, but did so at a lower rate. Outside Asia, the results were dismal. The largest drop-off occurred in Latin America, where sales fell 40%, 36% and 35% year over year in the last three months. Brazil is undoubtedly the main culprit: the country is in the midst of its worst recession in decades. The ever-weaker fiscal balance has led to infrastructure budget cuts, while poor private sector sentiment (a fallout of last year's Petrobras (NYSE:PBR) scandal) continues to weigh on construction. But while the poor readings from Latin America were expected, the weakness in North America was worrying. Construction has been a pillar in America's so-called "recovery," but sales in the region (which accounts for half of this segment's revenues) declined 10%.
Finally, the Energy and Transportation (40% of sales) segment reported severe declines in each end market. The Oil & Gas and Transportation sub-segments were hit the hardest. A protracted period of low oil and gas prices has forced customers in the energy sector to cut their budgets. And the combination of general US economic weakness (low industrial and manufacturing activity) and lower export competitiveness (due to a stronger dollar) has wrecked havoc on North America's transportation industries.
Caterpillar is a great stock to follow because it gives you some excellent insights about the health of the global economy. The latest sales results are no surprise, and they reaffirm our view that not only the US economy, but global macro conditions as well will remain weak for the foreseeable future. CAT's stock price has ascended in tandem with the rise in commodity prices, but end market fundamentals remain weak. The dividend yield of 4.31% is attractive, but the stock is too risky at these levels. The China-fueled commodity boom is a thing of the past, and governments around the world are phasing out the use of coal (a commodity that CAT still has significant exposure to). The next global "recovery" will be tame by historical standards, and CAT is not going anywhere for a while.
Disclosure: I/we have no positions in any stocks mentioned, and no plans to initiate any positions within the next 72 hours.
I wrote this article myself, and it expresses my own opinions. I am not receiving compensation for it (other than from Seeking Alpha). I have no business relationship with any company whose stock is mentioned in this article.