When an opportunity presents itself, I try to grab it with both hands. That's true for writing on Seeking Alpha as much as it's true in regard to investing." Brad Thomas's most recent article, "Mortgage REITs In 3 Charts And One Less Headache", has provided me with such an opportunity.
In his article, Thomas is presenting three charts that should "steer investors from danger". Surprisingly, I agree with almost everything that is written in his article, and the three charts he provides do look "scary". Nevertheless, when I read his article, I immediately thought to myself: "Something is missing in here". You see, sometimes it's not what you see that bothers you; it's what you don't see...
As Thomas said, a picture is worth a thousand words. Therefore, I'll let my three charts speak for themselves. Okay, Fortune Teller - go.
Chart 1: The marginal dollar borrowed is being borrowed at a lower rate: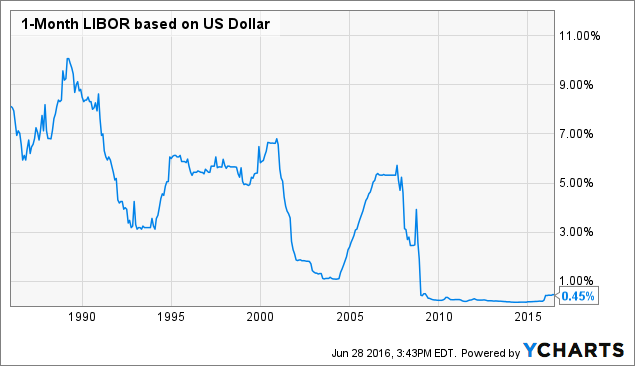 As much as a lower 30-year mortgage rate is indeed an investment disadvantage for mREITs, a lower 1-month LIBOR rate is a borrowing advantage.
Chart 2: Using few of the most common yield/rate indicators as proxies for mREITs' performance, it's clear that there's no clear/direct correlation whatsoever: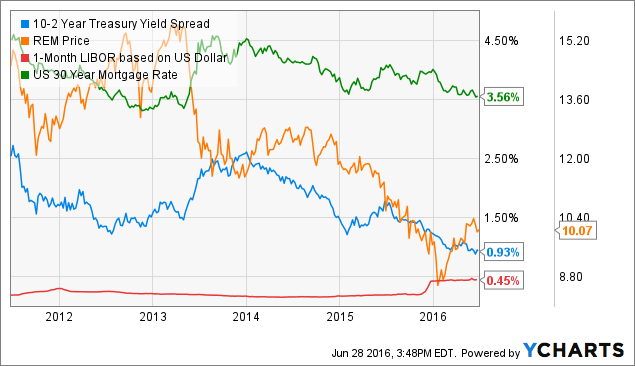 As clearly is the case, the iShares Mortgage Real Estate Capped ETF (NYSEARCA:REM) performance doesn't necessarily imitate any of the leading, commonly used yield/rate indicators.
Chart 3: The market has not reacted as it should, and is currently too low: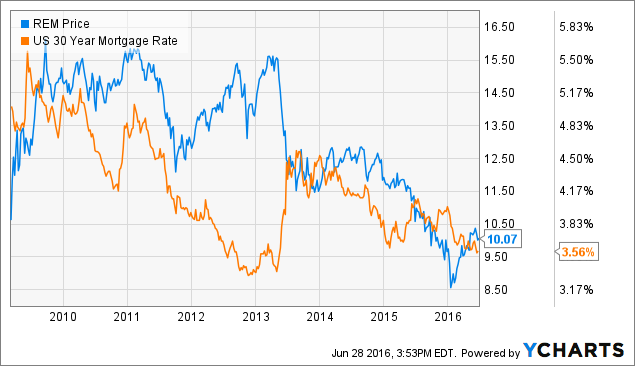 In 2012-2013, the 30-year mortgage rate was at the same levels where it is trading now. Yet, while back then REM has traded as high as $16, it's trading at only about $10 nowadays.
Bonus Chart 4: The price-to-book value (P/BV) has never been as cheap as it is in 2016: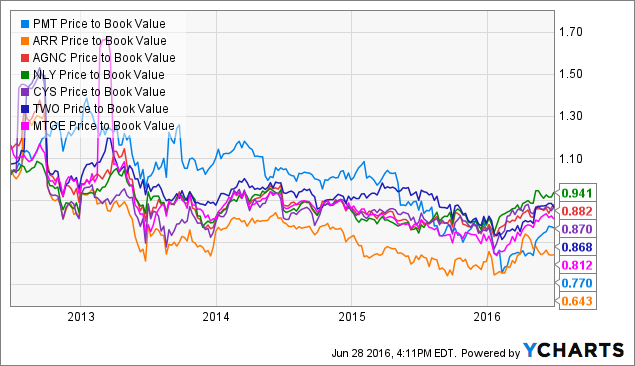 In 2012-2013, mREITs traded above their BVs across the board, while nowadays, it's rare to find mREITs that trade anywhere close to their BVs.
Recap
Lower yields and lower spreads are concerns mREITs investors should no doubt take into consideration. Nevertheless, the current yields and spreads are not something we haven't seen before and, therefore, are no reason to steer away from mREITs.
Disclosure: I/we have no positions in any stocks mentioned, and no plans to initiate any positions within the next 72 hours.
I wrote this article myself, and it expresses my own opinions. I am not receiving compensation for it (other than from Seeking Alpha). I have no business relationship with any company whose stock is mentioned in this article.