The following article was provided to subscribers on 06/17/2016.
Updates Since 06/17/2016
Since publication, events like Brexit have caused substantial movements in the yield curve and mortgage REITs have seen substantial volatility in prices. In my opinion, the price movements have done a very poor job of tracking the movements in the underlying portfolios. Pricing of MBS, treasury rates, and estimates of discount to book value reflect the prices and rates in place at the time of writing.
I was long ARR when I wrote this article. I am still long ARR. My view on ARR remains bullish.
Original Article
Since there are some shares of ARMOUR Residential REIT (NYSE:ARR) in my portfolio, it makes sense for me to model the book value more frequently than I otherwise might. In my latest model, using values from June 16th, 2016, I saw declines in book values across the sector. In the span of 10 days, the book values were taking a major hit. By my estimates, the discount to book value on ARR is currently running between 18% and 25%. That's a fairly huge range compared to the projection I usually make, but the values provided in the portfolio updates suggest there may have been some active management, and adjusting for the potential impact requires a materially larger range of book value estimates. At 18% to 25% to current book value, ARR remains one of the cheapest mortgage REITs.
Why Book Values Got Smashed for Pretty Much Every Mortgage REIT
Over the last 10 days, from 06/06/2016 to 06/16/2016, the movement in LIBOR swap rates looks like this:

Click to enlarge
The measures there represent the change in yield. For instance, the one-year rate fell from 82 basis points to 73.4 basis points. The result is minus .086.
When LIBOR rates fall by nearly 20 basis points from the 5-year part of the curve onwards, investors can expect severe losses on LIBOR swaps for most mortgage REITs. That movement in rates is even larger than the movement in treasury securities over the same period.
Movement in Treasury Rates
The chart below demonstrates the treasury rate movements: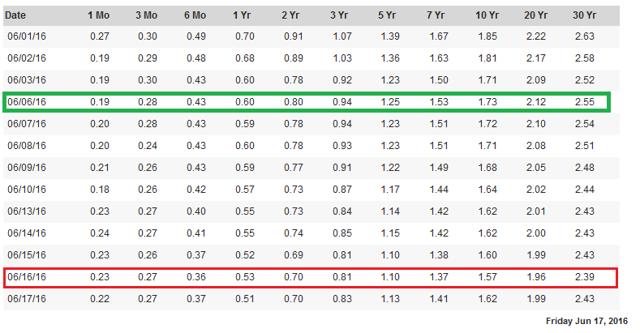 Click to enlarge
The green bar shows the treasury rates at the start and the red bar shows the treasury rates at the end. Treasury rates were falling by 15 to 16 basis points as opposed to 19 to 20. If you want an extremely quick estimate of the fair value movement on a 10-year treasury, just take the change of .16 and multiply it by 10. Your rough ball park is a 1.6% increase in fair value from owning a 10-year treasury.
The Movement in MBS
The movement in agency MBS was substantially smaller. I'm using the 30YR FNMA 4.0 as a proxy for movements in MBS prices. Remember that this chart shows prices and the others were showing yields.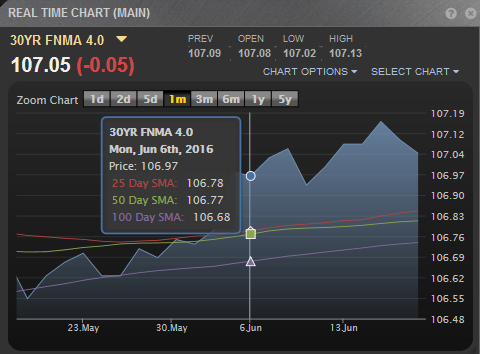 Relative to 06/06/2016, the 30YR FNMA is up about 8 basis points after declining by 5 basis points today. To put that in terms of 06/16/2016, it was up by 13 basis points.
Comparing MBS to Treasury Movements
To get a 13 basis point price gain in treasuries, we would need to go out to almost 2 years. The 2-year treasury fell by about 10 basis points in yield, so prices should be up about 20 basis points. Remember that swap rates fell even faster than treasuries.
Net Impact
My estimate on fair value of the portfolio for ARR is down. The previous range was $24.60 to $26.35. The new range is $23.54 to $25.39. Based on their last portfolio update, I would expect the next portfolio update to come in around the top end of this range. The discount to book value appears to be around 17.8% to 23.7%.
To put this in comparison to other mortgage REITs, my estimated discount to unreported book value is 11.6% for American Capital Agency Corp. (NASDAQ:AGNC), 13.2% for CYS Investments (NYSE:CYS), and around 2% to 4% for Orchid Island Capital (NYSE:ORC).
ORC isn't the only mortgage REIT trading at remarkably high valuations. I'll be working on some ideas to capitalize on the difference between the cheap mortgage REITs and the expensive ones. Coming up with an excellent match to ensure similar portfolios between the short candidate and the long candidate can be fairly tricky since mortgage REITs have several options in constructing their portfolios.
Pitch for Subscribers
Since the Mortgage REIT Forum is a new exclusive research platform, the first 100 subscribers will be able to lock in their subscription rates at only $240/year. My investment ideas emphasize finding undervalued mortgage REITs, triple net lease REITs, and preferred shares. With the market at relatively high levels, there is also significant work on finding which securities are overvalued to protect investors from losing a chunk of their portfolio.
Disclosure: I am/we are long ARR.
I wrote this article myself, and it expresses my own opinions. I am not receiving compensation for it (other than from Seeking Alpha). I have no business relationship with any company whose stock is mentioned in this article.
Additional disclosure: Information in this article represents the opinion of the analyst. All statements are represented as opinions, rather than facts, and should not be construed as advice to buy or sell a security. This article is prepared solely for publication on Seeking Alpha and any reproduction of it on other sites is unauthorized. Ratings of "outperform" and "underperform" reflect the analyst's estimation of a divergence between the market value for a security and the price that would be appropriate given the potential for risks and returns relative to other securities. The analyst does not know your particular objectives for returns or constraints upon investing. All investors are encouraged to do their own research before making any investment decision. Information is regularly obtained from Yahoo Finance, Google Finance, and SEC Database. If Yahoo, Google, or the SEC database contained faulty or old information it could be incorporated into my analysis.