Sandstorm Gold (NYSEMKT:SAND)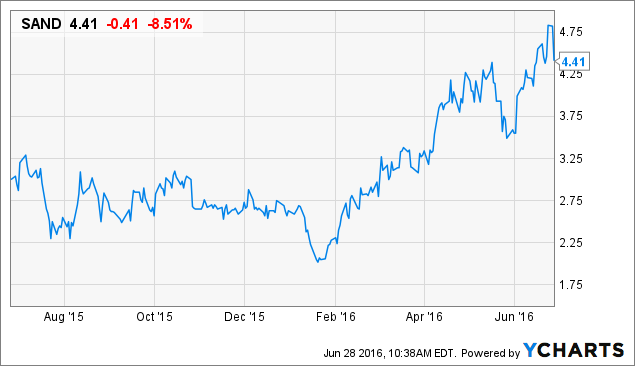 Recent Stock Price: $4.43
Shares Outstanding: 138.29 million
Market Cap: $612.61 million
52-Week Range: $1.94-4.92
Sandstorm Gold just announced it will raise $50 million by way of a bought deal financing of its common shares, as it will issue 11,236,000 common shares of stock at a price of $4.45, for proceeds of $50 million. The underwriters also have an option to purchase up to an additional 1,685,400 shares of Sandstorm at any time 30 days following the closing, which would increase the proceeds to $57.50 million.
Following completion of this equity raise, Sandstorm's share count will rise from 138.29 million to 149.55 million.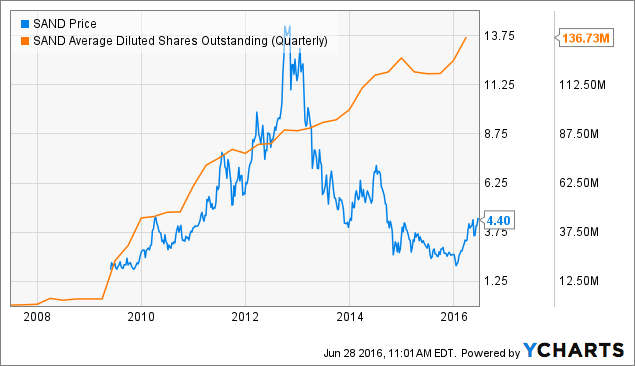 Why is Sandstorm diluting shareholders here? The company says it plans on reducing the balance of its revolving credit facility. The funds are also for the acquisition of streams and royalties and for general working capital, according to the release.
Why does Sandstorm want to reduce its debt? At the end of the first quarter, the company had just $5.3 million in cash (as well as $52.7 million in investments), compared to $77 million in debt on its revolving credit facility. This equity raise likely means Sandstorm will pay off a portion of this balance to reduce its debt and its interest expense. In Q1, this interest expense amounted to $.9 million. The company's debt is subject to fairly high interest rates (LIBOR plus 3-4.25% per annum), and the debt matures in July 2019.
Now, I'd like to make it clear that Sandstorm Gold can easily manage its debt, so it didn't absolutely need to do this financing for that reason. At $1,200 gold, Sandstorm is projected to bring in well over $40 million in after-tax cash flow in 2017, rising to $53 million by 2019, according to the company.
Meanwhile, Sandstorm estimates its interest expense is $2.6 million per year, according to its presentation. It is earning more in interest than that ($3.3 million per year) just from its equity and debt investments.
However, CEO Nolan Watson is a bit debt-averse, and followers of the company may know this already. For example, check out this interview with Kitco back in March 2016. This isn't the first time I've heard him say something along these lines:
"There's this question of what portion of a capital structure of a company should be permanent in the form of debt? I believe that is zero.

I believe debt should be used for mining companies who can't control the price that they sell their commodity at. It should be used solely as a tool temporarily to make strategic acquisitions... we don't plan on having debt as a permanent part of our capital structure."
Sandstorm also clearly states in its corporate presentation that it plans to use the majority of its free cash flow to pay down debt this year.
Now, readers should remember the only reason the company is in debt in the first place is because it completed a blockbuster streaming agreement with Yamana Gold (NYSE:AUY) back in October 2015. The deal cost $149 million, and Sandstorm drew fully on its $110 revolving credit facility to help pay for it.
Looking back, this was a really wise move to use debt instead of equity to complete the deal, as the stock was trading at just $2.69 per share at the time. So, Sandstorm drew on its revolving credit facility, has paid down the balance a bit since then, and has now raised equity at higher prices to pay down another portion of the debt. It's not a bad move by any means, as the dilution to shareholders would have been much more significant had Sandstorm opted for equity at the time.
Of course, there's always the chance the company will use a good amount of this financing to complete a royalty/stream acquisition. However, I don't think investors should expect another huge deal. Instead, I would expect a small "optionality" type of deal, where Sandstorm purchases a royalty on an exploration project - a type of deal that could pay off huge over time with higher gold prices.
This type of deal may be similar to the one completed in January with Teck Resources (NYSE:TCK), when Sandstorm acquired 56 royalties for $22 million, but I think it would likely be smaller in size.
Here's the bottom line: Sandstorm raising equity here will hurt the share price in the short term (it already has, as shares are down nearly 10% from Monday) and raise the share count to nearly 150 million. However, the deal will allow Sandstorm to reduce its debt and its financing risk, and hopefully, the company also has an acquisition up its sleeve.
The company also picked a pretty decent time to issue new shares, as the stock is up more than double from its January 2016 lows of $2 per share. My plan remains the same: add shares of Sandstorm on any pullbacks.
Disclosure: I am/we are long SAND.
I wrote this article myself, and it expresses my own opinions. I am not receiving compensation for it (other than from Seeking Alpha). I have no business relationship with any company whose stock is mentioned in this article.