Despite general strength in the stock market, financial stocks, particularly those of mega-banks like Bank of America (NYSE:BAC), Wells Fargo (NYSE:WFC) and Citigroup (NYSE:C), have languished both this year and for a quite a while previously. As the fate of Wall Street remains a hotly contested issue in the upcoming Presidential election, the political landscape may ultimately lag the actions of those institutions under the heaviest fire. As the various candidates expound their respective plans for the big banks, those banks have begun a wave of deconsolidation that may hold the key to reinvigorating growth in the sector. While sweeping change is unlikely ahead of the election, this is a critical factor for investors in the financial sector. Meanwhile with attractive P/E ratios and reasonable income production, beginning to acquire these names is appropriate.
The Political Question
Once upon a time, prior to its repeal under Bill Clinton, the Glass-Steagall act prevented commercial banks from engaging in higher-risk trading activities. Under Glass-Steagall, the U.S. enjoyed the longest period of economic expansion in its history, so naturally the obvious decision was made to repeal it. Earlier this year, Hilary Clinton - who faces some weakness from her closeness to Wall Street - suggested that she has a specific plan to break up the big banks, as reported by the New York Times: "I have said I will break them up because no bank should be too big to fail and no executive too powerful to jail, but we already have the authority."
Interestingly, where Senator Bernie Sanders advocates for the simple reinstatement of Glass-Steagall, Clinton does not support such a measure. Whether Clinton's reticence to reinstate the old law is driven by not wanting to be saddled with the fact that it was repealed on her husband's watch, or if she has meaningful issues with Glass-Steagall remains unclear, as does the specific measure that Donald Trump would adopt if he wins the election. What is clear is that a cornerstone issue next fall is what should be done to address these institutions.
Behind the Numbers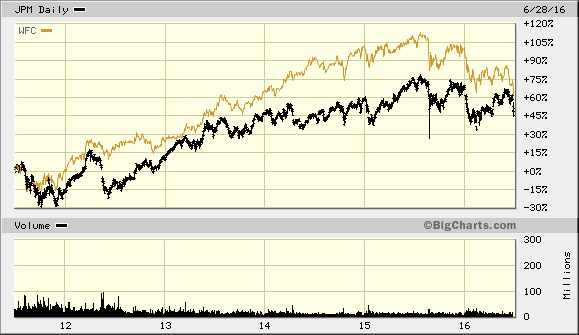 While one would expect the most significant part of an institution's earning to come from higher-risk activities like investment banking and proprietary trading, this has not been the case for years. Where JPMorgan (NYSE:JPM) earns roughly half of its revenue from traditional lending and over 10% from trading activities, Wells Fargo receives nearly two-thirds of its revenue from traditional lending. Over the last five years, Wells had significantly outperformed JPMorgan, although this trend has reversed year-to-date.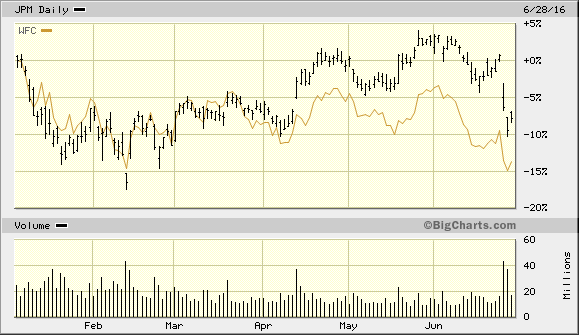 With foreseeable federal regulations toughing, one should expect to see more divestitures. For example, General Electric (NYSE:GE) and MetLife (NYSE:MET) have already made significant moves to spin off financial lending groups. Other institutions are expected to follow suit. If this trend continues, investors should expect to be more precisely buy the risk they want and to see stock prices reinvigorated.
Time to Buy?
At current levels, both JPMorgan and Wells Fargo are trading at P/E's around 10, and both have dividend yields above 3%. Even as interest rates are expected to begin to rise at some point, these are attractive dividend yields from a sector that should begin to show long-term positive performance in the near-term. As such, I am a buyer of bother Wells and JPM a
Disclosure: I/we have no positions in any stocks mentioned, and no plans to initiate any positions within the next 72 hours.
I wrote this article myself, and it expresses my own opinions. I am not receiving compensation for it (other than from Seeking Alpha). I have no business relationship with any company whose stock is mentioned in this article.