The American Petroleum Institute (API) publishes an estimate of the weekly EIA crude oil inventory report at 4:30 PM every Tuesday.
Before we go on, please read this quick fact versus myth section from the API website.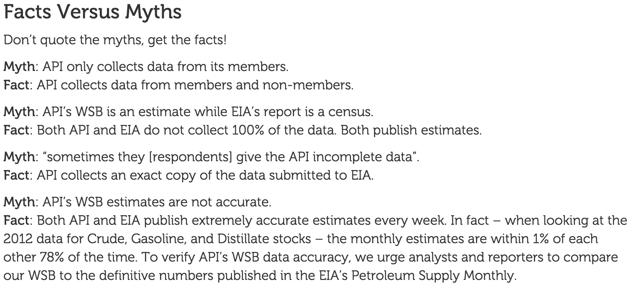 Click to enlarge
The big difference between the two is that API data submission is voluntary, while EIA data reporting is mandatory. Nonetheless, oil (NYSEARCA:USO) markets move up and down in response to API's report.
This week's figures look like this: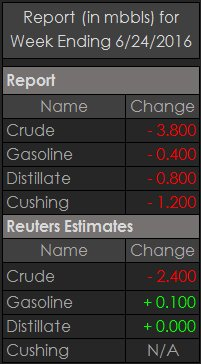 We don't think these estimates are true again, unless imports drastically fell off. The accuracy of the two tend to correlate with one another over the long run, but short-term misreporting happens frequently.
Take the last two weeks' API data versus EIA data, for instance.
API for 6/17/16: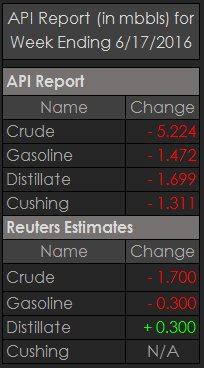 EIA for 6/17/16: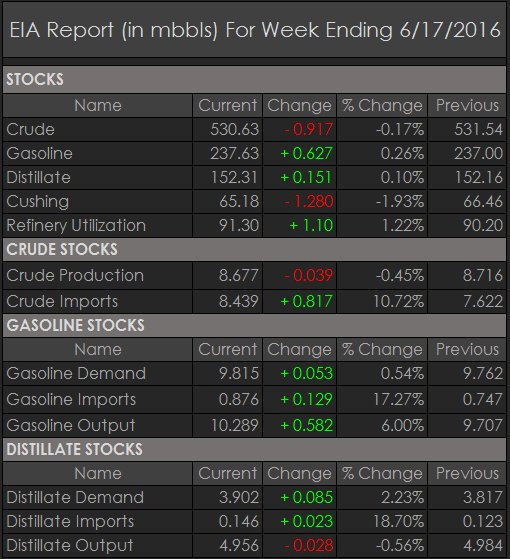 And the week before that, we wrote an article on it.
Hopefully, that gives you a bit more color on API's recent estimates. We think petroleum products should see a build with crude stock declining, but it depends quite a bit on imports.
Last week, imports saved the day with imports of 8.439 million b/d. If imports come in the mid 7s, we could see a big draw.
Nonetheless, it's always good to keep an eye on all things oil, and we hope you take the API estimate with a grain of salt.
As always, we hope you enjoy our Oil Markets Daily articles. If you want to read more of our articles, please be sure to hit the "Follow" button above. We also have a premium service tailored to investors looking to how we are thinking about positioning and real-time trade alerts. You can view our delayed one-month portfolio update here. We hope to see you join the HFI community.
Disclosure: I/we have no positions in any stocks mentioned, and no plans to initiate any positions within the next 72 hours.
I wrote this article myself, and it expresses my own opinions. I am not receiving compensation for it (other than from Seeking Alpha). I have no business relationship with any company whose stock is mentioned in this article.