There is both anecdotal and historical evidence to support the notion that FBI Background Checks for June will be sharply higher than the recent trend line -- primarily due to the Orlando mass shooting tragedy and the political gun-control discussion that has ensued...
ANECDOTAL EVIDENCE: In the aftermath of the tragic shooting June 12th at a gay Orlando night club, sales at gun stores spiked -- as reported by numerous news outlets:
HISTORICAL EVIDENCE: After the December 2015 San Bernardino mass shooting, the FBI Background checks jumped from 2,243,030 in the November 2015 to 3,314,594 in December 2015 -- that's a 48% sequential increase.
This illustrates how such tragedies continue to trigger more FBI background checks as different people seek to protect themselves. In the San Bernardino tragedy, it was written off by some politicians as a "workplace shooting" that happened to occur among co-workers of different religions.
But in the more recent Orlando tragedy, the victims were a completely different group (LGBT) and it was different setting (a gay nightclub). It was also the largest mass-shooting in US history, instilling yet even more fear in the lives of many Americans who attend crowded events. It's likely that this attack triggered a different group of gun buyers than the San Bernardino tragedy. Thus, the new demand for self-protection generated by Orlando will very likely cause the June FBI Background Checks to spike.
The foregoing analysis should be convincing that the FBI Background Checks for June 2016 will most certainly exceed the 1,870,000 reported for May 2016. Ironically in May there was concern that demand might be slowing, yet the May 2016 Background Checks were 25% higher than May of 2015, so there is an overall uptrend in background checks (and hence gun sales) as depicted by this chart: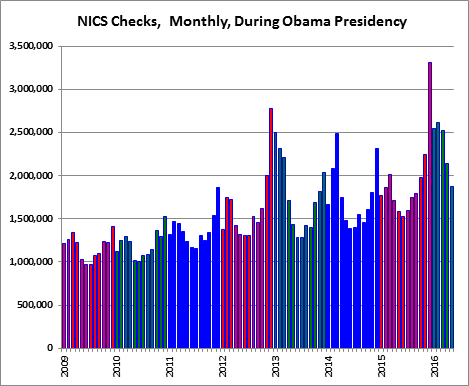 Graph courtesy of NRA Institute for Legislative Action
It is also interesting to note the remarkable "Relative Strength" of the gun stocks on Friday June 24th when world markets got shellacked after the Brexit vote... US markets were down almost 4% that day. Japan's Nikkei down 8%. German DAX down 6.6%.
Meanwhile, SWHC dropped at the open, but buyers stepped in and SWHC strangely traded up 2% on heavy volume on a day when very few stocks ended in the green. Perhaps key market players bought up the gun stocks in anticipation of an explosive spike in June FBI Background Checks?
Given that the soon-to-be-announced FBI Background Check data for June 2016 is very likely to surprise substantially to the upside, investors should be watchful of these two stocks (SWHC & RGR) on Tuesday July 5th (or Wednesday July 6th) as the release could come any time during market hours -- like it did last time.
Based on prior FBI Background Check data releases, usually on the second or third business day of each following month, the FBI Background Checks for June 2016 will likely be released Tuesday July 5th -- after the July 4th Holiday.
Prior FBI releases were March 2, April 4, May 3, and June 3. April 4 was actually the second business day of the month. The May data was released less than an hour before the close of trading on Friday June 3rd, with an immediate reaction to the downside as the 1,870,000 background checks showed a typical May seasonal slowdown. But market players must have expected gun sales were now exempt from seasonality that has been clearly demonstrated over the past 17 years of data. So, in spite of the fact that the numbers still showed a robust 18% Year-over-Year growth, the press issued warnings of a "slowdown" for what was normal seasonality.
The data for this month of June is very likely to have the opposite effect because it will refute all prior rumors of a slowdown in gun sales.
Based on the prior 48% sequential jump in FBI Background Checks in December following the San Bernardino tragedy, the June 2016 Background Checks could range roughly from 2,000,000 to 2,700,000 (with 2,700,000 representing an increase comparable to the 48% December 2015 increase). Any amount in this range would be a substantial sequential increase over the 1,870,000 checks in May. Keep in mind that the high end of the range (2,700,000) may not be likely because Orlando occurred after the first 11 days of June had already passed, so the Orlando impact will apply to 2/3 of June.
Supposing the background checks come in at 2,200,000 for June 2016, that would be a healthy 18% sequential increase over the 1,870,000 in May 2016 and an astounding 44% Year-Over-Year increase versus June 2015. The months of May/June/July historically show a slowdown in gun purchases -- but this is definitely not likely this year.
Main street investors usually don't follow these key FBI data release dates closely. Nor do they even know where to find the data until it has already made headlines. Then they buy or sell in droves.
Knowing the foregoing information about the forthcoming June FBI data release, savvy investors can position themselves as bullish, bearish or hedge their positions accordingly.
Disclosure: I/we have no positions in any stocks mentioned, but may initiate a long position in SWHC, RGR over the next 72 hours.
I wrote this article myself, and it expresses my own opinions. I am not receiving compensation for it. I have no business relationship with any company whose stock is mentioned in this article.
Additional disclosure: The author makes no warrant for the accuracy of the content herein other than the links provided to traditional online sources of information for verification purposes. Additionally, investors shall not take any comments stated herein as advice to buy or sell any equities and if investors do so, they acknowledge that they have done their own proper due diligence and proceed at their own risk. The author is not employed by any companies (or their agents) discussed herein.