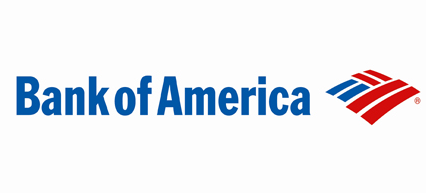 Investors have started to recover from the Brexit referendum yesterday that upset financial and currency markets last week. European and U.S. equities rebounded strongly on Tuesday, a first show of confidence that investors may have overreacted on Friday and Monday, and that they are feeling comfortable enough to buy more risk again. The Dow Jones Industrial Average closed 1.57 percent higher on Tuesday whereas the S&P 500 gained 1.78 percent.
The Brexit referendum has created significant uncertainty, especially for Britain, obviously. The stark pound devaluation further underscored that investors are unsure about Britain's future role in the European economy. But as I contended earlier, the market meltdown embedded a big emotional component that made it just so much more likely that investors indeed overreacted to the Brexit vote.
The best course of action in light of this market turbulence, as always, is to sit back and do nothing. In fact, that's not entirely true: The best course of action is to BUY when investors are running for the hills, which is why I recommended to buy Bank of America (NYSE:BAC) in case markets would slump. Bank of America's shares have dropped a combined ~13 percent on Friday of last week and on Monday.
In my last piece on Bank of America, "Bank Of America: What To Do After Friday's Massacre", I took a big risk and reaffirmed my buy recommendation for the bank based on an book value discount that was just spiraling out of control at the time. Bank of America's shares fell as low as $12.05 on Monday, but they reversed course Tuesday, and advanced more than four percent.
According to the Relative Strength Index, which flashes a value of 37.03, Bank of America is no longer oversold.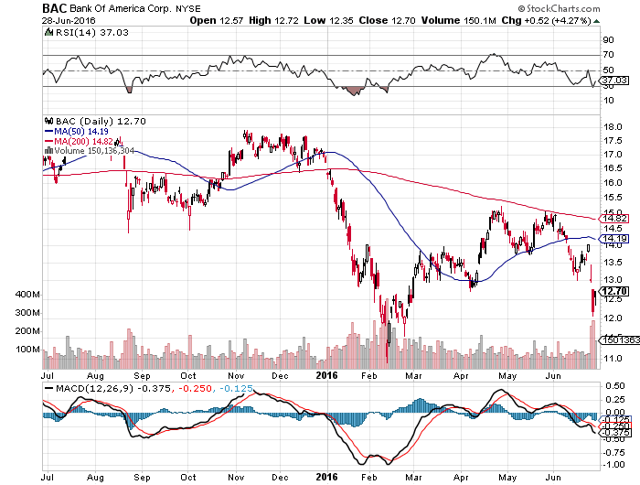 Click to enlarge
Bank of America may no longer be oversold, but the bank is certainly priced for a fairly big disaster right now. Bank of America is selling for ~0.55x accounting book value, and ~8.0x next year's estimated earnings. Those price ratios make it very unlikely that investors are overpaying for Bank of America at today's prices.
How Low Can It Go?
Though I'd like to say that the bottom is in, volatility will likely remain high over the short haul, and that suggests that Bank of America's shares will test the Monday low of $12.05. Further, investor sentiment is a very fragile thing, especially after investors got hit by a relatively big black swan event like the Brexit. As far as I am concerned, I think the bottom is not yet in at this point, and investors need to prepare themselves for another round of selling. And it is entirely within the realms of possibility that Bank of America re-tests its 52-week low ($10.99) which was reached on February 11, 2016.
Your Takeaway
If time is on your side, there is no reason to sweat potential market and valuation drops. Rather than getting all emotional and pushing the sell button, investors may want to think about taking a leap and buying one of the country's largest banks for ~50 cents on the dollar, which translates into a very favorable reward-to-risk ratio. Over the very long haul, investors are highly unlikely to overpay at such low prices. Now is the time to buy, not to sell. If Bank of America breaks new 52-week lows, I am going to be a buyer again. Buy for capital appreciation.
Disclosure: I am/we are long BAC.
I wrote this article myself, and it expresses my own opinions. I am not receiving compensation for it (other than from Seeking Alpha). I have no business relationship with any company whose stock is mentioned in this article.