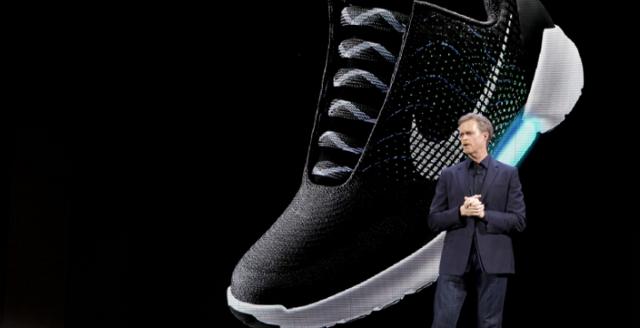 Click to enlarge
Nike (NYSE:NKE) has been an unstoppable growth machine for many years now and has made long term shareholders a lot of money. But the impressive rally that took place over the past couple of years is dead and gone and Nike has struggled of late to meet lofty investor expectations. We've seen that with the last couple earnings reports and last night's Q4 report was no different. Nike has become a victim of its own success so with shares coming down once again off of this report, is the bull market in Nike over and done or is the stock consolidating its gains, setting a base for a new rally?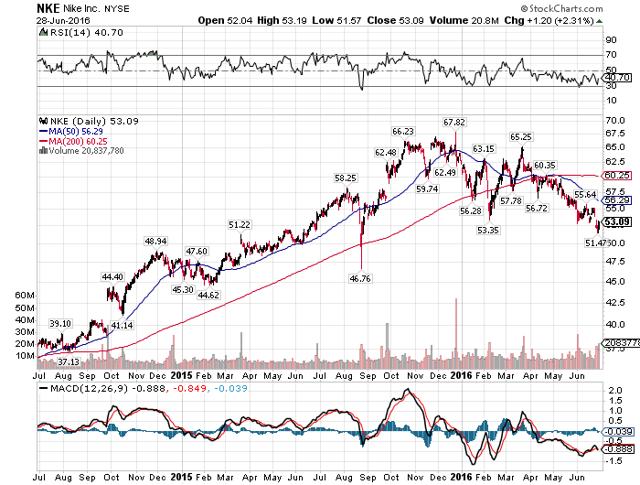 Click to enlarge
Nike has been so good in the past that it is having a difficult time living up to expectations. This happens with truly great companies; the law of large numbers catches up and it becomes difficult or impossible to replicate prior growth numbers. That has happened with Nike and while it is still a great company - one of the best, in fact - the simple fact remains that no company can grow into the stratosphere forever.
Q4's growth numbers were still solid but represented a disappointment against expectations. Revenue was up 6% on a reported basis and 9% on a constant currency basis. Nike is very much a global company and thus, is subject to the whims of currency markets. This can be a boon in times of dollar weakness but with the dollar showing relative strength over the past several months against many of the world's currencies, Nike is suffering. In addition, recent turmoil around the globe caused by Brexit and other factors has the dollar flying again. That's very bad news for Nike and any other multinationals so I suspect the company's Q1 results will have a pretty nasty haircut from forex losses unless something changes drastically between now and then with respect to the dollar.
Forex changes were part of the reason that gross margins were weaker in Q4, losing 30bps to 45.9%. In addition to forex, higher ASPs were more than offset by higher product costs, a poor situation for Nike to be sure. Part of the reason why Nike saw such tremendous earnings and share price growth in recent years is because of the combination of revenue and margin growth but again, just like revenue, there is a ceiling somewhere and it seems we may have found it. This is particularly true in light of the situation with the dollar; Nike will find it extremely challenging to grow margins with a dollar headwind given that its margins are already strong.
SG&A costs rose 7% in Q4, in excess of revenue growth, indicating some deleveraging of those costs took place. This is unsurprising considering the investments Nike is making in the DTC channel and digital demand creation but the increase is no less painful. At a time when Nike's revenue growth and margins are weak by its standards, it could use some leverage from SG&A costs but it is simply spending too heavily for that to occur.
All of these factors led to a decline in earnings in Q4 of 2% and while that is certainly no disaster, it isn't very Nike-like either. We've become accustomed to Nike posting blistering growth numbers despite its enormous scale but that simply isn't the case anymore. Nike has some headwinds to future growth so while it continues to be a world class company, we may have seen the growth ceiling.
Analysts have Nike hitting $2.45 in the coming year - a number that will likely be revised down slightly off of Q4 results - but at that EPS number and today's price of ~$51, NKE is going for 20.8 times earnings. That's about as cheap as I can remember NKE being on a current year earnings basis for a long time and that is certainly enticing. Nike has been "expensive" for a while simply because it has been so very good; that kind of growth requires a premium valuation. But with the selloff of the last few months, that premium has largely gone away along with Nike's tremendous earnings growth rates.
Nike's share repurchase program doesn't have quite the shine it used to either, with last fiscal year's purchases coming in at $3.2 billion at an average share price in excess of $58 against today's price of $51. That kind of paper wealth destruction isn't something I'm used to seeing from Nike so again, we have a source of EPS growth that doesn't have the same impact it once did. Still, $3 billion in repurchases certainly helps move EPS higher and I expect we'll see another $3+ billion in buybacks this year, which will push EPS growth higher.
Nike is still looking at low to mid-teens EPS growth in the coming years so it isn't as though the wheels are falling off. I do think that Nike was well overextended in the $60s and that a pullback was needed, but I'll admit I'm surprised we find the stock at $51 as of this writing. If you believe in the long term growth story at Nike - which I certainly do - you have been provided a rare chance to own the stock at a pedestrian valuation. Keep in mind that Nike has some growth challenges with respect to its prior results - expectations are still very high - but a relatively weak fiscal 2016 has helped make comparisons for this year easier and reset expectations lower. That makes me think Nike now has some room to surprise to the upside if the dollar isn't too much of a headwind for growth. I like Nike here on the pullback and I think we'll see it higher during fiscal 2017.
Disclosure: I/we have no positions in any stocks mentioned, but may initiate a long position in NKE over the next 72 hours.
I wrote this article myself, and it expresses my own opinions. I am not receiving compensation for it (other than from Seeking Alpha). I have no business relationship with any company whose stock is mentioned in this article.