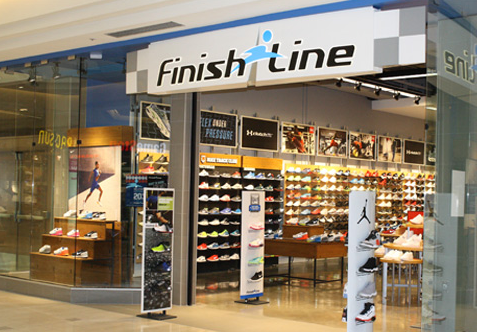 Finish Line (NASDAQ:FINL) has been absolutely pummeled of late as the company's comp sales and margins have weakened. In addition, a weak environment in retail in general hasn't helped, as well as FINL's reliance upon mall traffic to generate sales. These conditions setup FINL well heading into Q1 earnings and the company certainly did not disappoint. Shares are flying and while they remain at beaten down levels, FINL longs have some hope at this point. So is FINL setting up for a move higher off of current levels or is this rally another head fake?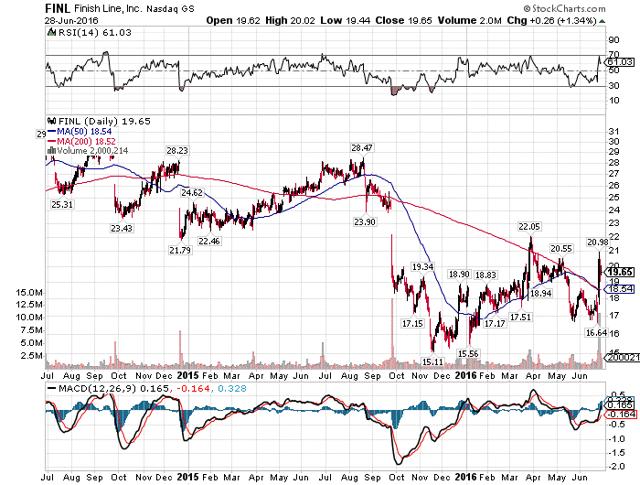 Click to enlarge
FINL isn't exactly a blistering growth story and that has certainly been a big contributor in the sell-off in the stock. In Q1, comps rose 1.5% as total sales ended the quarter 2.3% higher. As FINL has struggled to maintain growth levels in the past it has created a situation where comps are relatively easy and expectations are low; thus the massive rally off of the Q1 report. FINL's comps in last year's Q1 were much stronger but as FINL weakened throughout the year last year, so did expectations. FINL is still in a mode of consolidating stores so top line growth isn't going to be great at any time in the foreseeable future. But with comps coming in higher than expected, FINL has seen some meaningful top line growth.
Unfortunately, margins were very weak in Q1 as FINL continues to struggle there. Gross margins deleveraged 50bps and SG&A costs deleveraged a further 120bps, sending operating profits down 170bps despite the higher comp sales number. This sort of margin situation is really quite terrible considering FINL has far fewer stores right now than it did a year ago and that it produced some sales leverage via higher comps. Despite this, FINL managed to send its operating profit level to just 3.3% from 5% in last year's comparable quarter. That's a huge loss in profitability but despite this, investors are excited.
To be honest, I don't see a lot in this report to get excited about. FINL said comps would rise 3% to 5% this year - a solid number to be sure - but given store closures, FINL's total revenue growth is going to be rather pedestrian. And with margin performance in Q1 that can be characterized as nothing other than terrible, FINL was only able to reaffirm its guidance for roughly $1.50 in EPS this year. That's fine to reaffirm but with shares at almost $20, we are looking at just over 13 times this year's earnings. That is certainly not a nosebleed valuation but it isn't that cheap either considering the challenges facing FINL and retail in general. I'll give credit where it was due; FINL's comp sales performance in Q1 was stronger than I anticipated. But margins were horrendous and that's very concerning.
For a stock that has operating margins in the low single digits and revenue growth in the same area, I wouldn't pay more than 13 times earnings. Those are very low numbers and with margins moving in the wrong direction, I see no reason to buy FINL here. I think the rally from earnings was a short squeeze, relief rally sort of thing instead of the start of a new, sustainable move higher. FINL has too many headwinds for growth including a lower store count, mall traffic woes and margins that are moving the wrong direction for me to want to own it here.
Disclosure: I/we have no positions in any stocks mentioned, and no plans to initiate any positions within the next 72 hours.
I wrote this article myself, and it expresses my own opinions. I am not receiving compensation for it (other than from Seeking Alpha). I have no business relationship with any company whose stock is mentioned in this article.